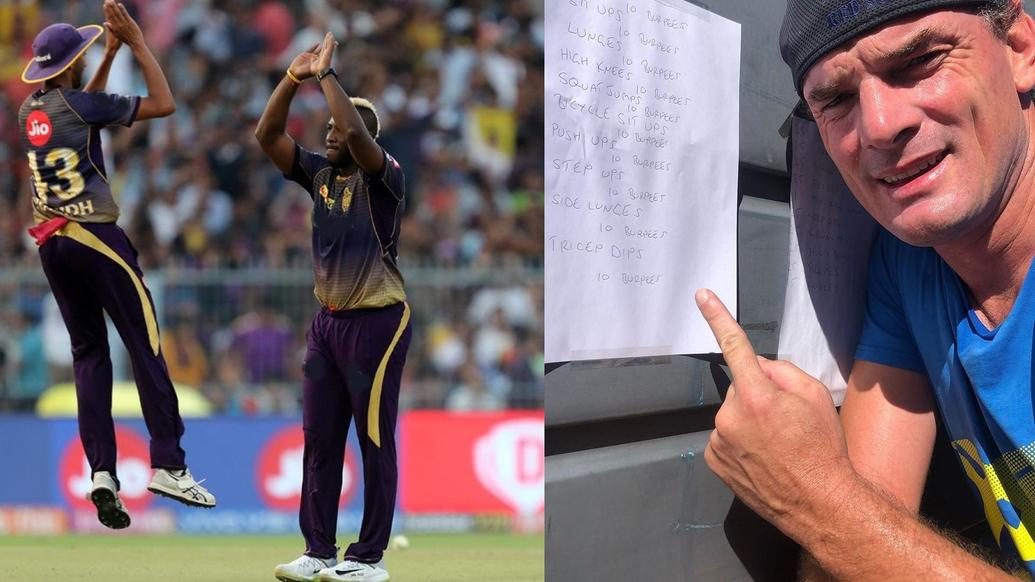 In this edition of Knights Unplugged, we catch up with KKR's new bowling coach Kyle Mills. From his collective vision with Brendon McCullum and David Hussey on KKR's way forward, to Eoin Morgan's presence in the side complementing skipper Dinesh Karthik -- Mills shares his views on a plethora of topics in this candid chat. Excerpts:
You are a part of the KKR family now as the bowling coach of a well-balanced side. What are your expectations from the upcoming season?
Mills: I love the concept of trying to help people. Took me a long time to say yes after being asked by Venky (Mysore) to come and be a part of the group. I have been following KKR from the very beginning of the IPL and they are definitely one of the top franchises. I spoke to Venky over the phone. I guess he was looking for a shift not just in the performance but just the way they approach the game and move forward. That kind of inspired me a little bit as well. I know Baz (Brendon McCullum) and his coaching style very well. So, being a part of the side is definitely quite an exciting thing for me. IPL is a short campaign compared to international cricket. Over a short time, you try to build a team with a bunch of different coaches. The main goal is to win the cup and I believe we have a group to achieve such a thing.
🙌 Welcome Chief Mentor @DavidHussey29, and @kylemills79, our bowling coach, as they join hands with Head Coach @Bazmccullum for #IPL2020 🔥

"They bring a wealth of experience as professionals, and are terrific individuals." - @VenkyMysore 💜#KorboLorboJeetbo pic.twitter.com/JMywu26hVc

— KolkataKnightRiders (@KKRiders) October 5, 2019
Before the lockdown, you had come down to India with David Hussey to meet Venky and the rest of the team. How did that go?
Mills: Face-to-face conversations are always the best, right? You can just sit down and not only just talk about cricket but also about your families and get to understand each other well. Abhishek (Nayar), Venky and Omkar (Salvi), the assistant bowling coach, were there. It was great to spend some time with them. Dinesh Karthik (DK) was busy playing in a tournament at that time. We discussed how to play T20 cricket, how to approach it, the wrongs and the rights of the previous years in KKR. This discussion happened pre-auction, so we also discussed how to approach the auction. We spoke about what would be the smartest way to buy the best players with the budget we had to get the ideal squad.
ALSO READ: SHUBMAN WILL BE A PART OF OUR LEADERSHIP GROUP THIS SEASON: MCCULLUM

Between you, Brendon McCullum and David Hussey, KKR boasts of a really strong support staff. Have you had any conversation with them or brainstormed ahead of the season?
Mills: Lots of conversation! I think we have had enough conversations. We just need to get in, roll up our sleeves and get cracking. I have spoken to Hussey, Brendon and Donaldson as well. We just want to get started and improve the squad. See, Brendon has achieved so much in the game of cricket and so has Hussey. They have a rich history in IPL and also with KKR. So, they have a deep understanding of how KKR operates. All three of us are very young as coaches but we can definitely bring in fresh ideas and excitement to the side. We are really looking forward to it.
You have a lot of young and exciting bowlers at your disposal this season. Youngsters like - Prasidh Krishna, Kamlesh Nagarkoti, Sandeep Warrier, Shivam Mavi to name a few. Have you been in touch with any of them?
Mills: Yes, I have been in touch with all the guys over Whatsapp calling and chat messages. I think we are very lucky that our fast bowling group is really young, fresh and keen. They have potential galore, that's the most exciting thing. They all bowl good pace, with speed of 140kmph and above. That's really a nice skill set to have. I am really looking forward to face-to-face contacts with them, go for trainings and pass on my experience to them as to how a T20 game should be played from the bowling perspective. India visited NZ earlier this year. I called Kuldeep to discuss about spin-bowling, his experiences of the past and also how his career is panning out.
You also have some top overseas players as a part of the squad - Pat Cummins is one of the finest bowlers of this generation. What's going to be the game plan with so much firepower at your disposal?
Mills: Jeez! We have got a really heavy artillery. I guess Pat Cummins will be a superstar by the time he ends his career. He has been around for a while, and he is just 26-27 years of age! He is really young. We have got him in his prime. At this moment, without a question, he is the best fast bowler in the world. He has had a lot of injuries in the past but he is really fit now and has been bowling with great control and pace. And also, if you see his mannerism on the field, he is a great team player!
And Lockie Ferguson? You have worked with him in his formative years, what do you make of him?
Mills: Well I think he has hit the nail on the head. He has been really scaling up. If you see the World Cup last year in England where NZ lost the final, Lockie was one of the best fast bowlers in the tournament. He bowled with great pace and swung the ball really well. He had a little niggle during the home season in NZ but I am sure he will be fit and raring to go in the IPL. He hasn't played cricket in the last five months so he is really excited to go out there and play with the white ball. Looking at the young local lads along with Pat, Harry, Lockie and Andre, I should say we have got some real firepower that we need to put a harness on to give the right direction.
And how do you rate Andre the pacer? The world talks about his batting prowess, but he could be a brilliant bowler too.
Mills: I think he is quite intimidating with the ball. Sometimes with these all-rounders with the batting going super well, they often forget the other skill that they have got, which is their X-factor. Andre is great with the bat but you can also pick him just for his bowling. He is very fast, has got some good variations and now he has got a lot of IPL and international experience. He has dealt with pressure situations quite a lot, whereas the young group hasn't got that kind of experience yet. So, you can really count on Andre to help the youngsters through those situations. I am sure Andre is going to take his batting and bowling to the top level as an all-rounder.
Which variation you think is more important for a bowler to have? Split-finger, slower ball, knuckleball or a Yorker?
Mills: Variation is important but if you ask me the biggest thing in T20 cricket a bowler needs is the temperament to deal with pressure. T20 cricket is extremely fast and you almost forget to think. You can't let the moments take over you. You got to be calm and in control. This is one area the youngsters will need to learn. But yeah variation is also important. All bowlers have loads of variations – the stock ball, the yorker, the wide yorker, the bouncer, the slower bouncer. But you also need to have the cricket mindset as to when to use those variations. As a bowling coach it's my responsibility to teach the young guys when to bowl these variations. You just have 24 balls to bowl and you don't need a lot of variations. You just need the right variation at the right time.
Any particular variation that you personally like?
Mills: I think it has to be yorkers. Yorkers were quite different when I used play. We would focus on just bowling full at the stumps. But now there are variations in yorkers too like the wide yorkers and straight yorkers. So, I think if you can execute a yorker in a pressure situation properly, you don't need to think about fielders. You can get a dot ball.
Slower bouncers have also done well in T20 cricket, which KKR bowler would you go to for that kind of variation?
Mills: I think Pat. His action is right up for it. He has got a really strong base, and a great point of release when he bowls. And he bowls really fast. So, when he does bowl a slower bouncer it will have a greater impact. So, the batsman will be on the backfoot. We need to train our youngsters with it too. We need to execute it at the training before we can try it out in the game.
Bowling at the death is also about field settings and also about bowling to those fields, how much is it important that you can imbibe this philosophy in the KKR pacers?
Mills: It's not a nice job to have at times, I can tell you that now from my experience. It's pressure! It's an absolute pressure cooker. Sometimes you don't think, so, we need to focus on the guys who can be in control in the last 4-5 overs. If you get hit for three sixes right in the beginning of the over, that's 18 runs off the over already, you still have three very important balls to concentrate on back in the over. So, you need thick skin. Anyone can get hit for three sixes, that's the nature of the game. We can't afford to feel down when we get hit. Because the moment you are down, your body language changes and you lose confidence. And It's going to be very tough to retrieve the backend of the over. So, when things like these happen, we need to stay calm and stick to our game plan. It's easier to say here than performing in the middle with the captain yelling at you. But you just need to take a deep breath, relax and try to be in control again.
Prasidh had a phenomenal 2018, but in 2019 people had studied him well. How does a pacer reinvent himself in successive years after a dream debut?
Mills: I think we have all had second season blues, across all sports really. There are very good seasons when people don't really know you. But as soon as you play a few games, with technology now, the oppositions can really scrutinize your strengths and weaknesses. Sometimes, the individuals also rest on their laurels a bit thinking they would do well next year as well. But it doesn't work like that in international sports, especially in the IPL. You can't hide, you get exposed big time. You will start the second season on top of the world and then things don't go well from the early stages. The pressure gets to you if you are a young kid. Prasidh is a very good bowler. He has got some great skill sets. We just need to get his confidence back and get him some positive thinking. The opposition is always going to analyse you. But if you can overcome that, it's a sign of a very good player.

Also Read: EOIN MORGAN INTERVIEW: "DK IS A FANTASTIC GUY, LOOKING FORWARD TO PICKING HIS BRAINS."
With Morgan stepping in, do you think the burden will be slightly lifted from Dinesh Karthik?
Mills: It's hard to be a captain in T20 cricket. DK is vastly experienced and he thinks about the game a lot. I think Eoin Morgan is going to be really good for DK because he has a lot of experience and also had successful campaigns for England. He doesn't get flustered under pressure situations. So, you need leaders like that in a young group. I know leaders who panic and raise their voice. I think Eoin is going to complement DK really well. DK can focus on keeping, Eoin will be in the cover region. So, the communication with the bowler in the death overs or pressure situations will work well.