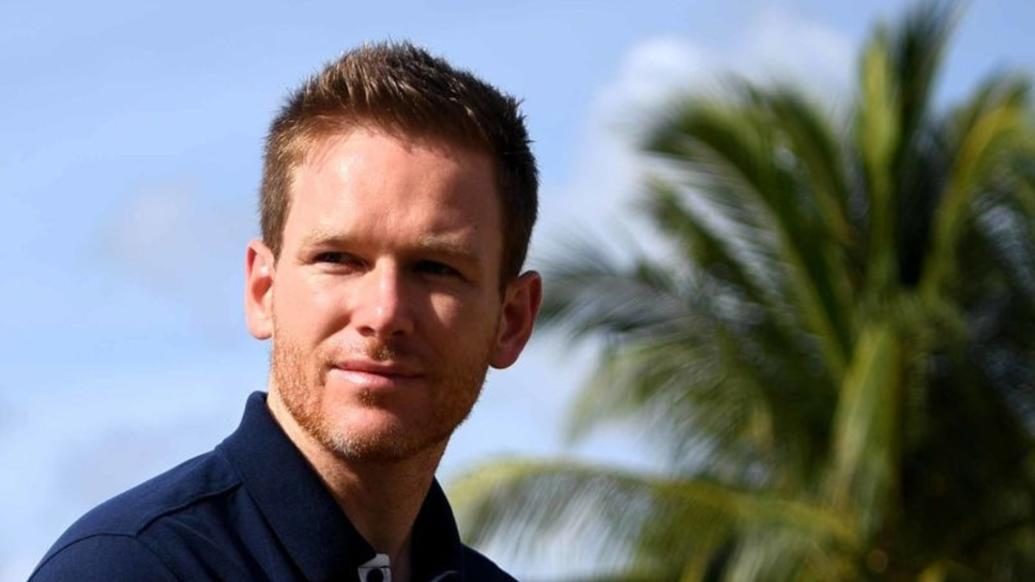 In this week's episode of Knights Unplugged, we have Eoin Morgan with us. In this freewheeling chat from his home in London, the World Cup-winning captain discusses everything - from life in quarantine to becoming a father, his memories of playing for KKR, his off-the-field relationship with our head coach Brendon McCullum, his chats with DK and of course, England's magical feat at the ICC Men's World Cup in 2019. Excerpts:

How are you doing, Eoin? How's this Quarantined life treating you?
Morgan: It's a very strange time for everybody at the moment. For us (him and his wife Tara Morgan), we have a new-born baby at home. He's just three weeks old so we've been very lucky that we're getting the best out of this bad situation. I've been able to spend a lot of time with him.

Everybody's goal is to hopefully not contract the (COVID-19) virus and then come out of the other side healthy, along with the rest of the family.

Any household chores you've taken up?
Morgan: Well I've embraced cooking. I really enjoy cooking. Today, the barbeque is lit so we've prepared all the salads. I just need to marinade a little bit of the meat and then head outside and enjoy a bit of sun!

How is it being a father?
Morgan: Yeah, it's been amazing! It's very difficult to describe until you go through it. Everybody says that, and we were waiting on his arrival to know if that was true. But it's such a unique feeling that you don't experience anywhere else. I must have changed almost thousands of nappies by now but I am loving it. Thoroughly enjoying it now.




Have you been watching a lot of TV / Internet shows?
Morgan: We've actually been busy with the baby a lot. But apart from that, I've watched a little bit of Netflix. I've just finished the TV series 'Narcos' based on Pablo Escobar, which I thought was good. Very graphic, but very good! And I've just started re-watching The Sopranos. It's one of my favourite TV series of all time so it was a nice excuse to go back and watch it.

I've also been reading a couple of books, and I do a little bit of workout. But I think people are becoming obsessed with exercise. I think it's becoming their way of dealing with isolation. I'm not that inclined to be honest. I'll do enough to keep my fitness up but as regards to enjoying the lockdown, fitness isn't going to be a major part of it. We are doing anything to put a smile on our faces.

Coming back to cricket, how excited were you about the IPL this year?
Morgan: I was extremely excited, particularly going back to Kolkata. I had three seasons there that I thoroughly enjoyed before. They're one of the best run teams, everything from the owners right down to the young players. I like the planning, and when you look at the IPL as a whole since the very beginning, they are one of three teams that has had the most success and it's easy to see why they have. The level of consistency that they show and I suppose the belief in retaining that group of core players... Probably, the other two teams are Mumbai and Chennai you know. They really do back the players, and they have done so from the very beginning. If they believe that the guy has the right values or leadership skills to take the team forward, they stick with them.

You mentioned about the time you spent at KKR before. What are some of your fondest memories?
Morgan: 2012 was a pretty chaotic season, and being in a squad where you win it (the IPL) for the first time, you see the reaction when we returned to the city (Kolkata). I literally returned for a couple of hours and then flew out but people aligned the streets. I remember Eden Gardens being full, all the pictures of the boys going around and doing lap of honour... Just to see the pure joy on peoples' faces about how proud they were to support a team was amazing.

When did the transformation come about - Eoin the slam-bang slogger to Eoin the consolidator?
Morgan: Well, I suppose it changes with the dynamics of your career. I've played for quite a while now and it (batting style) has ebbed and flowed with different roles and skills but the more experience that I've got, I find myself batting in that middle order and hopefully being there at the end. It's probably one of the better skills that I do have and probably over the last 2 years, it's been at its best. I'm hoping that my best years of cricket is yet to come.

We HAVE TO talk about the sweep and reverse-sweep. When did you really add that to your arsenal?
Morgan: I started playing reverse-sweep when I first came to London as a 16-year old and signed up at Middlesex. Playing at Lords, the boundaries were very short square of the wicket and they are really long straight. When I played in the first team as a 17-18 year old, trying to clear the long straight boundary at Lords was very difficult for me. So I started playing a lot more sweeps than probably your average player just because they were more effective at our home ground. I sort of drilled the reverse sweep and swept for as long as I could. The reverse sweep has been one of my favourite shots because it's been so effective over the years. I probably play it less and less now because things have changed and people have started setting fields for that.

Tell us about the camaraderie you share with KKR head coach Brendon McCullum...
Morgan: I'm very lucky to be able to call him one of my good mates. Over the years, we've gotten to know each other really well. Actually our relationship first blossomed at Kolkata, where the two of us played together.

I think his contribution not only to New Zealand cricket but to world cricket really took the front in 2015 with their campaign - throughout the 2015 world cup. They really did, I suppose, transform the fate of a nation and the hope of a nation in the way that they played. They played aggressive, positive cricket but also in a way that wasn't in your face the whole time. It was really good to watch, it created a huge amount of attraction and I think majority of the time actually the way that they play and the manner that they play overlooks the skill level that they produce. And I think Baz is the reason for that turn around. I think he has had a huge input in the way they've played and in all formats as well not just white ball.




McCullum was at your wedding as well, right?
Morgan: Yeah, he was. He emceed my wedding. For people who know him well, he's a very funny guy. Again, we like very similar things so when it comes to humour, we obviously laugh a lot when we're in each other's company. He played an integral part at our wedding. We were very lucky that he was able to do it and he did a smashing job. A bit like everything he does in life, he does it extremely well and it was great to have.

I suppose it makes that move to KKR all the more sweet when he's head coach. I think if we see any similarities in the impact that he's had as a player and as a captain on his coaching, the impact will be monumental. I really do think he's changed the landscape of cricket and the attitude of the way people play.

I certainly learnt a lot from his days as a captain. So I think over the next few years at KKR, the young leaders, the young players right from top to bottom will be very excited about working with him, and very lucky as well!

What are your thoughts on DK as KKR's captain?
Morgan: I've spoken to DK a lot and I met up with him just before Christmas when I was out in Mumbai. He's a fantastic guy, a great cricketer and I'm looking forward to helping him in whatever way I can. While I'm here to help, I also want to learn as much as I can from him. There are a lot of dynamics about being a captain when you're playing in India that I don't know about, I'll be picking his brain the whole time. I'll naturally be myself and try to give as much as I can just like the rest of the international players. But it's going to be fascinating to see how and when we get to play and how the competition lines up. Because everybody is going to come out of isolation extremely excited, rearing to go, batting, bowling, fielding the whole lot.

Tell us about Tom Banton, another young England product in our mix...
Morgan: Tom's a really exciting player. 2019 has been a life-changing year for him. He was one of the highest run scorers in our T20 competition, the T20 blast for Somerset and I think with that, he's learnt a huge amount, opening the batting with Babar Azam. He went on the tour to New Zealand, looked impressive, looked like an international cricketer, then went and played Big Bash, looked extremely exciting. So he's one of the most exciting talents we've had in a long time. But people need to understand he still is young, he's still learning but certainly has all the attributes that we're looking for.

Let's revisit England's 2019 World Cup campaign. How does it feel when you think about it now?
Morgan: It feels amazing, I think the journey that we went on is probably the most exciting. In 2015, the embarrassing nature in which we were bundled out of that World Cup and the journey we embarked on to try and change the brand of cricket that we played with a new group of extremely talented players over the course of 4 years - it's brilliant. Just being able to impart some of my knowledge and experience along with some very senior players and a group of great support staff who always continue to question what we do in a good way in order to hold us accountable. It sort of culminated in last year's World Cup. The final was the most dramatic game of cricket and the best game of cricket that probably has ever been played which contributes to the hype of it. But I think one of the great things about it was on the day of that great game of cricket was, it's always now associated with the longest ever Wimbledon final that was epic as well. It helped us in growing cricket outside of the normal bubble that we're already in to a different audience, and for us at home it has lifted the profile of the game like we've never seen. Straight after the World cup win was the Ashes series which was absolutely amazing to watch. Australia thoroughly deserved to win it but again, the dramatic nature in which the whole series unfolded really did attract the whole country and sort of galvanised one of our biggest rivalries in sport. It was fascinating to watch and I thought it was a great year for us, cricket wise.

It's been a fabulous chat, Eoin. Thanks for your time, we can't wait to have you back at Eden Gardens in KKR colours...
Morgan: Can't wait, guys. All the best, thank you, and remember - Stay safe.

Korbo Lorbo Jeetbo