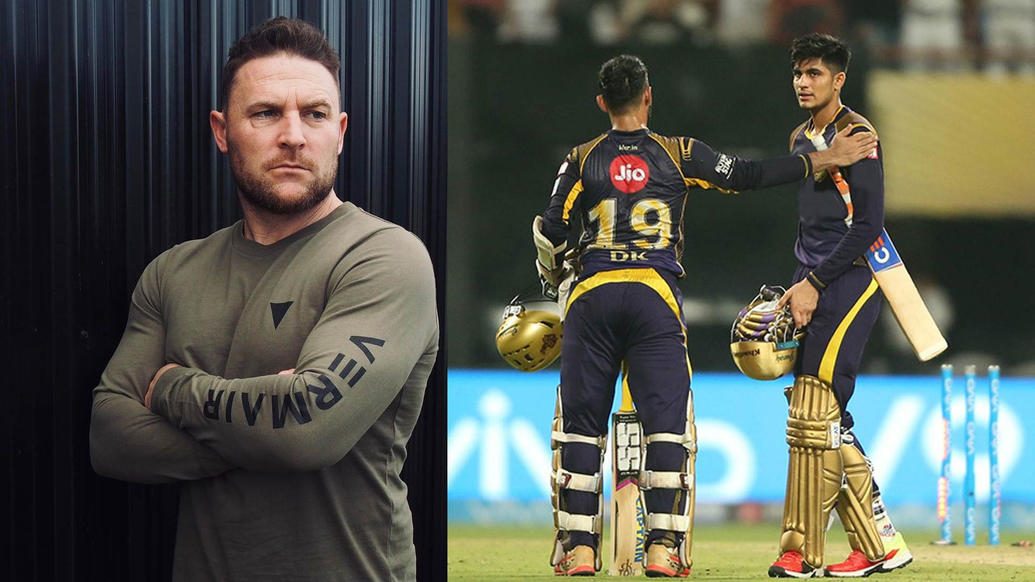 With the Indian Premier League all set to take place in the United Arab Emirates from September 19, we are gearing up for an exciting season with a new-look squad in our ranks. It's not just the players, but also a fresh backroom staff headed by former Knight and New Zealand legend Brendon McCullum. We caught up with him for a chat to gather what he has in mind for the upcoming season. Excerpts:
Thank you for speaking to us, coach. When did the idea of coaching come to you? Was it always in your list of post-retirement plans?
McCullum: Well, post-retirement from cricket I loved doing commentary. I enjoy analysing and having an opinion and honestly, I have been able to see a lot of things differently from the point of view of a commentator. But I also always wanted to be involved in the game from a coaching capacity. That's mainly because I like helping people. It's what I loved as a captain, to try and get my teammates' last bit of talent out of themselves and to also free their mind from a performance point of view. There's so much pressure involved in this game, and when you're in a coaching position or a captain, if you are able to show your loyalty to your players, then the loyalty comes back in spades through performance of guys on the field.
I'm really looking forward to working with DK in particular. We get on, really really well. We are quite different in personalities but we share some common thoughts too and we share a common passion for the game and for people. I guess time will tell, but that's kind of the goal and hopefully we've given you a bit of an insight into how the inner workings of KKR will operate this year.
What is it about DK that really stands out for you?
McCullum: Well, quite a few things. You've got to break DK down a little bit into different parts to understand this. I think first and foremost, wicketkeeping. He's up there with the very best wicket keepers in India. Then you move on to his batting and he's as good and as adaptable in any role. He doesn't come with perhaps, the stardom that some guys do and that's just DK's personality. But he's a big star within the KKR franchise, he's now been at the helm for a couple of years and he's had some success.
The team hasn't quite got over the line, but I think DK is in that stage in his leadership where he's almost ready to really mature and to really take ownership of the Knight Riders set up and back his judgement. What we tried to do throughout the auction process as well was to provide him with some strong leadership on the field. We've obviously already got the likes of Andre Russell and Sunil Narine, but to have added Pat Cummins and Eoin Morgan in particular to that leadership group, and also provide him behind the scenes with some support staff who will be able to assist DK as well.
I think there'll be a nice layer of leadership around DK where he's able to really prosper and touch all of the members of the Kolkata line up to try and get the very best out of themselves.
I love DK as a person. He's quite intense at times which I love, we just need to provide him with some support. His passion for the game and his love of people is just infectious.
Tell us about Eoin Morgan, another strong individual in the KKR leadership group this year.
McCullum: Some years back (2012), we played with each other at KKR and that relationship and that friendship really took off right from the word go. We like the same sorts of things - we enjoy playing golf, we enjoy horse racing...
I think we're very similar kinds of people to be honest. We love the game, and we play it for the camaraderie, the friendships, the experiences that it gives you for the rest of your life. We don't necessarily play it just for that moment. Eoin has been nothing short of inspirational in what he's been able to achieve in the last four-four and a half years with England.
Lets not forget, he's an Irishmen. And for an Irishmen to have left home at the age that he did, to have taken the plunge and said 'I want to go and further my career and make a real fist of this' to now becoming the England captain, and a world cup winning captain at that - just phenomenal.
I think he's the perfect foil for DK as a vice captain. It's a match made in heaven in regards to an IPL franchise. You've got that overseas experience and leadership and you've got the local leader. I think it's a really nice mix.
Is there any other player you are specifically looking forward to this season?
Shubman Gill. What a talent, and what a good guy as well. He is going to be a part of our leadership group this year as well, at least in some capacity. Even though he is young, I am a big believer that it's not necessarily true that you having played for a long time makes you a good leader. It's about you exhibiting the behaviours of a leader. It's always good to have a cross-section of leadership within your group. To us, Shubman is one of those guys we would look to lean on for some leadership throughout this season.
Going back to your playing days, Do you recollect any conversations with Shah Rukh Khan after that opening night of the IPL in 2008?
McCullum: I was just a young kid back then, so I was so in awe of Shah Rukh Khan who was such a mega star. I was so out of my depth even just around the superstars in my cricket team, let alone the megastar who owned our cricket team! I don't remember many reactions in detail, but what I do remember is what Sourav Ganguly said to me that night.
Dada said, 'Your life is changed forever', and i didn't quite know what he meant at the time, but (in hindsight), I 100% agree with him. Shah Rukh, in the months which followed or the days and the weeks and the months which followed, he said. 'you'll always be with the Knight Riders.'
There were times when I was with KKR, and then I got released, but we always finished on really good terms. I was always very grateful, and thankful for the opportunity that the franchise had provided for me. So when an opportunity arose again (for the role of head coach), I thought: 'Well, Shah Rukh did say to me 'You'll always be very involved with KKR' and this, I guess, is another opportunity.'
I find them (the entire KKR management) to be such great people, hopefully we can have success for them on the field this year and the years to follow. We're trying to play a style of cricket which is a great representation of the people of Bengal and also Shah Rukh, Jay (Mehta) and all those involved in the franchise. Hopefully, we will be able to be successful, because I think we've got the right team for it as well.
Hear @iamsrk speak about #TheUnforgettableKnight from IPL 2008 🤩@Bazmccullum is coming to #KnightsUnplugged on the 12th anniversary of that magical-knock of 158* 🙌

Drop a 💜 in comments if you're excited! 🕺🏻#SRK #KorboLorboJeetbo #KKR #Cricket #Vodcast #IPL #Saturday pic.twitter.com/uYmqudTNxL

— KolkataKnightRiders (@KKRiders) April 16, 2020
How has the relationship with Shah Rukh Khan changed over the years?
McCullum: I feel like I've really got the support of Shah Rukh and Jay and Venky and they've given me a real sense of confidence that I can go in there and try my stuff in my way, and work with DK to carve something out which is authentic to the Knight Riders franchise.
I love being around Shah Rukh, he is so inspiring and at the same time, so fun-loving. He's always got a laugh and a joke but he's also a very intelligent man. He's got a really quirky sense of thought at times, and you know that he cares. Through this pandemic, what he's done for the charities is commendable. It's one thing to give money away but it's another thing for someone of his schedule and status to sit down and put pen to paper and to think about the impact that he can make - that's incredible. He cares about people and he puts time and effort into that.
When they asked me to coach KKR this year, he said to me he's got a bit of time on his hands and he's going to be around a lot more so he can help us out. That, to me, is just the most amazing aspect to be able to have one of the world's biggest megastars genuinely wanting to help us. He doesn't just own the team but he wants to help us nurture the side and be a representation of him as a person as well so we're in for a pretty cool year i think.
Thank you, coach. Before we wrap up, do you have a message for the fans?
Thank you for all your support firstly, and secondly we are really excited about this year. I think we've got a huge chance, we've got some fantastic cricketers and also got some really good blokes - a team which I think can achieve a lot of success. We thank you for not just this year but all the years beforehand and all the years to come as well, so thank you, take care, stay safe and look after yourself and all your loved ones at the moment.
Korbo Lorbo Jeetbo