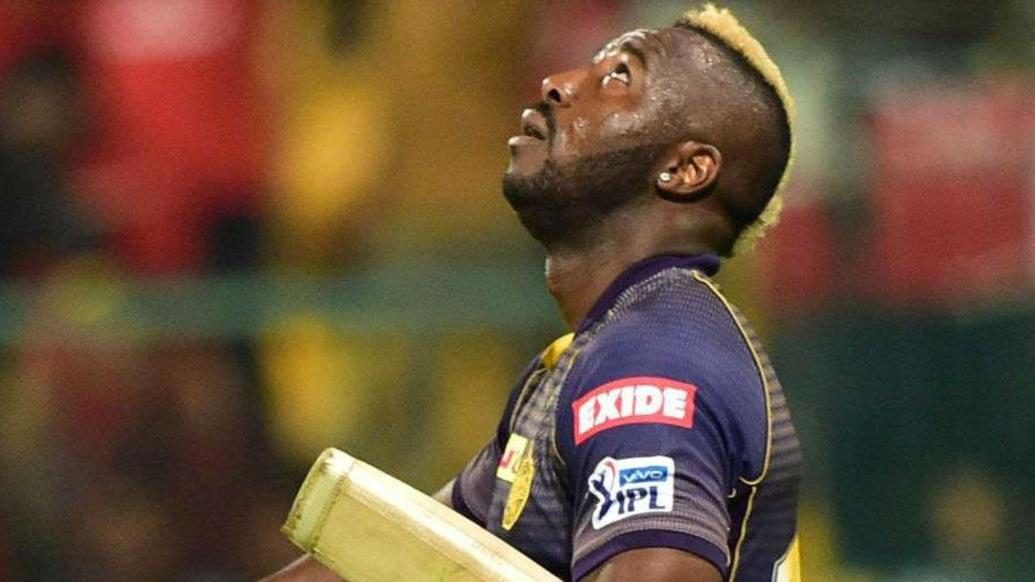 This week, we have the two-time MVP, bowler-marauder, six-machine, all-round maestro Muscle Russell aka Andre Russell on our episode of KKR Knights Unplugged!
"I would want to play for KKR till the day I retire" 💜- @Russell12A 💪 in this week's #KnightsUnplugged https://t.co/0HRFMcRegl#KorboLorboJeetbo #KKR #Satuday #Candid #DreRuss

— KolkataKnightRiders (@KKRiders) May 2, 2020
Joining us for a chat from his palatial villa in Kingston, Jamaica, Big Dre sheds light on some of his best moments at KKR, his love for the people of Kolkata, his desire to lift the IPL Trophy, and much more. Excerpts:
Hello Andre, good to have you with us, even if it's only over a video-call. Are you missing being in India?
Russell:
I was very excited to join this call and at least share some moments with you guys. It's not a situation that anyone would want to be in. It is affecting the whole world and this is affecting me from not being able to hit those sixes and doing what I do best. I would have been in India right now enjoying the (IPL) atmosphere and all the good vibes there, but we have to stay as safe as we can at the moment. Safety is first and hope this Corona virus thing comes down in a month or two, and we can all go back to our normal lives again.
How are you spending your time at home?

Russell:
Everything is good, but the only thing I wish I could change at this moment was if my youngest daughter Amaiah was here (in Jamaica). I wish she could spend some time with me during the time when everyone is at home, and we're all on a lockdown. She and (my wife) Jaz are both in Miami so I stay tuned to stay connected to them. I talk to them every day. Last night, we were catching up on Facetime, and she was just there looking and smiling. These are the moments I wish I could actually have right in front of my life. But with all the traveling restrictions and all, that kind of puts a little stoppage to it and it's troubling for everyone. But we all have to make sure that we do the right thing. Stay home, stay safe, no handshakes!
Tell us about your love affair with Kolkata, KKR and the Vivo Indian Premier League.
Let me confess something. IPL is where I get the most goosebumps when I am playing cricket. I get that in the CPL (Caribbean Premier League) as well, but when it comes to playing in the IPL, especially at Eden Gardens, there is no comparison to that crowd. When I walk out before facing a ball, I have goosebumps all over me because of the welcome that I get. That's pure love, and yes it puts pressure on me. But it's a good kind of pressure. When Kolkata needs 12 or 13 runs per over, with only 5 overs to go - I love those moments, and the crowd really allows me to do what I need to do. I get a feeling they are telling me: 'Listen, we have got your back, so just go out and do your business.' If everyone was sad, and there was no noise, no entrance, that would maybe make me feel the pressure more. But I know even if I fail two games straight, when I come out to bat for the third game, it is the same deafening reaction I will get from the crowd. It's always a welcoming thing.
Just like players in big (football) leagues like English Premier League, or the Basketball guys (at NBA) retiring from the sport say 'okay, this is my last game' and they wave goodbye to the crowd - I imagine I would love to be at KKR until that moment in my career. I'd say, 'Listen, Shah Rukh, all the KKR staff, everyone. This will be my last IPL and the last home game playing in Kolkata.' It would be such an emotional moment. I sometimes watch videos and I see footballers crying and I'm wondering if I would actually cry, but that's the special thing about playing at a club for so long and getting so attached. You know someday you're going to go out. I've been at KKR for 6 seasons now and I enjoy every bit - getting the MVP award and all is good, but I want more. I really need that cup as well, and I am really hoping that we can have the IPL this year, so we can become the Champions.
Andre, you have played so many breath-taking knocks for us over the years. But last year, what you did against RCB in Bangalore left everyone speechless!
Russell:
As athletes, you have to have a moment when you tell yourself: 'You know what, you're gonna go out there trying, and regardless of what happens to you or your partner at the other end, you are going to put everything on the line. That's what happened that night. I remember batting with DK (Dinesh Karthik) and I walked out full of confidence. I knew that I would either get out, or I would get the runs (required) because we had a target like 60-odd runs needed off 24 balls or 27 balls. DK looked at me and said 'Big man, what are you thinking?' and I told DK, 'all I'm thinking about is boundaries' So DK gets one boundary or two and then he gets out. He hit the ball, and he got caught (by Chahal at midwicket). Virat Kohli turned towards the stands where all the wives and KKR supporters were sitting, and he shouted something like 'Come on!'.
When I looked up, something triggered in my head and I went like 'hell no, this is not over' and when Shubman Gill walked out (at No.7), I said 'hey listen, I'm gonna take down anybody that bowls. Anyone that comes on, I'm going to take them down tonight, so just try and give me as much strike as possible.' He said, 'anything you say big man'.
Boom!
Since then, in that game, it was just six after six. Every time I hit a six, I wasn't even looking at the scoreboard, because sometimes you can get carried away with the crowd and everything. After I hit the ball, I would walk up to Shubman, we do a glove-punch, and I would go back to my crease and take as deep a breath as possible. That allows me to be calm. When you're thinking too much and you're looking around the ground, those things to me are a waste of energy. Because as a batsman, when you do those things too much, it becomes your habit. You look there and you see two guys on the boundary, and (even if) you get a full ball, you are thinking, 'Oh, you know what, two guys down there on the boundary, I'm not hitting the ball there.' So you are actually wasting time looking at the field. I don't look at the field, I react to whatever ball is bowled, and I hit. If I find the gap, great. It's a happy day. But most of the time, I'm looking to go over the fielders' heads. Once the bowler bowls the ball, good or bad, I hit it high. That's my mindset right throughout.
That's why in that match, even the last ball that I faced, you know it was saying for us (on the PA system) 7 balls, 7 runs. In my head, there was a conversation going on.
'What are you going to do? I think you should take one and keep the strike?'
'Yes, but if he bowls in my area, it's a six.'
And that's exactly what happened. The bowler bowled in my slot, and in my head, it went: 'Yo, it's time for you to get the job done'. So I hit it for a six. We won with 5 balls to spare and that was one of my most special moments playing for KKR. I'm getting goosebumps even now talking about it.