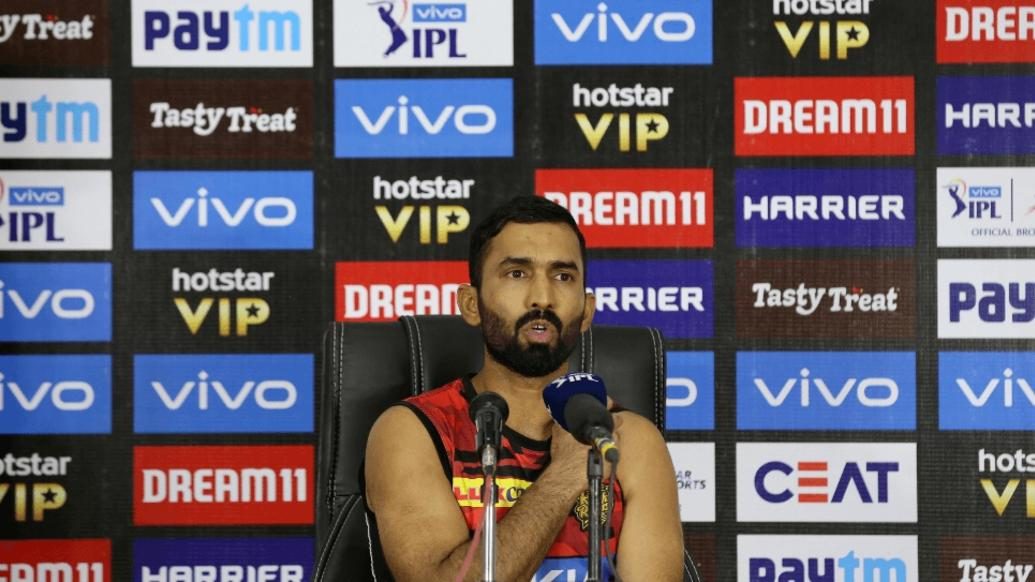 In a desperate measure to break the losing streak, Kolkata Knight Riders made three changes against Sunrisers Hyderabad. Prithvi Raj Yarra, Rinku Singh and KC Cariappa played their first games of the season, but the new combination couldn't quite take us over the line.
KKR lost the match by 9 wickets, and skipper Dinesh Karthik faced the media to shed light on the team's approach going forward. Excerpts:
Q. Your take on Kuldeep who wasn't playing today?
DK: Kuldeep has not been bowling as well as we all would have liked. So, that's one of the reasons why we gave him a break. That's the only reason why he didn't play this game.
Q. Is KKR over-dependent on Andre Russell?
DK: I think it's unfair to say today. 160 was a par score I feel. Even though Andre scored just 15, the other players played well and got us to a score which was defendable. But we didn't bowl well and the wicket got better under lights and two good players came out all guns blazing and it made things look very easy.
Q. Robin Uthappa was dropped from this game. How is he taking this?
DK: He is fine with it. He realises that as a team it's a collective decision that we've taken and he has not lived up to the standard he set for himself. So, I'm sure he is okay with it.
Q. Today Andre came in too late to bat. Do you think moving forward he can be sent up the order?
DK: He had almost 5 overs to face, when he came in there were 27 bowls. He is a kind of player that he will make a difference even if he has 10 balls to face. The key is that we play good at the top so we can set it up for him. There has been no complaints from his side for the batting part and he has been happy with the place he has been going in. He has a set role in the team which he tries to achieve when goes out to bat.
Q. How are you planning to deal with five losses in a row?
DK: It is always a part of IPL that once you have not won a match it always puts pressure on the next match. That's the beauty of IPL. When you are winning, you find ways to win and when you lose, you always find ways to lose. These are all the challenges a team faces in a tournament like this.
Q. How are you planning to regroup during this tough time?
DK: We've sat together as a group and things have not gone according to plan. I have faith in the players I have. I believe there are genuine match winners. We just have to find ways to get that spark in them so they do something special for us.