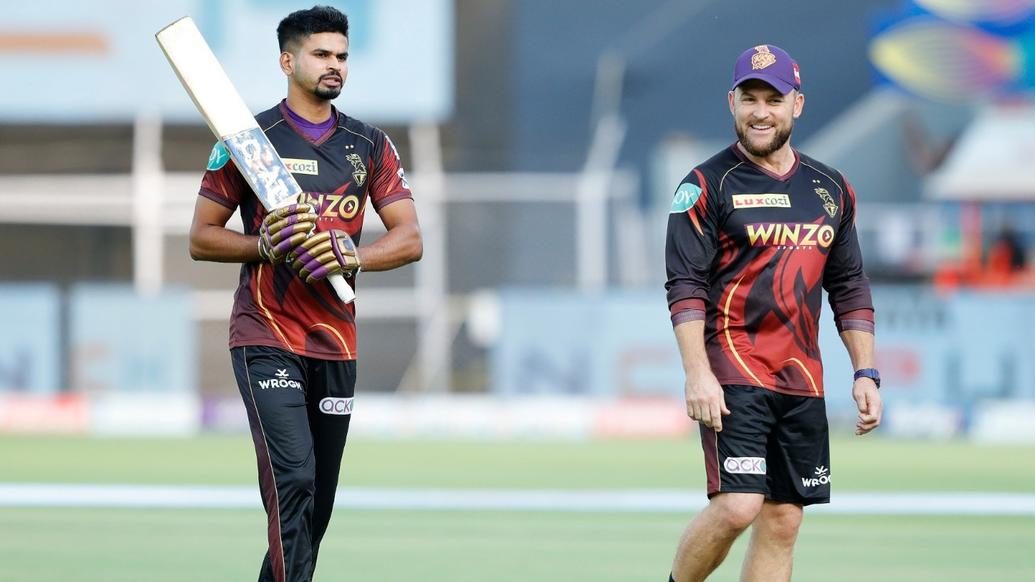 Six wins from 14 games, a 25-member squad of Knights, ably supported by the support staff and one fearless leader.
"It's been a bitter sweet journey for us," skipper Shreyas Iyer summed up the season in his post-season speech.
"I would like to thank you all for not only the efforts but also for the relationships that we built over here. I think it's really commendable. We definitely didn't get the desired results but the efforts that we put in to achieve so far and through the ups and downs we have been together and that's the most important thing going forward."
"I would like to thank the support staff you guys have been outstanding, putting in relentless efforts on and off the field. You guys have been the backbone of the team."
He also reserved warm words for the Knight Riders Group's CEO, Venky Mysore, and outgoing head coach Brendon McCullum.
"Venky sir, I have had great interactions with you every morning at the breakfast table and after the games. Thank you for backing us and being there for us all the time."
"Baz, I have had a superb journey with you. It was really good to talk to you and when you spoke about the team, what we are going to decide for the future of this team so, it was a really good conversation which I remember. I would like to wish you all the best for your future endeavours."
The season also saw Iyer play his 50th game as captain and 100th in the IPL.
"I just want to say to all of you that 'what doesn't kill you, makes you stronger.' So, next year, we are going to come back stronger and we are going to lift the trophy."
Wednesday's (May 18) narrow two-run loss against the Lucknow Super Giants ended the Knight Riders' play-off chances but was a fitting reiteration of their never-say-die attitude with Rinku Singh's 15-ball rearguard knock with the side's backs to the wall.
The game also marked Brendon McCullum's last game as the head coach of the side bringing an end to his three-year tenure. He notably oversaw the team's turnaround from winning two games from the first seven games last season to winning the next five to eventually finish as the runners-up.
"It was three years ago when Venky took a chance on me as a coach and since then it's been a pretty steep learning curve and I have enjoyed every moment of it, even the tough times have been great learning opportunities as well. So, big thank you to Venky, Jay [Mehta] and Shah Rukh [Khan] as well for all their support," said McCullum, who will now take over as England's new red-ball head coach.
"I know seasons don't always pan out how you want them to pan out. But I just love all the efforts that you guys put in."
"My style of coaching, as you know, is not necessarily about cricket. It's more about life and about relationships and about trying to give you guys confidence and to be able to take away some of the pressures and anxieties in the game. I feel you guys have trusted me to able to help you out. So, thank you for that."
"Well, it's not always easy when coaches come and go. But whatever happens my number is available as well. Feel free to give me a call at any stage and I'll keep following all your careers and certainly the franchise in particular. I'll be following from afar as well."
"And skipper, it's your franchise to run as well, so all the very best."