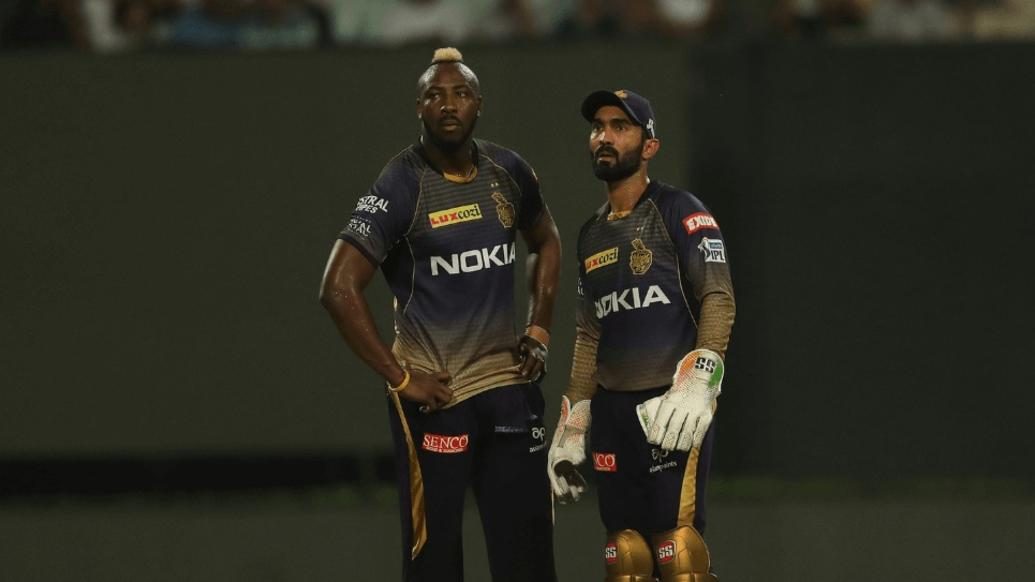 It was a tough night for KKR as they suffered their third loss of Vivo IPL 2019. Shubman Gill's fifty and Dre Russ' another late blitz were a few positives from the game against Delhi Capitals.
Despite the defeat, DK and his men will look to turn the tables in the remaining fixtures and a lot will depend on how they go about while defending a target.
This is what skipper Dinesh Karthik had to say in the post match conference:
Q. Did you feel that KKR were a bowler short?
DK: We weren't a bowler short for sure, we had more options like Carlos Brathwaite who bowled just one over but I think we were a few runs short and we could have bowled a little bit better.
Q. Two matches, two losses and the next game is against CSK, so what's your take on that?
DK: Obviously it's a big game. They are a good team and it's two good teams playing against each other. I think that's the beauty of IPL that you win two games on the trot and lose two. So these things happen in a game, but it's always about how balanced you can be as a team later.
Q. Is there a problem with KKR batting first and losing games because most of KKR's losses have come while batting first?
DK: I think it's been a tournament where chasing has been a trend and even the last couple of years it had been the same where teams have chased down big totals and it's interesting that the game is going down in that direction. It's also about how true the wickets are and if at a point the ball stops doing much and then the bowler is just like a machine that wherever he delivers he needs to execute it exactly, otherwise he is going to be hit for a boundary.
Q. 4 wins in 7 matches exactly half way in the tournament, do you feel that it was a lackluster kind of a day and they read the pitch better?
DK: It wasn't like anyone read the pitch better. It was just normal and it was nothing very different that we did. Obviously, we needed to get a big total and I think we were probably 10-15 runs short. The wicket is too good and with the outfield being so fast, the boundaries come very easily, so it's important to get a score which is 5-10 runs more than the par score.
Q.Was Sunil's absence one of the factors for this defeat?
A. Sunil brings in a bit of batting and obviously bowling but most of all is his experience. I think having a cool head and a bowler like him always makes a difference.
Q. Gill normally bats at no.7 for KKR and now he scored a half century at the top. How will you pan out the top order next game?
A. It's sort of an interesting time for us as Lynn has been someone who has been batting at the top throughout and getting results. Sunil has been someone who has given us good starts and today Shubman has done really well given a chance at the top. It obviously shows his class as a player but we have given him a role at number 7 which suits him well mentally as he is able to stay calm in certain situations which is a unique skill and he has delivered for us over and over again. Whenever there is an opportunity he will be sent up the order if not he is okay batting at number 7 and finishing off the games.