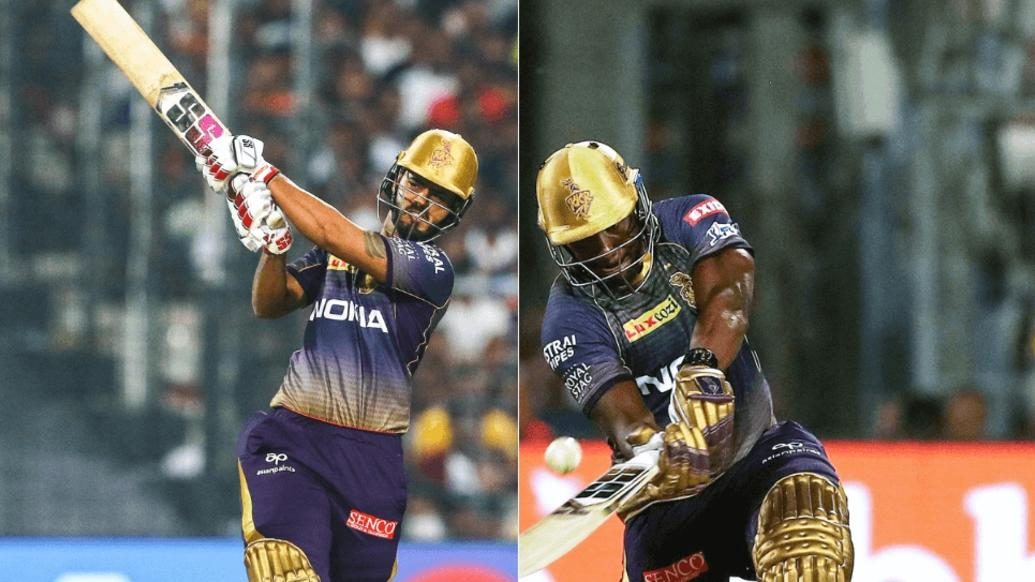 How many times has Andre Russell rescued us from the jaws of defeat? We've stopped counting. But last night it wasn't just about our Jamaican all-rounder. Along with Nitish Rana, the pair had a staggering partnership of 118 runs in just eight overs.
Rana's best IPL knock came for a losing cause and Dre Russ' breathtaking 65 runs from 25 balls couldn't help us cross the finishing line as we fell short by 10 runs.
The home team faced their fourth defeat in a row, but it was the double Rs, Russell & Rana who made sure that they didn't go down without a fight. The Twitter world had plenty of praises for Russell-Rana's partnership.
Here's how they reacted:
We always do
It's reverse phenomenon tonight. RCB won the game but KKR won our hearts.

— Ro✨ (@lndianCaptain) April 19, 2019
We'll come back stronger
they almost won. 3 more balls and KKR would have won. destructive batting. https://t.co/Fz6sh60lhh

— Malay (@malay_shah88) April 20, 2019
Best of Russell-mania is yet to come
Too many bowlers finding it difficult to find the block-hole while bowling to Russell. What pressure does to you. Can't wait for Bumrah v Russell. Twice over. #KKR #MI #IPL

— Aakash Chopra (@cricketaakash) April 19, 2019
Russell + 10 Other Knights
Because of Russell, #KKR most feared team in the tournament

— Cricketwallah (@cricketwallah) April 19, 2019
We ended up losing this one, but happy that it was entertaining
What a fantastic match 💪

Finally #RCB won the match ❤

Well played #KKR 👌#RCBvsKKR

— மும்பை இந்தியன்ஸ் 👑💙 (@MipaltanTN) April 19, 2019
Hahahaha!!
Very slim chance for KKR, but you never know. #KKRvRCB pic.twitter.com/wkEdZ9CXRH

— Bollywood Gandu (@BollywoodGandu) April 19, 2019
Bowlers nightmare, entertainer for fans
What a game!!! Well played KKR👏. Congratulations @RCBTweets . Yayyyy we won the game against Kolkata Knightmare Russell. Cheers RCBIANS 😻 #KKRvRCB

— RG18 (@urstrulyRaaji) April 19, 2019
Robbie is strong and he'll come back harder
Yes, it was not Robin Uthappa's day yesterday. He struggled to put bat to ball right from the outset But does he deserve the kind of personal abuses that are being hurled at him on SM. Dear @KKRiders he's won you an IPL #KKRHaiTaiyaar #IPL2019 #IPL #Uthappa

— ಮಂಜುನಾಥ್ ಪಿ (@Manju_P_Man) April 20, 2019
What a legend!
Take a bow, Russell. Lifting this KKR unit on his own. What a beast, what a monster, what a player! #KKRvRCB

— Manya (@CSKian716) April 19, 2019
Aakhiri Dum Tak! Aakhiri Run Tak!
True but please please don't lose hope. We will bounce back, aapna time aayega. Why a few? Our boys will try to win all of them. Nothing is impossible 💜#KKR #KorboLorboJeetbo #KKRHaiTaiyaar https://t.co/d1vIcJtfmf

— ayushi 🍂 (@ayushineex) April 20, 2019
You pray for us! We play for you!
I hope that, that next game will be successful #KKR

I hope @Russell12A wrist will not hurt that much anymore. I wish you to a speedy recoery.

....and the other player that they will do even more effort, then it will be fine #KKRHaiTaiyaar @KKRiders

— Manuela Baumgartner (@ManuelaBaumgar2) April 20, 2019
Stronger together
We need to bounce back
Every Game is Important#VIVOIPL #PerfectFan #Kolkata #KKRHaiTaiyaar https://t.co/fUEyy5coW6

— NirBant (@nbanthia0) April 20, 2019
True 👍👍 We have to try to win all👍 Aim at the stars🙌👍👍 #AmiKKR #KKRHaiTaiyaar #KorboLorboJeetbo

— PRATHIBHA RAJ M R (@iamprathibha) April 20, 2019
KKR vs RCB just ticked all the boxes
Almost anything is possible. Andre Russell can do anything with bat in hand. Cleanest hitting one can wish to see. Fantastic 100 from Virat as well and a top class match. #KKRvRCB

— Virender Sehwag (@virendersehwag) April 19, 2019
Anything is possible
We are at a time when everyone is watching when 36 of 8 and 23 of 4 is required and we still think it is still possible. CraZy level of expectation set by Dre Russ!!!! #IPL2019 #KKRvRCB

— Gaurav Sundararaman (@gaurav_sundar) April 19, 2019
Russell Power
Andre Russell's career batting S/r of 185.49 is the highest in #IPL history.
Only four others have a higher S/r than Russell, but then they have just batted in all a total of 26 balls in their career.#KKRvRCB#IPL2019#IPL

— Mohandas Menon (@mohanstatsman) April 19, 2019