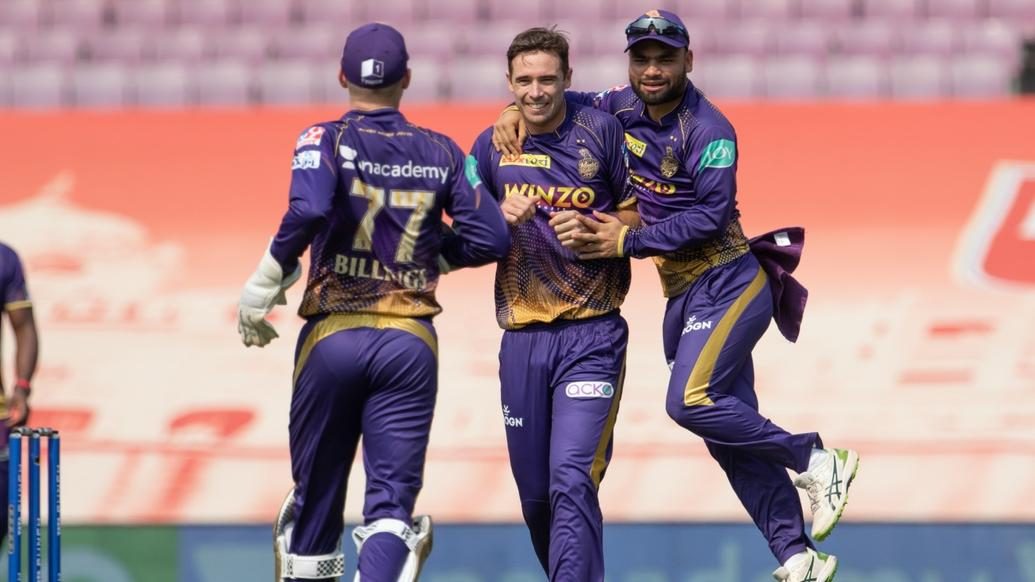 New Zealand fast-bowler Tim Southee has had a prolific IPL season this year picking up 12 wickets in seven matches at a lowly strike-rate of 13.5, second-best for a KKR bowler in a year.
We caught up with him for a candid conversation about tailoring his skills to suit the subcontinental conditions, his trademark outswinger and chemistry with Head Coach Brendon McCullum, his former teammate, among other things.
Q. Was there always a thing that you have to do well in the Indian subcontinent conditions as a fast bowler? Back home the conditions are quite conducive for your bowling but to do well in India, was it a primary objective from the time you came in 2007 to honing those skills in the subcontinent?
Southee: As a player, you want to be known as someone who can perform not only in various formats but also in various conditions. Growing up in New Zealand, wickets tend to be more favourable to the pace bowlers. Whenever you come to the subcontinent, it is always to be able to do well as a pace bowler on wickets that are very trying at times. As a player, you want to do well against the best and when you are playing in India, you are playing against the best. Personally, you want to be known as the guy who can perform in various conditions. Obviously you're very strong in your conditions but you want to be able to do it all around the world. You look at the best players, they can do it in all different conditions. It's always very satisfying to perform well away from home.
Q. Your most favourite weapon, the outswinger, is almost rendered null and void in Indian conditions. It's a new ball phenomena but it vanishes much sooner than it would in New Zealand so what were the learnings at that point of time for you and how were you evolving when you first came to the Indian subcontinent?
Southee: Just being open to change, realising what works in New Zealand doesn't always work in different parts of the world. Being quick to try and learn from previous experiences, to learn from people who have played in these conditions and trying to fast track that transition of different conditions as quickly as you can. What works is trying to find the lengths that work here. You tend to bowl straighter, bringing in the LBWs on the wickets over here. Learning from past experiences, as I said, and trying to put into place what hasn't worked well and mixed in with experiences of the other guys who have played over here.
Q. Let's go back to the outswinger. How did you master the ball?
Southee: I don't know how but it just came from a young age. I spent a lot of time playing backyard cricket with my brother and sisters when we were younger. Any chance there was to be outside and play cricket or any sport, we did it. It was something that was natural in my action as a young kid and I was able to maintain that action throughout my whole life. I have just been gifted with a good wrist that suits an outswing delivery. So, it's been about trying to maintain it and improve as a cricketer. I don't know why outswing but it came at a young age but I have continued to work on it.
Q. At KKR, there are so many young bowlers like Shivam Mavi, Harshit Rana and Ashok Sharma as well. How crucial is that leadership experience for you because we have seen you talk to these young bowlers. How do you rate these bowlers?
Southee: It's something that amazes me everytime I come to India, the talent that India are able to produce. Every year you come, there's more and more talent with these young kids coming in to experience the IPL. If I was a young kid and you look around, you would have got Pat Cummins and Umesh Yadav. For spinners, you have got Varun Chakaravarthy and Sunil Narine. It's just a great learning environment. I try to pass on as much as I can to these young kids and hope they can take something out of their experience here and that you can pass on your experiences. It's great for Indian cricket to have the depth they have gotten and to see the exciting talent that has come through. It's something that amazes me every time to see the amount of talent, not only in our squads but other squads as well.
Q. What do you make of Shreyas Iyer's captaincy?
Southee: He's an exciting prospect not only as a player but as a leader as well. He's a very calm individual and has the respect of the group but also works well with Brendon [McCullum] and his style that we want to play as a side. I have really enjoyed Shreyas' captaincy so far and I am sure he will continue to grow as a leader.
Q. What's been the role of Brendon McCullum in your life? Right from 2014-15 when he was the captain to lead the side to the 2015 World Cup final to now as your coach.
Southee: My first experience in a BLACKCAPS training back in 2008, Brendon's been exceptionally welcoming. Very giving of his time at such a young age and we have formed a very good friendship over the years having played a lot of games, spent a lot of time travelling the world representing Blackcaps together. His captaincy turned us around, it was exactly what we needed as a side and he grabbed it and dragged us to where we are now. Although he has retired from playing but a lot of the success we have had in recent years is because of what Brendon did as a captain and did for New Zealand cricket when he took over. He's an exceptional leader and he's one of those born-leaders. He's certainly one of those who has respect from everyone and enjoys a good time but you work extremely hard when asked for it. It's great now having played under him as a player as a captain to now this year to share the changing room as our coach is special too. I always enjoy learning from the way that he played his cricket and the way he goes about it is exciting. It's something I learn from and implement in my game.