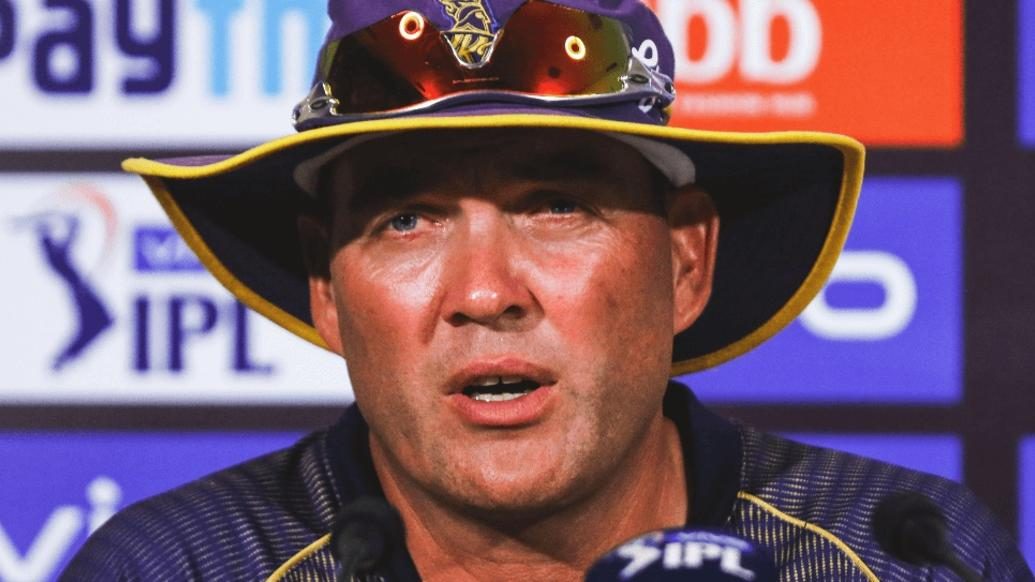 Kolkata Knight Riders were close but not close enough last night against Chennai Super Kings. Chris Lynn did well up the order and put us at a very good stage, but in the last 4-5 overs we couldn't put enough runs on board.
The bowlers fought hard and took the game right down to the wire but it was just not enough in the end. Jacques Kallis, our Head Coach spoke to media and opened up about Knight's overall performance. Here're the excerpt from the interview.
Q. What went wrong for Kolkata after a very good start?
JK: It was very disappointing. I think we controlled well for 16 overs and then 4 overs of very poor batting cost us. Playing in patches and not playing a full 40 over game is frustrating. Now, since we have time, we want the guys to get off a few injuries, freshen up and then we will have to come back hard on friday.
Q. How do you look at compatriot Imran Tahir's performance at the age of 40?
JK: I thought he bowled well. At times we took the wrong choices and he took advantage of it. He has been a fantastic bowler in this format of the game for a long time now. He is someone who has good skill, understands his game and the batsman. It shows that age is just a number.
Q. What is the update on Russell's injury and does Kolkata look off-colour without him?
JK: Firstly, I don't think like that. Andre will be back as it does not look like a serious injury. We have got a few days off now. I'm sure the guys will get ready and fire back on Friday and yeah it does make a difference when he fires. When you are 142-5 after 16 overs, you just need to finish smartly and get to 180. The wickets played a bit slower than the other games we have played and with 180, we could have won the game easily.
Q. What do you have to say about your spinners performance?
JK: I think we bowled pretty decently in trying to defend that total. 170 would have been pretty par score but I think we fought pretty well and that's the one positive and that's what KKR have been all about, we never give up. When you need 24 off 12 balls, a little bit of luck goes your way and you can win that game pretty easily. Obviously, it went Chennai's way and that's what happens when you are winning games things tend to go your way. So yes, we've got to turn it around and work harder and stop making basic mistakes which has been a problem.
Q. What does a team do in such a break after 3 losses?
JK: We've played 5 games in around 9 days, so the guys are a bit mentally tired. It will be good to go, get away and hold back and not get in cricket for a couple of days and then work hard on Wednesday and Thursday for the game on Friday. The break has come in for us in good time and to get away as sometimes you get caught up in it a bit too much, so just get away from cricket and let the guys do what they want to do like to spend some time with friends and family and then come back fresh and get ready and raring to go again. Still at the end of the day, we have 4 wins from 8 matches, which could have been a lot better but it could have been worse. So we are going to come back strong and probably win 4 from 6.
Q. Did KKR read the pitch wrong?
JK: I think 140 after 16 overs was pretty decent. We just didn't finish well and our average is 40 in the last 4 and we needed 35 which gets us to the winning total. We lost track when 2 wickets fell in the same over which you can't do in this format as it puts you in a lot of pressure. The numbers show the odds are in favour of the team batting second. We are generally in advantage but that's no excuse. You can't bat second all the time. We have to find a way to post good totals and when we get it right we know that we are a good bowling unit and can defend totals. So it is a combination of both batting and bowling on the same day.
Q. What do you think worked well for Tahir against Kolkata?
JK: I think he was being basic and not doing anything different. He was just landing the ball in the right areas and he has got good variations and a good googly. He doesn't give many bad balls so he just keeps it very simple which is the formula for success in this format. You get batters hit the way you want them to hit it and don't give them bad balls in between then the odd ones will favor you of picking wickets and not too many runs which is exactly what he did.
Q. Do you think changing Shubman Gill's batting position is affecting his performances?
JK: No, I don't think so. He is one guy who can play anywhere in the batting order and we have got a very settled order. When the time's right, he will be sent up the order like we did when we had a few injuries in the last game. Lynny played really well today and got us to a good position and unfortunately he got out which happens we just couldn't finish well.
Q. Is Dinesh Karthik's poor form a cause of concern?
JK: No, I think he is working hard and has been hitting the ball well in the nets. He hasn't had too much of opportunities and the role that he plays for the team is vital. He is a good finisher and he finishes off games really well and has been successful doing it in the past. I have no doubt that he will make a good score when he gets a good opportunity and his main focus is us winning more games and not his personal performances and that's what you want in a team.