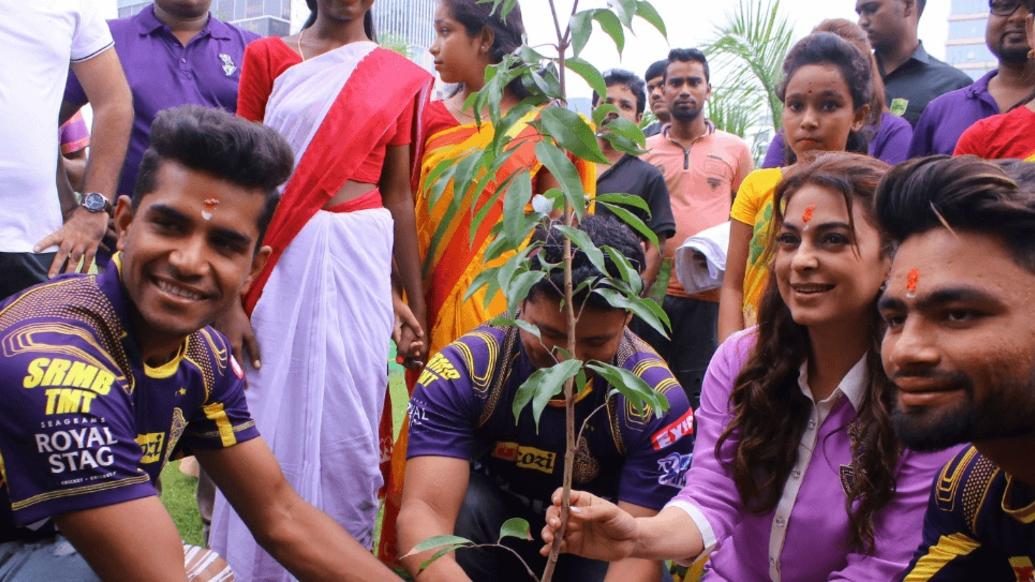 The KKR Plant A 6 Campaign - A pledge to protect mother nature
Every now and then, videos of how human beings are destroying the environment floats up on our social media timelines. Some of the information we learn from such posts hit us hard, as we realize how we could be headed towards doomsday if we don't fix things quickly.

The power of the internet is helping us spread awareness, and many of us are already doing our bit to ensure a better tomorrow. But we need more people to join the march, and give the matter the attention it deserves.

The Knight Riders family and Meer Foundation, led by our very own Juhi Chawla Mehta, has been trying to fulfill their duty to mother nature, using cricket to spread this very important message.




Eden Gardens takes pride in hosting one of the biggest sporting crowd in the world. Only if you've been a part of it would you know the feeling of watching a game of cricket alongside 65,000 fans. The passion, the decibels - it's quite a spectacle!

But imagine, after all the fun and game is over, the amount of waste that's left behind in the stands. Placards, Flags, food plates, empty cups - the list is endless.

So what do we do? Since 2017, we have been working with Cricket Association of Bengal (CAB) to reduce the use of plastic during the games, and replace all these items with their paper equivalent.




"Every day, we hear about the alarming effects of pollution. I felt that there is no better way to do something for the environment," Juhi explains. "Cricket is loved in our country and it spreads so much happiness — there is nothing better than associating it with a good cause."

We didn't stop at just that. To take this movement a step further, we came up with the #PlantA6 campaign, where for every six that a player smashed at Eden Gardens, we planted a tree to celebrate the hit! Doesn't matter if it was by one of our Knights, or someone in the opposition - more sixes meant more trees. Isn't that wonderful?

This year, we had Shivam Mavi, Rinku Singh and Piyush Chawla join Juhi in planting the first batch of 100 trees that will bring joy to the city of Kolkata in the future.
For every maximum hit out of the park at Eden Gardens, a sapling is planted! 💚

The #PlantA6 initiative taken by KKR - @iam_juhi Piyush Chawla @ShivamMavi23 & @rinkusingh235 along with @MeerFoundation in association with @smilefoundation made it possible to plant 100 saplings!🌳 pic.twitter.com/gHTFpESCxh

— KolkataKnightRiders (@KKRiders) October 15, 2018
Yes, from 73 hits out of the park in 2017, to as many as 100 this year - we've seen a steady rise in the number of sixes at the venue. Let's hope the big shots keep coming at Eden, and while we cheer for the blitzkrieg, let us also pledge to do our part in protecting this beautiful planet of ours.

Korbo, Lorbo, Jeetbo.