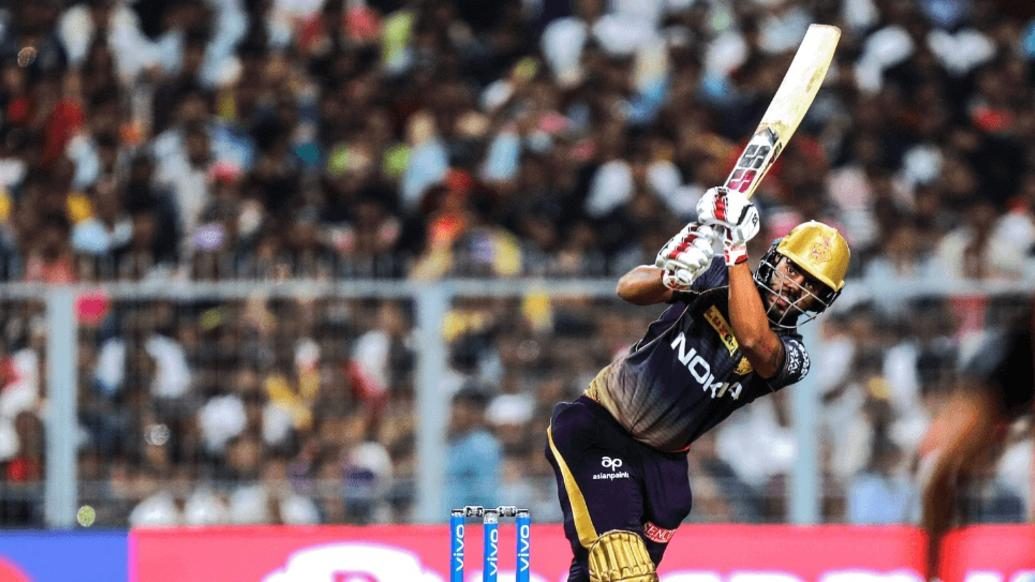 When you are chasing 182 runs and see your fellow opener (Chris Lynn) getting out cheaply, you definitely feel some pressure. But, Nitish Rana who came in to open the innings for KKR not just calmed things down, he also paced the innings at his will.
Nitish spoke to the media about his innings and how much the win means to him and team KKR. Here are the excerpts:


Q.Did the disturbance of the floodlights affect your concentration or your game?
Nitish Rana: Yes, you can say that because I had a game plan in my mind and suddenly the lights went off, I didn't know something like that could happen and when I came back to the dressing room, I went into a shell and that pause did affect my game. Maybe if there was no break then I might have finished the game myself.

Q. How disappointing was it despite the win that you couldn't finish the game yourself?
NR: Honestly, for me winning is very important and as far as the finisher's role is concerned, we have a big finisher in Russell and DK although he got out and was not there till the end. Somewhere down in my mind, I thought to bat as long and as deep as possible since I knew they had two left-arm spinners and a leg spinner whom I could attack and since Sunil injured his hand he was not going to bat that means I was the only left-handed batsman left and later I knew Andre and DK could finish any big target which everyone witnessed.

Q. Was opening the innings a conscious decision or because of Sunil's injury?
NR: No, it was because he injured his hand during the game, I never knew I was going to open the innings although I have opened in the practice games which we played before the season starts but it was only because of his injury that I had to open.


Q. What was your game plan for Rashid Khan when you and Russell were in the middle?
NR: I had played Rashid Khan for a good three overs before and compared to a right-handed batsman, it was easier for me to play him and I knew I could hit him. We had decided that if I get the opportunity I will take on Rashid and Russell will take his chances against the fast bowlers.

Q. How difficult is it to adjust to different batting orders?
NR: I usually bat at number three which is almost similar so it wasn't that difficult for me to open the innings.

Q. When you were given out did you think of taking the DRS?
NR: Yes, I had thought of challenging the decision and taking it upstairs. I asked Russell if I can take the chance but he had told me it was dead in front but he said that you can still take a chance. I thought that there was still a lot left in the game and we could take that help later, if the situation demanded and I made the right decision because later I was told that I was out.

Q. Do you know how many sixes has Russell planned to hit this IPL?
NR: You need to ask Russell for this. (Cheeky smile)

Q. What do you have to say about Russell's match-winning knock?
NR: I just cannot describe it in words. It was just unbelievable batting and the kind of sixes he hit were just insane. We needed almost 52 in 18 and we still won with 2 balls to spare. We know he is capable of doing it and has done it before several times. That was our game plan to take the game deep and then leave the rest on Russell to finish it.

Q. How crucial it was to restrict SRH 10-15 runs short after they had such a good start?
NR: Yes, definitely. We knew that in the end, we will be able to control the game and it happened which helped us to restrict them to a lesser target. And honestly the wicket was so good that a 200 plus was chasable as we would have planned it differently right from the beginning.

Q. What's your take on our bowling since they had a big opening stand?
NR: I don't think we bowled badly. We should give the credit to their batsmen, the way Warner played after such a long time was worth appreciating. We had a plan for the game and we bowled accordingly, but if someone plays that well, one can't help it.

Q. What are your thoughts on SRH sending Yusuf Pathan above Manish Pandey and not using Vijay Shankar in bowling?
NR: We weren't thinking too much about it. If we have a plan in our minds and if we go accordingly and don't want them to score then it doesn't matter if it's Yusuf Pathan or any other batsman we won't let them score.

Q. Vijay Shankar didn't get to bowl. So did that play in your advantage?
NR: Yes, definitely if I was on the crease and I had to play 6-7 overs I would prefer playing the spinners. But if Vijay had bowled an over in the middle anything could have happened, like we could have scored 20. Also, the last over was crucial, given Bhuvi bowling that over. I personally think they did a mistake by giving a left-arm spinner the last over as on such kind of a wicket, you can't bowl a spinner in the last over when batsman like Russell and Shubman are at the crease.


Q. Will it be too much of a task for the middle-lower order in future the way they did against SRH?
NR: It's not like that. We have Sunil at the top who scores quick runs which gets us to 60-70 odds runs in the first 6 overs. So that helps us to steady things in the middle overs. But when I opened today, although we started slow, we had good partnerships in me and Robin and then in me and Russell, which were crucial and we had decided that I will bat deep till the end and I did the same, at the end we won it.