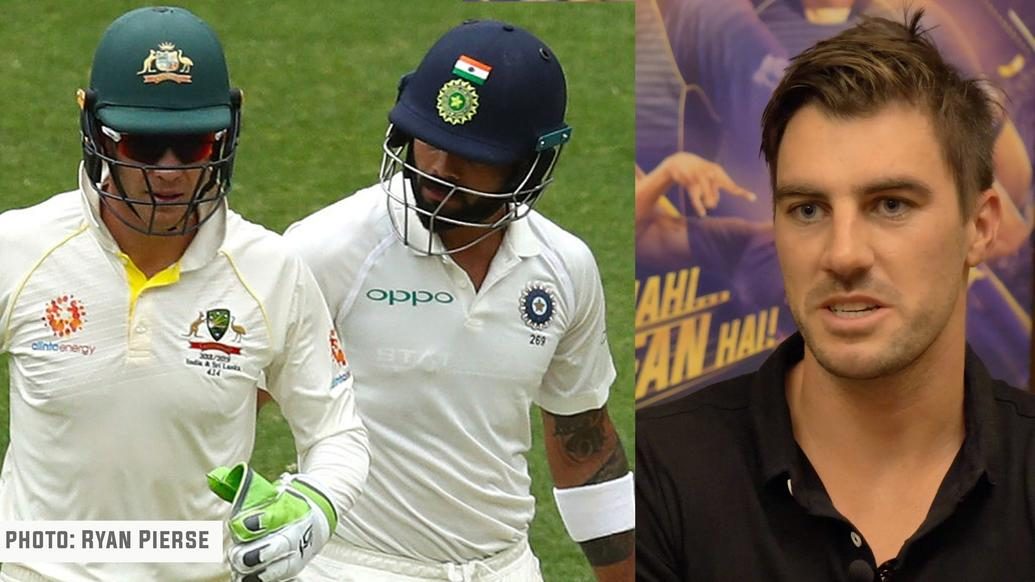 With the limited-overs series being claimed one apiece (Australia won the ODIs, India grabbed the T20I title), it's now time for the ultimate battle. Come December 17, the two teams will lock horns in Adelaide for the first of four intense Test matches to cap off the tour.
The first match is going to be a day-night affair, and there's already a lot of buzz around the pink ball, the potential XIs, and the series predictions ahead of the big game.
With the ODIs & T20Is out of the way, all 👀 now on #AUSvIND Tests

4 Tests. Two 🔝 teams. What's your series prediction?

🇮🇳 _?_ - _?_ 🇦🇺

📸- @imkuldeep18 & @CricketAus pic.twitter.com/Nzxq0R4Rtf

— KolkataKnightRiders (@KKRiders) December 8, 2020
While Kuldeep Yadav discarded any suggestions that India's victory in Australia in 2018-19 was aided by a 'weak' Australian squad, Shubman Gill made it clear that any 'chin music' would be dealt with plenty of 'good moves' in the upcoming series.
To get an Australian perspective to the contest, we caught up with their pace spearhead Pat Cummins, chatting about his expectations from the longest format and taking on his KKR Teammates with a healthy dose of banter.
"It's been a series we have been looking forward to ever since the last time, when India played really well to win the series in Australia," Cummins told kkr.in. "We like to pride ourselves in winning all our home series. So yeah, definitely been looking forward to this one for a couple of years now."
Australia have won each of their four day-night Test matches in Adelaide so far - vs New Zealand, South Africa, England and Pakistan. India have played just one Pink-Ball Test till date, winning it convincingly vs Bangladesh at Eden Gardens in November 2019.
Day-nighters are a great spectacle," Cummins added. "It keeps the essence of Test cricket going, but the sight is different. It (The Adelaide Oval) is a special ground. Once it's under lights, it's a special Test match here. Each year, when we head into the Pink-Ball Test, we are just a little bit, won't say nervous but excited, knowing that the game moves at a slightly different pace to a normal Test match. You can have some sessions under the lights where the balls just zip around."
"After dinner, when the light takes effect, just for whatever reason it seems like the ball zips around a bit more. You can have some periods in a Test match a bit like a one-dayer, where the ball doesn't swing, doesn't seam and all of a sudden out of nowhere, it starts zipping around under the lights. It's just another dynamic of the game. It's a tactic that the captains have to manage - when to bat and when to bowl.
View this post on Instagram
Shubman, Cummins' teammate at KKR, is part of the Indian Test squad, and when asked whether he had been studying him at the nets during the IPL, the Aussie let out a laugh.
"I haven't really. Maybe I should have, might be too late now," he quipped. "I think every time India comes to Australia, there is a story of one or two young guys who kind of make a name for themselves in our Aussie conditions. Yeah Shubi (Shubman) is obviously a class player, and it will be interesting to see if he gets picked for India. (If he does) there might even be some friendly banter out on the field between the two of us."
Speaking of banter, the limited-overs series was labelled an unusually friendly-affair between the two teams, who generally engage in heated competiton every time they are pitted against each other. However, Cummins feels that could change once the teams enter the longer format.
"Banter is good, isn't it," he said. "As a fan of cricket, I used to enjoy that watching when I was growing up. Look, Painy (Tim Paine) doesn't stand down (from a fight), and Virat obviously is the same. They both are the kind who want to get into the contest, get involved. It just shows how passionate both teams are - that's the beauty of Test cricket. Five days, and neither team giving an inch. I think especially in Australia, where the wickets are a bit pacier and bouncier than perhaps other parts of the world, the fast bowlers get more involved as well. So that's always a good contest."
The Australian squad for this series has a few new additions from the last time, including Steve Smith and David Warner (though he is set to miss the first match with an injury).
"India had a better side than us a couple of years ago when they came here. They played really good cricket, and even though we shared patches I think overall, we were outplayed by them in that series. David and Smith coming back into the side, they are two of the best batters in the world, so of course it helps. We've also got a couple of younger guys who have now become really mature players like Travis Head, Marnus Labuschagne etc. so that's a big help."
Also Read: Sledging and chin music? We've got our moves ready, says Shubman
Test Match Fixtures:
December 17-21: India vs Australia 1st Test at Adelaide Oval, 9:30 AM IST
December 26-30: India vs Australia 2nd Test at the Melbourne Cricket Ground (MCG), 5:00 AM IST
January 7-11: India vs Australia 3rd Test, Sydney Cricket Ground (SCG), 5:00 AM IST
January 15-19: India vs Australia 4th Test at the Gabba in Brisbane, 5:30 AM IST