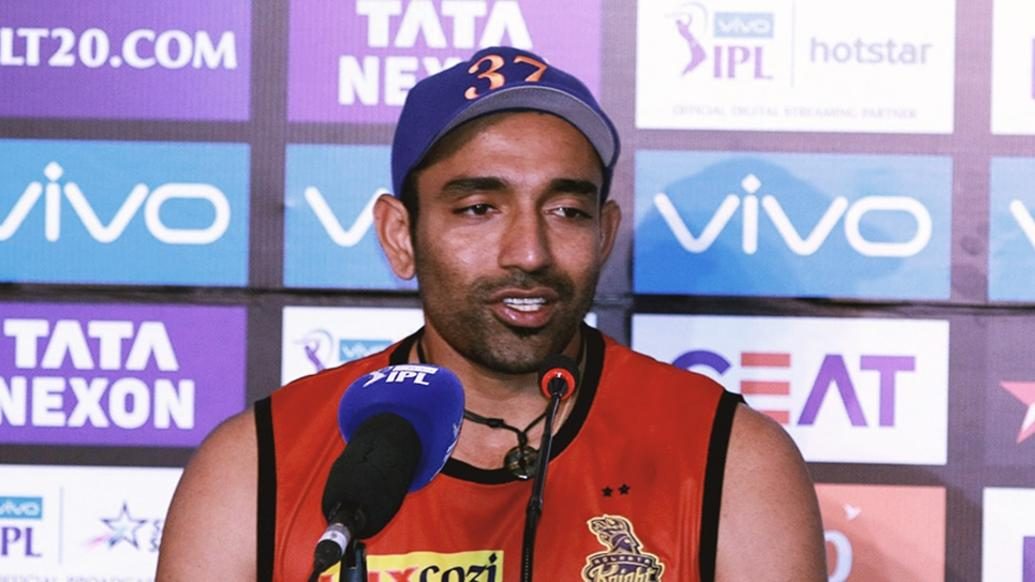 Robin Uthappa, with a fantastic knock of 48 off 36 balls, negated the pressure created by the early wicket of Chris Lynn against Rajasthan Royals in the 2018 VIVO IPL clash on Wednesday (April 19) night at Sawai Mansingh Stadium in Jaipur. KKR went on to win the match by seven wickets, and Uthappa spoke to the media after the game. Excerpts:
Q. How did you feel about today's knock?
RU: Well, I have been striking the ball pretty well throughout. I had an off-colour domestic season, but even then, I didn't think I was not striking the ball well. I was just not getting enough runs. I am happy to continue in the same vein. I am happy to make contributions to the team. But I still think it's early days, and I hope to get better with the matches coming up next.
Q. What is your impression of Nitish Rana?
RU: Nitish is someone who in my view, has a very firm head on his shoulders. He reads the game very well, and is also very confident. If he continues playing the way he has been for the past few seasons, he will give himself a good chance to grow as a cricketer.
Q. Has winning the toss and choosing to chase become a new trend?
RU: When you look at how the game is actually changing, it has become so dynamic right now that everything seems chase-able. I have given this some thought, and I think cricket is changing as a sport, and it is happening right in front of our eyes. We have just gone 15-16 games into the tournament and we already have 250-odd sixes hit by the teams. So it is definitely shifting to a power game. And I think we are watching and experiencing that happening. Hence, I believe, chasing is the top choice for captains. There is a paradigm shift that is happening right now.
Q. What is going to be KKR's approach for the rest of the season?
RU: I think we have been playing some good cricket. We still have certain aspects that need to come together completely. And personally, I am happy it has not happened yet. You don't want to peak too soon, you want to peak at the right time. But also, this tournament has two parts - one is about qualifying and the second bit is about playing past the qualifiers, which is like a separate tournament altogether. I think the initial goal for us is to qualify for the playoffs. As of now, we are utilising all the players just enough. Everyone feels like a family, and everyone feels included within the group.
Q. You spoke about peaking at the right time, but KKR have played five matches while SRH have played only three. Can you afford to wait for that kind of momentum?
RU: Not necessarily, like I said, IPL is a type of tournament where momentum is very important. And teams that have momentum going in their favour do well. We are playing about six games in 12 days, and then it sort of slows down for us. We knew the first half was going to be hectic for us. So for us, at the end of the first half, we wanted to give ourselves a good chance to be in the top four. Given where we are right now, we are quite happy. We have created momentum for ourselves and we don't want to give it away.
Q. There has been a bit of chopping and changing at the top of the order. Is that a concern?
RU: To be honest, the top three has been the same. We changed things in one game and realised we didn't have to try fix something that is not broken. We came back to what works for us and it's going well for us. Once we have Lynny and Sunny clicking, and getting us off to a good start, we are in a great position. Then we have me, Nitish and Dinesh coming in plus Andre - that puts the team in a very strong place.
Q. You have played under Gautam Gambhir, and now DK. What are the differences between the two?
RU: Both are very different personalities. DK is someone who thinks a lot, likes a lot of information, but at the same time, he leaves enough room for instinct as a captain to be proactive. Gauti was a very instinctive guy, and proactive as a captain. Both are very different types of personalities, but they both have the main basic characteristics needed to be a captain in this format.