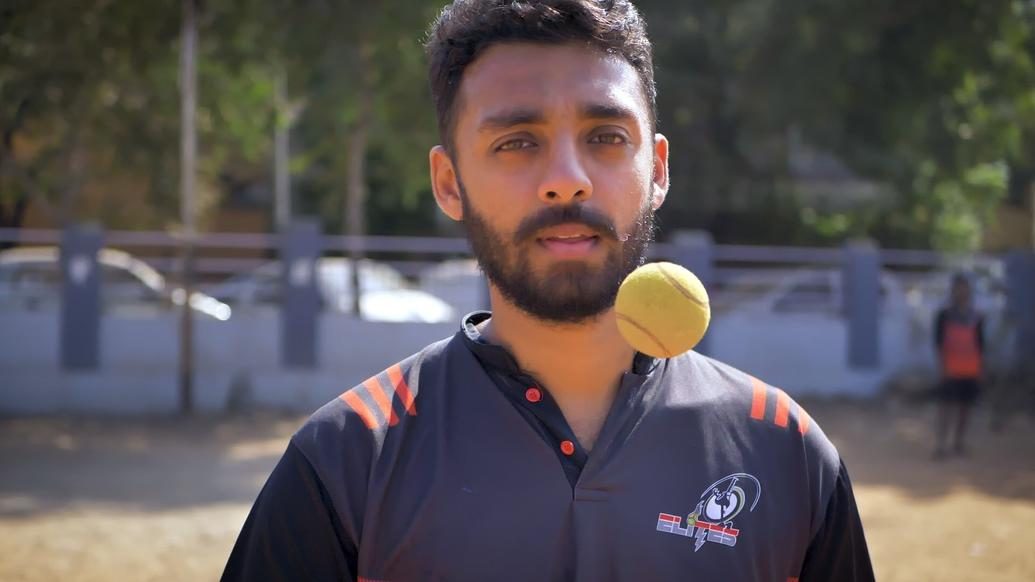 What's common between Anil Kumble, S Venkataraghavan, Erapalli Prasanna, Krishnamachari Srikanth, Javagal Srinath, R Ashwin?
Stellar cricketers, yes. But did you know, all of them held a degree in Engineering before making a name in cricket? Well, let's introduce you to one such character in our 2020 squad - Varun Chakaravarthy, B.Arch, SRM Institute of Science and Technology.
The humble, soft-spoken lad from Chennai grabbed the spotlight after becoming one of the hottest picks of the 2019 IPL Auction, where Kings XI Punjab bagged him for a whopping contract. A year later, the KKR think-tank ensured we had him in our ranks for his unique, mysterious style of bowling. The Tamil Nadu leg-spinner, who has several variations in his kitty, was afterall a part of our 2018 camp as a net-bowler, where he mesmerised the management with his unusual skills.
"I studied in SRM College, Kattankulathur. I did architecture - it's a
five-year professional course," Varun recounted in a recent chat with kkr.in. "It was a completely different world. It's all about computers, T-scales, Drawing, Chart Papers and all those things."
Varun was so much into it, that he didn't even watch or play any cricket during this phase.
"I never used to even see matches, (but) I always had that love (for cricket)," he said. "Somewhere in my concept of any design in a building, I used to bring cricket in it. Architecture is all about Lines and Angles. Even bowling is all about Lines, Lengths, Angles of what you are bowling. So somewhere, I was able to connect it. Even my fifth-year thesis was a Cricket Stadium!"
"After I finished Architecture, for about 10 months, I didn't even work, I was just at home and I was figuring out what I can do in my life."
That's when Varun reconnected with his passion of playing cricket, but to make sure he had a steady income, he started working in an Architecture firm in Chennai.
"I had no contacts in cricket, I didn't have a kit-bag, nothing. I had to start all over again," he explained. "But for that, for my expenses. I needed to work. I wanted some job."
For two years, Varun worked as an Architect before shifting to a full-time career in cricket.
"I got through the job interview, I got selected, and then I started working for two years. But at that time, I was practicing cricket side by side."
"My employers (D+Y Architects) were very helpful. Whenever I had some match or something, I had to take off for half a day. I used to directly go up to them and ask them. They were very helpful, they said, you can take your break."
In the 2018 TNPL season, Varun was one of the most economic bowlers with an average of just 4.7 RPO. He was one of the key players in Madurai Panthers' title win in 2018 with figures of 2/9 in 4 overs in the final.
The Tamil Nadu lad was the highest wicket-taker (22 wickets in 9 matches) for Tamil Nadu in the Vijay Hazare Trophy 2018–19.
Then came the auction, and the world of cricket started wondering - who is this Varun Chakaravarthy?
"For a person who wanted to have a career in Architecture, all this happening, my parents - they couldn't believe what was happening. It was like a movie."
"I didn't expect anything more than the base price. But something else happened, I was even trending in Twitter, with who is Varun Chakravarthy and all those things. It was crazy!"
The story of Varun Chakaravarthy is a unique one, and he is all set to don the Purple and Gold this year and showcase his magic with the ball.
"I never thought Cricket was going to come back to my life again. But somehow, even when I left cricket, cricket didn't leave me."
"It just came back to me."