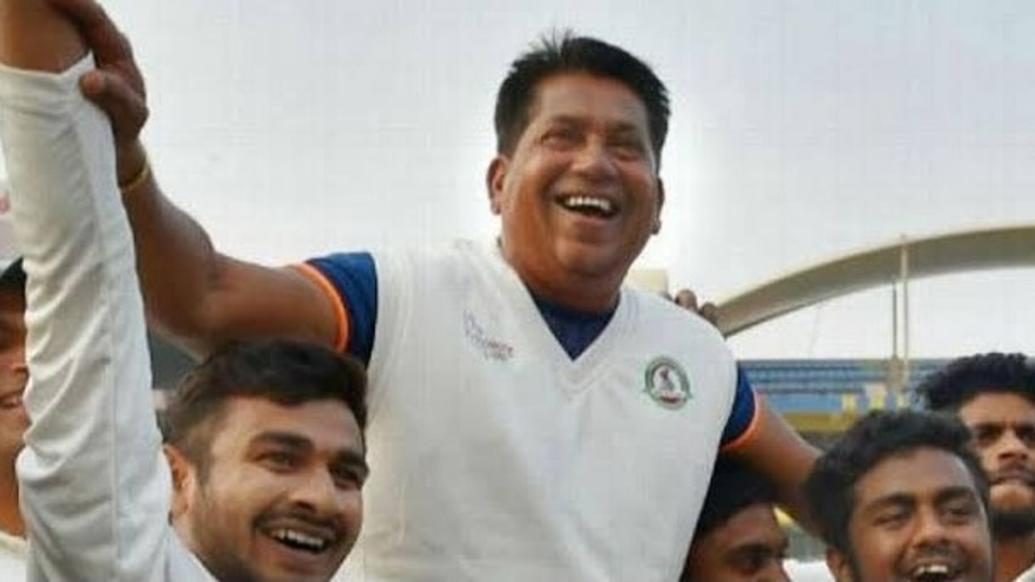 On Wednesday (August 17), Chandrakant Pandit became KKR's first-ever Indian head coach and only the third in the IPL's storied history.
A highly-regarded and a widely celebrated coach in the Indian domestic circuit, the former wicket-keeper batter also represented India in five Tests and 36 ODIs between 1986 and 1992.
A Doyen of Indian domestic cricket
Pandit, for whom it will be his maiden IPL stint, is the most successful Indian domestic coach having won six Ranji trophy titles with three different states. He led Mumbai to three Ranji titles in 2002-03, 2003-04 and 2015-16. It was in his final season that a young Shreyas Iyer topped the run charts with 1321 runs and announced his arrival.
In between, he also served as the Director of Cricket with Rajasthan and was at the helm when the side won their second Ranji title. In 2016, he took over as Vidarbha's head coach and helped them not only win their first-ever Ranji trophy title in 2017-18 but also defend it successfully the following season.
Recently, he guided Madhya Pradesh to their maiden Ranji Trophy title against 41-time Champions Mumbai, no less. It only does well to explain one of his many sobriquets: 'the man with the Midas touch'.
Outside of his domestic cricket commitments, Pandit has worked with the National Cricket Academy in Bengaluru and India-U19s, which included the 2010 U-19 World Cup in New Zealand. Being the head coach of the team, he monitored the development of players such as KL Rahul, Jaydev Unadkat, Mayank Agarwal and Harshal Patel.
His unprecedented success at the domestic level has earned him the title of the 'Dronacharya of Indian domestic cricket'. After his triumph with MP, Dinesh Karthik drew parallels with the legendary former Manchester United football manager, hailing him as the 'Sir Alex Ferguson of Indian cricket'.
𝘾𝙝𝙖𝙣𝙙𝙧𝙖𝙠𝙖𝙣𝙩 𝙋𝙖𝙣𝙙𝙞𝙩 ➡️ 𝙏𝙝𝙚 𝙈𝙖𝙨𝙩𝙚𝙧 𝙞𝙨 𝙝𝙚𝙧𝙚 💪#AmiKKR pic.twitter.com/Xe3D2V7oaM

— KolkataKnightRiders (@KKRiders) August 18, 2022
Coaching style
Having travelled the length and breadths of the country to discover and work with rising talents, one of the major advantages the 60-year-old brings to the table is his vast experience and domestic knowledge.
Known for his taskmaster-like approach, the teams that have bought into his coaching style have tasted instant success.
In his time with Madhya Pradesh, he oversaw the development of Venkatesh Iyer from a No. 6 to becoming a successful opener. At Mumbai, he helped Shreyas sharpen his skills instilling valuable lessons in patience and discipline. Both the players, who have since then gone on to represent India, spoke warmly about their time under his wings.
Shreyas told The Hindu back in 2016: "He's always there for you, gives you full freedom. He never makes you feel that he is your coach but gets his point across very well."
Here is Venkatesh, in a conversation with Sportskeeda: "Chandrakant Pandit sir is a legend when it comes to coaching. The way he has handled teams is an inspiration for all of us. He always emphasizes on two things that are important to play the game. One is physical fitness. There were discussions about the flick of the wrist and underarm throws. Each and every detail matters to him. He feels the game is affected by the little things and if you take care of the little things, the larger picture will be achieved."
'Domestic knowledge is my greatest advantage'
Taking over from Brendon McCullum, Pandit will be reunited with familiar faces not just in Shreyas and Venkatesh Iyer, but also the likes of Umesh Yadav, Omkar Salvi and Abhishek Nayar.
"Being an Indian coach and having spent enough time in domestic cricket, I know most players, whether they have played under my coaching or against teams coached by me. I am aware of everyone's skills and that's my greatest advantage," Pandit told Press Trust of India.
"It is always an advantage to have players in the set-up with whom you have spent time and of course the rapport which we have maintained over the years. KKR has Umesh Yadav, who has played in my coaching at Vidarbha and Venkatesh Iyer who is an important member of Madhya Pradesh side. I know all these boys personally. And then you have Abhishek (Nayar) and Omkar Salvi (support staff) who have played under my coaching. It is a terrific advantage to understand the whole thing from them," he said.
"I have heard from players and others who have been associated with the Knight Riders about the family culture as well as the tradition of success that has been created," Pandit told kkr.in on his appointment. "I am excited about the quality of the support staff and the players who are part of the set-up, and I am looking forward to this opportunity with all humility and positive expectations......"