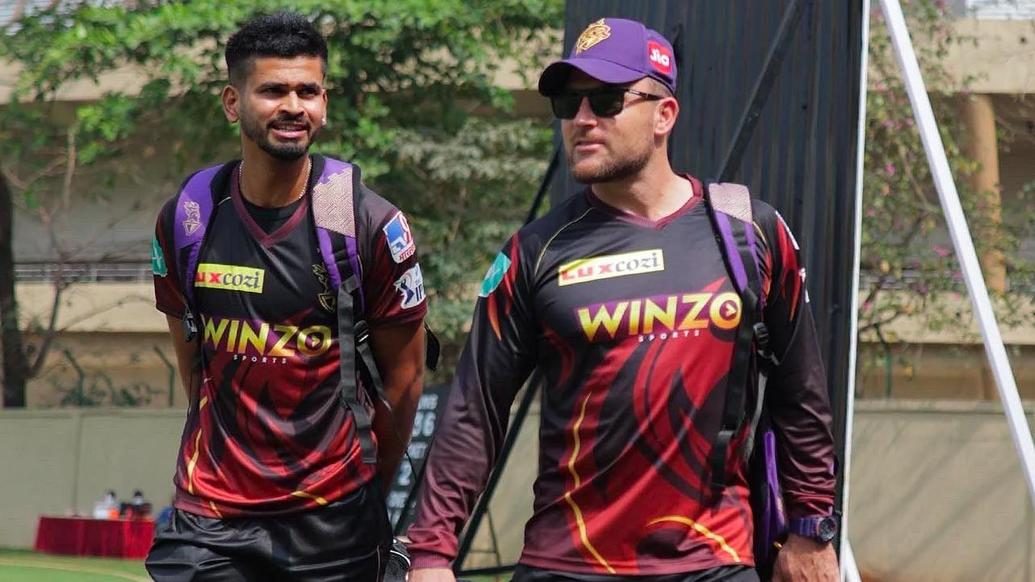 Head coach Brendon McCullum believes new captain Shreyas Iyer could potentially be a superstar leading KKR from the front for easily a decade to come.
"I have admired Shreyas from afar," McCullum said on the eve of the first match against Chennai Super Kings. "I met him five years ago when he was playing for Delhi (Capitals) and I was playing for Gujarat (Lions). We exchanged numbers and I asked him why he never called me. He said, 'I was too intimidated' (laughs). So here he is captaining a franchise and is a big star in Indian cricket.
"He's already incredibly well-respected around the world for what his game is about and what he has been able to achieve . I think he has the potential to be a superstar of the game. He's got a really great demeanour about him and a nice, powerful and warming presence. We both share a common value of how we like to see the game play. Really, really excited to work with Shreyas. He could be a franchise player for KKR for the best part of a decade. It has to start somewhere and that's tomorrow."

The boys in Purple and Gold take on Chennai Super Kings in the curtain-raiser on Saturday night. Super Kings, too, have a new captain in Ravindra Jadeja, Iyer's Indian teammate, and despite the two sides having met at last year's Final in Dubai, when the Riders finished as runners-up after a 27-run loss, revenge is not on McCullum's mind.
"I think we played a good final. Chennai were too good on the day. We had our opportunities but weren't quite able to get across the line but immensely proud of what we were able to achieve last year from where we were halfway through the tournament to where we got to. The style of cricket that we played, we were the hottest ticket in town through the final stages of that tournament. There were lessons, not just from a franchise point-of-view but also from a coaching point-of-view.
"If you get the guys understanding your style and get them to buy into it then you can be powerful as a unit. We didn't win but we certainly had a good tournament in the end. Chennai deserved to win it. It isn't a revenge thing for us but it will certainly be nice to start the tournament really well against a side who also have a slight change in their direction as well. From our point-of-view, we just need to settle in and target a win."

Knight Riders are missing key names from their fast bowling line-up with overseas players Pat Cummins and Tim Southee set to miss the initial few games. However, McCullum is backing the Indian duo of Umesh Yadav and Shivam Mavi to attack upfront with spinners to follow.
"Umesh Yadav was a really good pick in the auction because of his ability to swing the ball upfront. He's also a wicket-taker in the powerplay too and that's where we will use him. Between him and Shivam Mavi and a couple of other guys, hopefully we can pick up early wickets and then that will allow our spinners to enter the game on top."
McCullum, who has been at the helm of the franchise for three years now, hopes to unearth more talent this season and has a simple message for his players: embrace the pressure.
"The message to them that the coaching staff and the skipper, Shreyas, have been drilling in them is that there's going to be nerves but just embrace those nerves and go play your best game, that gives you your best chance of success.
"The guys are really motivated, everyone's super excited. It's great that it's back in India and I know there's still some challenges but not necessarily the IPL we are accustomed to being based purely in Maharashtra. We have already got some superstars within our ranks and we are trying to develop some more superstars and what better stage than this tournament here."