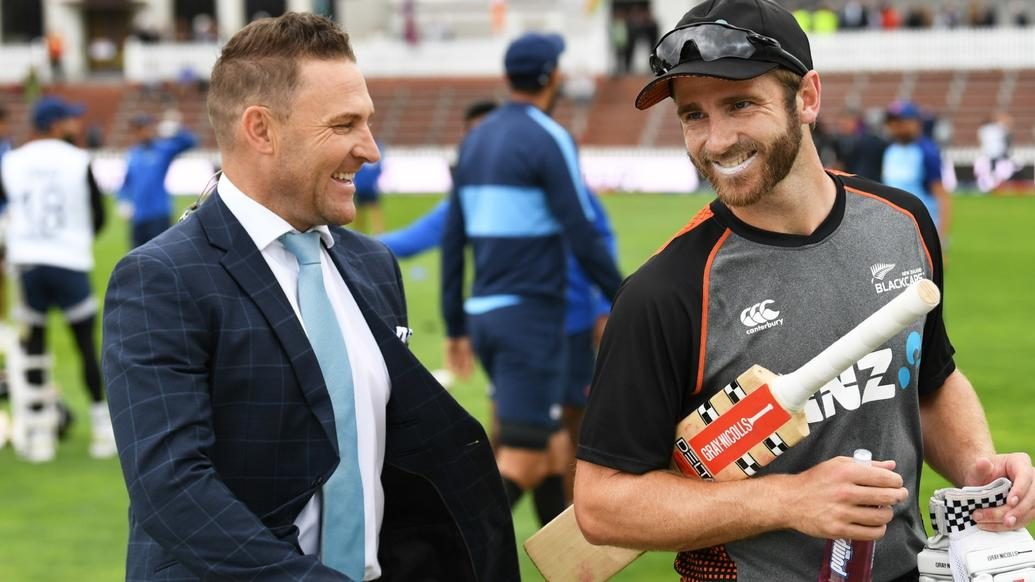 It is said, "a leader is one who knows the way, goes the way and shows the way!" Kane Williamson was pretty much all of it to bring New Zealand home their first ICC trophy in 20 years when they beat India in the World Test Championship final!
Kane Williamson has a new best friend 🥰

Take a behind the scenes look as the @BLACKCAPS skipper smiles for the cameras with the #WTC21 Final mace 📸 pic.twitter.com/SCvEdkfghl

— ICC (@ICC) June 25, 2021
The journey hasn't been an easy one of course. Williamson's predecessor Brendon McCullum started the transition of New Zealand cricket back in 2013 after a heart-wrenching 45 all out against South Africa. McCullum's aggression salvaged NZ a lot of pride before he passed on the baton to Williamson in 2016. The latter, in his turn, not only has established himself as one of the finest batters in the world, he also has taken New Zealand many notches higher in cricketing standards.
"One of the things I'm proud about is that I left at the time I did, because the team was at a level that if they were going to have long-term sustainable success, they needed to find something different," McCullum told ESPN.
"I was able to add an element of the aggression and confidence, but I was never going to add that level of consistency. Under Kane's captaincy they've been able to have that," he said.
To Kane and all of the boys.
We love you ❤️🇳🇿

— Brendon McCullum (@Bazmccullum) June 23, 2021
McCullum felt there has been a certain sense of composure about Williamson that changed the fabric of NZ cricket.
"To me, the last few years is where New Zealand has really [risen] under Kane Williamson's leadership - that team is a real image of the skipper. The culture of that side is so much of what is New Zealand - we're humble, hard-working, innovative when we need to be and represent our country with great pride and that's what those guys do. This New Zealand cricket team is the perfect fabric of what we want." McCullum said as quoted by tvnz.co.nz.
McCullum believed, after the devastating loss in the cricket World Cup in 2019, the team's success in the recently-concluded World Test Championship has come as dividends to persistent efforts.
"They've been knocking on the door of the ultimate success for a while now and to continue to keep doing it and keep believing in what they're about as a cricket team and to be repaid now with the ultimate success of a World Test Championship is just so significant," he concluded.