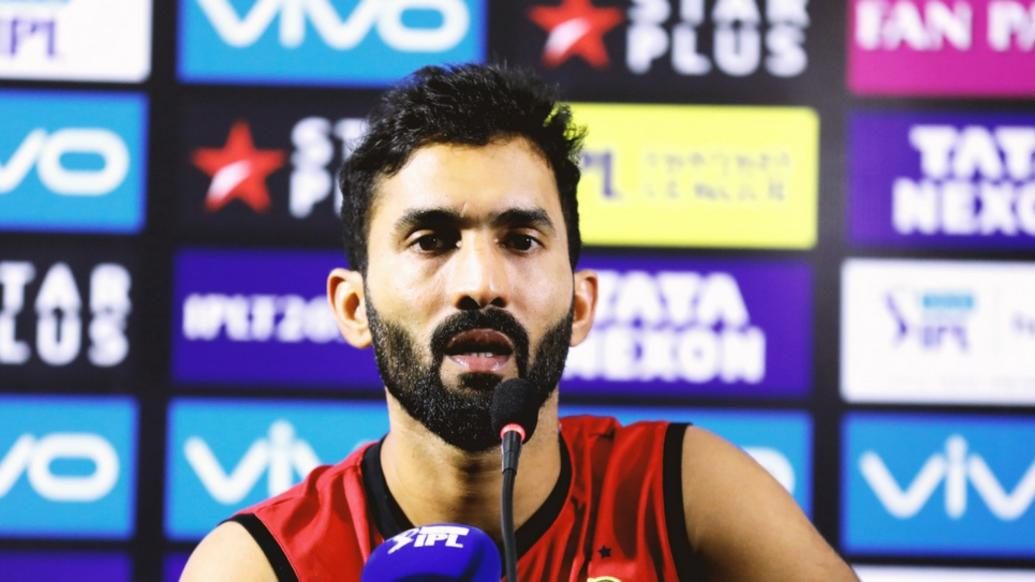 Kolkata Knight Riders suffered a huge defeat (by 55 runs) against Delhi Daredevils at Feroz Shah Kotla last night (April 27). The home team outplayed the visitors in all three departments. In the post-match press conference, our skipper, Dinesh Karthik called spoke to the media. Excerpts:
Q. Do you think bowling was a weak link today?
DK: Look I think we performed poorly in all three departments. Very disappointed with the result. I think, it literally kind of looked like that we didn't turn up for the match and that's very disappointing.
Q. Over the last few weeks we see teams defending very well. So is the obsession of chasing harming team's strategy?
DK: It's a clear case, something which is very simple. If the dew settles in, then chasing becomes too easy. We heard that there's always a bit of dew towards the end and we believed that there will be dew. But today, there wasn't much dew. So obviously then chasing becomes much more harder. It's something as simple as that. When there's dew, it's far easier to play shot. Lot of mistime hits go to the boundaries and then there's a lot of pressure on the bowler.
Q. So you play a guessing game at the toss basically?
DK: No, it's not a guessing game. We obviously find and not get as much information as we can. Even in the last game we've heard there's a little bit of dew but not too much. So we thought with a little bit of dew, the ball will come on to bat and it will be a lot easier to play the spinners.
Q. Do you think giving the last over to Mavi backfired?
DK: He's a fast bowler. He's there to do a job. Who else am I gonna give it to? One of the fast bowlers. It's hard to use spinners in that stage. They are gonna pick around the small (boundaries). So you back your fast bowler. He's been someone who's been practicing to bowl in the death for us. He's executed it in practice. And we need to show faith in him and that's how he'll grow as a cricketer. We don't need to protect him. At this stage even if he gets hit, it's a learning experience for him. If we start protecting him, he's never going to grow.
Q. It could hamper his (Mavi) confidence?
DK: In life, if you get hit and your confidence is little low, that's how you learn as well. I am sure he has learnt a lot from this and will come back, a better bowler in good time.
Q. How hard was it after you did not get any wickets in the powerplay?
DK: It's really hard. Wickets in the powerplay help. That's what they got and it helped them in the end. We didn't get the wickets in the powerplay when they were going hard throughout and sometimes we were hoping that a wicket falls, it clearly didn't happen. We were only able to get 2 or 3 wickets towards the innings, unless towards the end. We didn't get many wickets. That was the clear case of them going with throughout the innings with the similar momentum.
Q. Take on Shreyas and Prithvi Shaw.
DK: I think they batted really well. Credit to them, they played some valuable shot. We could have bowled little better, but I think a lot of credit must go the way they've batted.