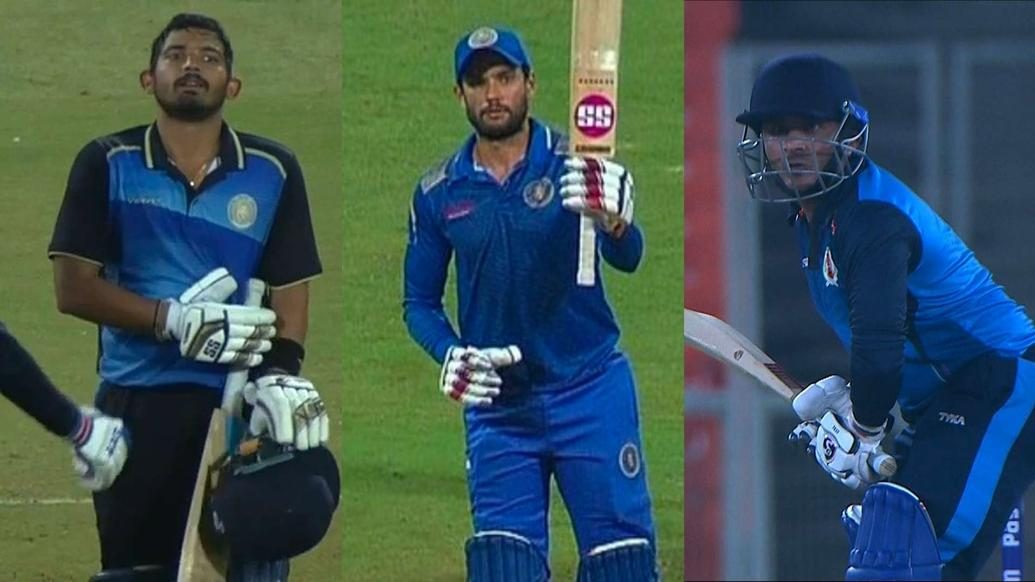 There's a lot of buzz around the top performers of Syed Mushtaq Ali Trophy, with the IPL 2021 Auction coming up with a pool of 292 players set to go under the hammer on Feb 18. While the speculation continues, and so do the permutation and combination, here's some of the top performers with the bat in Syed Mushtaq Ali Trophy (SMAT 2020-21).
Kedar Devdhar: Devdhar is the highest run accumulator in the SMAT 2020-21 with a staggering 349 runs in 8 matches at an average 68.9! The Baroda skipper has had a string of good performances with the bat, scoring at a strike rate of approximately 113 in the tournament. His highest score of 99* (71balls) came against Maharashtra. With Devdhar being a regular keeper, those who are looking for a backup keeper in the auction will find interest in him surely.
Captain leading from the front! 👏👏

Baroda skipper Kedar Devdhar brings up his fifty in the #SF2 of the #SyedMushtaqAliT20. 👍👍#PUNvBDA

Follow the match 👉 https://t.co/i4nZz3tPqC pic.twitter.com/2Q20IvVGcy

— BCCI Domestic (@BCCIdomestic) January 29, 2021
Avi Barot: The occasional 'keeper-batsman from Saurashtra impressed with his power-hitting. He not only has accumulated 283 runs from just 5 matches with a solid average of 56.6, but he also ensured that his strike rate remained as high as 184 on aggregate throughout the series. He scored a brilliant 122 off just 53 balls (strike rate 230.19) against Goa and also had an equally impressive 93 off 44 balls against Vidarbha.
💯! 👏👏

First 5⃣0⃣ in 26 balls
Next 5⃣0⃣ in 18 balls

Avi Barot is putting up an absolute show at the Holkar Stadium. 😎💪 #GOAvSAU #SyedMushtaqAliT20

He notches up a ton in 44 balls. Super stuff from the @saucricket batsman! 👍👍

Scorecard 👉 https://t.co/XvHEdM9Hq0 pic.twitter.com/WgJNfbMDqi

— BCCI Domestic (@BCCIdomestic) January 15, 2021
Rahul Singh: Services' Rahul Singh had a great outing in this year's Syed Mushtaq Ali Tournament, tallying 244 runs in 5 matches. He accumulated those runs at an average of 81.33 and a strike rate of 176.81. With three half centuries during the course of the competition, he was one of the most successful batsmen in the tournament.
Varun Choudhary picked up three wickets while Lakhan Singh & Rahul Singh Gahlaut scored fifties as Services beat Vidarbha. 👍👍 #SERvVID #SyedMushtaqAliT20

Watch the highlights of the match 🎥👇https://t.co/0M9VNNElZR pic.twitter.com/KAeHvp2R5m

— BCCI Domestic (@BCCIdomestic) January 17, 2021
Sheldon Jackson: Sheldon Jackson, who has been a part of KKR in the past, was in great touch this SMAT. Turning out for Puducherry, Jackson scored 242 runs in five matches (Average 80.66; Strike rate 155.12), and even hit an unbeaten 106 vs Andhra. His credentials as a domestic wicket keeper also makes him a valuable asset to any franchise.
Stunning win for Pondicherry! 👍👍

Pondicherry ride on Sheldon Jackson's ton and Paras Dogra's fifty and beat Andhra by four wickets in a run-fest. 👌👌 #CAPvAP #SyedMushtaqAliT20

Scorecard 👉 https://t.co/AOyzrlbK6z pic.twitter.com/xe4Zyz6sKy

— BCCI Domestic (@BCCIdomestic) January 15, 2021

Venkatesh Iyer: Madhya Pradesh's Venkatesh Iyer scored 227 runs in five matches in the Syed Mushtaq Ali tournament this year. His knock of 88 not out vs Saurashtra made the headlines, as he finished with an average of 75.66 and a strike rate of 149.34. The 26-year-old is a left-hand batsman and has played 38 T20s, 19 List A games, and 10 first-class matches.
Rajat Patidar and Venkatesh Iyer scored 96 & 87* respectively and the bowlers held their nerves as Madhya Pradesh edged out Goa. 👏👍#MPvGOA #SyedMushtaqAliT20

Watch the highlights 🎥👇https://t.co/BizlySA4Yt pic.twitter.com/3xcgZ8dmEg

— BCCI Domestic (@BCCIdomestic) January 11, 2021