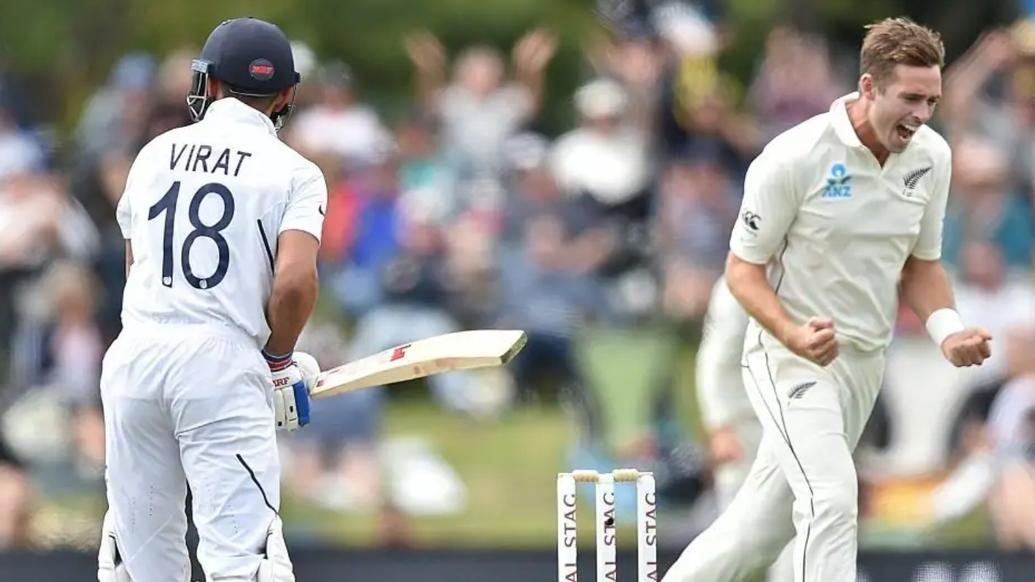 Team India will be quarantined in Mumbai for two weeks before they head to Southampton on June 2 to start their second leg of quarantine before getting out to play the World Test Championship Final, scheduled to get underway on June 18 at the Ageas Bowl.
The last time the two sides locked horns in a two-Test series in 2020, India had lost both matches. However, Virat Kolhli's men have been in supreme form ever since, beating Australia in Australia and winning the home series against England earlier this year in comprehensive fashion. Going by the form of our batsmen, we can expect some key clashes between our top and middle order and the Kiwi pacers. Here are a few showdowns we can expect:
Ajinkya Rahane vs Tim Southee and Trent Boult:
The India vice-captain has been troubled by pace and swing in the past. In the last two meetings against the Kiwis (Tests), Southee has plucked him twice. Overall, he has been dismissed 4 times by the right-arm speedster. Rahane's average against him is not impressive either (only 6).
On the other hand, his performance against Trent Boult is a few notches better. Boult has dismissed him three times but Rahane's average of 34.67 against the quickie is a good sign. Will Rahane step up and deliver the goods this time?


Cheteshwar Pujara vs Southee and Boult:
Pujara's show against Southee is a tad better than Rahane but still not good enough. With an average of 14.33, Pujara has been dismissed thrice by the pacer.
Very similar to Rahane, Pujara's average improves drastically against Boult (33.25) but a point of concern is his lack of ability to cope with the incoming deliveries. In both the first and the second Test in 2020, Pujara was knocked over by Boult's inswinger twice.
Mayank Agarwal vs Boult:
Agarwal oozed good form in the first Test against NZ last year but appeared pretty pale in the second. He was pretty fluent with his stroke-play against Boult in the first couple of innings but as a matter of fact, he was dismissed thrice in those two Tests by Boult.
Virat Kohli vs Southee, Boult and Neil Wagner:
Kohli's show against all three pacers has been decent. Even though his average against Wagner dips to 20, the fact that Kohli has withstood their attack since 2012, and has a vast experience on how to cope with pace and bounce on overseas tracks, will certainly give him a lot of confidence. While the trio have picked him up three times each in the past, Kohli's evolution as a batsman and skipper is likely to fetch him good returns.
Note: Kyle Jamieson, the tall young allrounder the Kiwis have unearthed in recent times, is also someone our batsmen would be wary of facing if he gets a place in New Zealand's Playing XI. He has been impressive inn the limited opportunities he has been given in the last couple of years, and can be an interesting option for Williamson in England's pace-friendly conditions.
Important Stats:
| | | | | | | |
| --- | --- | --- | --- | --- | --- | --- |
| Batsman | Bowler | Runs | Balls | Outs | Avg | SR |
| Ajinkya Rahane | Tim Southee | 24 | 110 | 4 | 6.00 | 21.82 |
| Ajinkya Rahane | Trent Boult | 104 | 199 | 3 | 34.67 | 52.26 |
| Cheteshwar Pujara | Tim Southee | 43 | 130 | 3 | 14.33 | 33.08 |
| Cheteshwar Pujara | Trent Boult | 133 | 299 | 4 | 33.25 | 44.48 |
| Mayank Agarwal | Trent Boult | 33 | 59 | 3 | 11.00 | 55.93 |
| Virat Kohli | Neil Wagner | 60 | 108 | 3 | 20.00 | 55.56 |
| Virat Kohli | Tim Southee | 109 | 214 | 3 | 36.33 | 50.93 |
| Virat Kohli | Trent Boult | 132 | 226 | 3 | 44.00 | 58.41 |