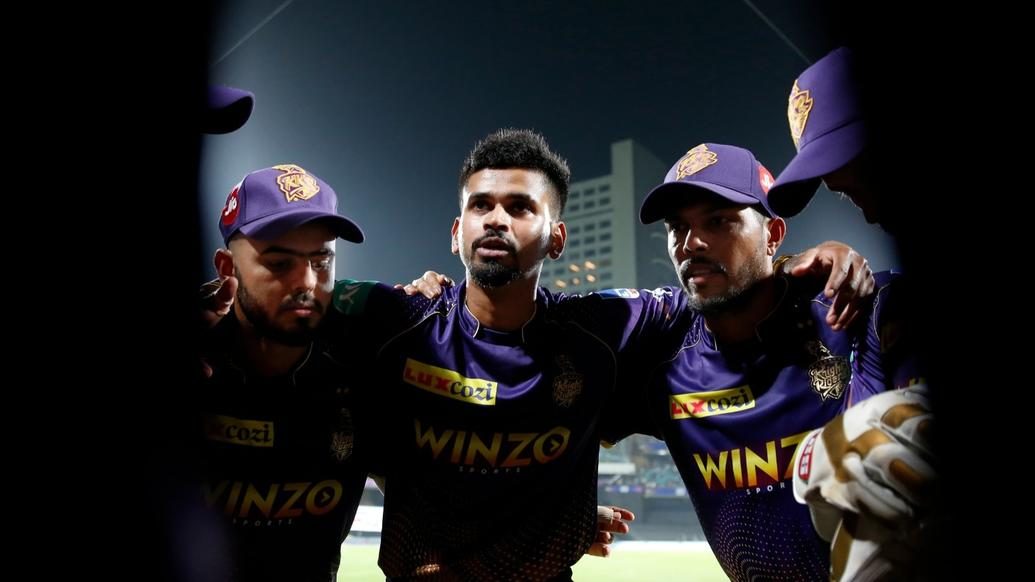 "Before getting in, I spoke with my boys and told them that this game is going to define our character and attitude on the field no matter if we defend or not."
Those were Shreyas Iyer's words after the game and despite nearly pulling off a coup defending a low score of 128, his words could not have rung truer.
In the end, the result may have looked inevitable but the fact that they managed to push an RCB side, who posted 205/2 on the same surface three nights ago, to the last over spoke about nerves of steel and a never-say-die attitude that defined characters on a two-paced surface.
And nobody quite spearheaded that approach better than Andre Russell himself. Batting at No. 8, he walked in as early as the tenth over as Wanindu Hasaranga snuffed out the Knight Riders' middle order. He soon lost his partner at the other end, Sam Billings, two overs later but continued to play his shots.
He first slapped a hard-length ball from Mohammad Siraj through cover for a boundary and muscled Hasaranga wide over long-on for his first maximum of the night. Sensing a key match-up, the RCB skipper, Faf du Plessis, brought Shahbaz Ahmed, the left-arm spinner, into the attack to turn the ball away from his hitting arc.
But Russell sunk his teeth into his length deliveries to dispatch him over deep midwicket and later over long off boundary for another two sixes. Russell now has the fewest balls - 6.6 - per six amongst all batters to have hit minimum 50 sixes in the IPL. The next highest on the list features his former West Indian team mate Chris Gayle who hit a six every 9.3 deliveries.
Later on, he came on to bowl the final over needing to defend seven despite sore shoulders.
Onwards & upwards! 💜@ShreyasIyer15 #KKRHaiTaiyaar #IPL2022 pic.twitter.com/LTzHA9wLGu

— KolkataKnightRiders (@KKRiders) March 31, 2022
"In low scoring games it's going to be sort of finite moments which determine success and failure," head coach Brendon McCullum said after the game. "So I think we back all of our players in those big moments. Unfortunately it's not always going to come off.
"Dre [Russell] had run around the boundary and dived and to stop that boundary for us which was fantastic. Unfortunately he just picked up a little bit of a bump, which made his shoulders a little bit sore. But Dre being Dre he still wanted to try and get the job done and he wasn't quite able to, but look those are things which happen in low scoring games as well."
But where an alternative approach would have been to be circumspect in the middle overs, the Knight Riders employed an aggressive approach to get a move on and target the shorter boundaries, in line with McCullum's prescribed approach.
"I actually loved the intent to be honest, I thought the intent was great," McCullum said. "You back the fact that you are playing the extra better and you are playing a long batting lineup. You don't anticipate getting bowled out obviously. Honestly I felt like we didn't have a lot of luck today. To be honest, every time we sort of went for the aggressive option, we seemed to find a fielder or things didn't quite go our way. So that can happen sometimes as well.
"But I want us to continue to keep that in the team because that's what served this side so well last year. And I think you know the way we've set our team up with the auction, the players that we picked that suits them as well. Sometimes you get to go a little bit too hard. But now we know where the line is and if we can add a little bit of craft with the wickets we're coming up against and look to use the bounce as our friend rather than our foe then I think it gives us a good chance. But not quite enough runs but I was pleased with the intent. Little bit of luck and things could have been different," he added.
Defending 128 on a surface that had extra bounce to be exploited and early wickets to be taken to stay in the hunt, Umesh Yadav, who earlier scored a crucial 12-ball 18, made the initial breakthroughs sending back Anuj Rawat for a duck in the first over and later drawing the edge of Virat Kohli in the third over.
"Umesh Yadav has been simply outstanding to be honest," McCullum said. "I was lucky enough to play with Umesh when I was still back playing the game and I knew back then how good a bloke he was. His brief was to try and take wickets for us and if he goes for a few runs, we don't kind of care. We just want his mentality to attack and he's done, in the two games, more than what we could have asked for.
"He's done a wonderful job and hopefully that continues. He's closer to the end of his career than the start but he's incredibly fit, very, very driven and we see him as a huge asset for us particularly in the early stages of the tournament with the ball seaming and swinging the way it is."
The boys in Purple and Gold face a quick turnaround as they take on Punjab Kings on Friday night at the Wankhede Stadium in Mumbai, the scene of victory in the tournament opener.