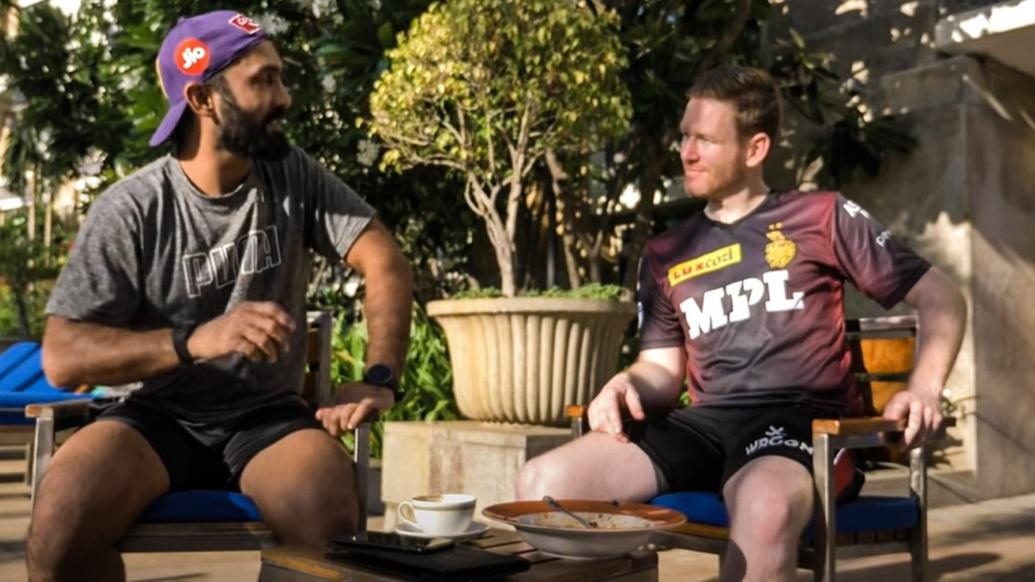 Indian Premier League is a highly-competitive tournament that not only requires skills, but also a certain amount of conviction in yourself and your teammates to squeeze out tough wins in pressure-cooker situations.
Year 2020 was one of the toughest anyway due to the mayhem caused by COVID19; added to that was another difficult situation that came KKR's way mid-season! The then skipper Dinesh Karthik decided to step down from captaincy after leading the side for 7 games, making way for Eoin Morgan to step in for the remainder as the captain. KKR had 4 wins and 3 losses back then.
"It wasn't an emotional decision. He was actually very logical and selfless from his point of view and to show the courage to step down in the middle of the competition based on (what) you think is better for the team, is incredibly courageous," reflected current KKR skipper Eoin Morgan.
View this post on Instagram
Having a new captain out of the blue, that too while the tournament was at a critical stage, wasn't expected to be an easy ride for the boys. The decision, of course, wasn't an overnight call. Karthik had put across his thoughts to the team management of October 7, the day KKR had won their encounter against Chennai Super Kings. The official announcement took place a week later on October 15, just before our game against Mumbai Indians.
"We were downstairs in a restaurant when he (DK) said 'Baz, Morgs, Venky do you mind if I grab a few minutes of your time?' I was like yeah no worries skipper! He said, 'I think now it's a good time for me to step aside', and I said we just won a game! And you're saying 'now is a good time for me to step aside as captain because I thought I want to focus more on my batting and I think Morgan is the right man for the job?'," recalled KKR coach Brendon McCullum about how it all started.
View this post on Instagram
Reflecting on Karthik's decision, Venky Mysore, KKR CEO, said, "somewhere at the back of my mind I knew that maybe he was feeling the burden of it a bit and it was fantastic that he put team first and thought about it because there are a very few others who would have done this. We know of situations where people would have clung onto it and become a bit bitter when it's taken away. And we have seen situations around the league when it was taken away from some people forcibly and they didn't like it at all. But it was refreshingly different."
Karthik's sudden announcement had indeed left each of his team members surprised and shocked. Especially at a stage when the team had more wins than losses, to have come up with such bold step was courageous yet incomprehensible for many youngsters, including Shubman Gill.
"I got a message on my phone saying there was a meeting and we had a match the day after and I thought it's an odd time for a team meeting because we usually don't do that. I really had no clue what DK bhaiya was going to say and when he told everyone that he was not going to be the captain of the team, I was just looking at other people. It takes a lot of courage to do that, especially in the middle of a season. And it really shows how much he is committed to the team," said Gill.
View this post on Instagram
When asked what was playing on his mind before he decided to hand over the captaincy to Morgan, Karthik said, "I wanted to give Morgan a chance because it was really important, we had played seven and there were seven more games to go, so we had enough time. It would have been very unfair of me to move on if we were doing so badly that we had no chance further in the tournament."
"In the 2.5 years that I have led the team, I think I earned the trust of the boys. I think that's very important as a leader. They know for a fact that they would get a lot of honesty from me. That makes things easy and Morgan is very similar to me on that front. I think the boys believed that both the people put the team ahead of themselves and that's why the decision was taken," he added.
View this post on Instagram
It was this belief that brought the team together. Even though KKR couldn't make the play-offs due to poor Net Run Rate, the valour with which the boys fought till the last match, showed their integrity. The captains may have switched. But nothing much changed on the field. Karthik and Morgan were still at work together, feeding each other with their expertise in key areas as and when required. The possible turbulences that many had feared turned out to be a seamless transition – a journey of faith and courage!
View this post on Instagram
"Baz (McCullum) and Abhishek Nayar had done such an incredible job of communicating to the players. Their relationship with DK and myself and even the senior players was so good that the transition was quite seamless and I actually didn't give it a great deal of thought. I was delighted to be taken on board, but given that I have captained a lot over the years, it's been indeed a seamless transition," concluded Morgan.
View this post on Instagram