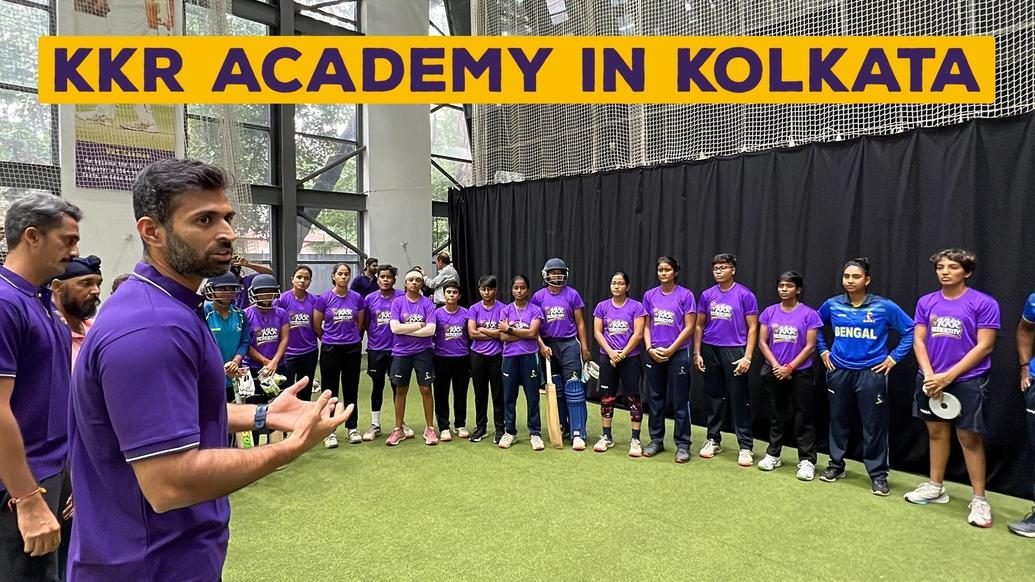 Kolkata Knight Riders hosted the first ever KKR Academy camp in Kolkata in a day-long training session involving young cricketers from the region and Bengal's Women Team players at Eden Gardens on Thursday (August 11).

Abhishek Nayar, the head of KKR Academy and assistant coach of Kolkata Knight Riders, along with Omkar Salvi, assistant bowling coach of KKR, held an interactive session with the 40-member contingent in the state of the art indoor facility at Eden Gardens. The coaching staff were joined by Nitish Rana and Rinku Singh - two of Kolkata Knight Riders' players who shared their experience and tips with the participants of the clinic.

At the end of the event, winners of the 2022 Junior Knights Mayor's Cup Tournament were felicitated by Debasish Kumar, mayor-in-council of the Kolkata Municipal Corporation, and members of the CAB.

Speaking about the initiative, Cricket Association of Bengal (CAB) President Avishek Dalmiya said: "It was good to see KKR holding the camp with the junior cricketers, both boys and girls. Forty cricketers, 20 boys and 20 girls, attended the camp today. Now that Covid is no longer such a threat that forced our hands, we would urge KKR to hold more such camps and for longer periods which would be more meaningful in honing skills among these budding cricketers."

Abhishek Nayar, speaking to the media at the end of the event, said: "When the KKR Management made the decision to hold a camp like this in Kolkata, we were very excited, because this is something we always wanted to do. The past couple of years have not been easy with the Covid-19 pandemic, to do anything outside of the IPL in a bio-bubble. KKR as a franchise has always taken pride in picking up youth, grooming them and making them succeed in the biggest platforms."

"This is one step towards getting a lot of young talent from here, who hopefully can represent Bengal, India and KKR one day in the future. Eden Gardens has always had great facilities and seeing the new indoor setup, the kind of infrastructure CAB has built here, it shows the positive thought process of the cricket board. We have seen the results in Ranji Trophy as well, where Bengal is one of the strongest contenders today. I hope today's session has paved the way for lots of positive steps. KKR will surely be a part of more such sessions in the future. We wholeheartedly enjoyed today's session, even though it was only for a day."

Nitish Rana, who has represented KKR since 2018, said: "It was great to see the enthusiasm among the young cricketers here, and also the Bengal women's team players. They are very talented and with facilities like these, I'm sure they have a bright future ahead of them"