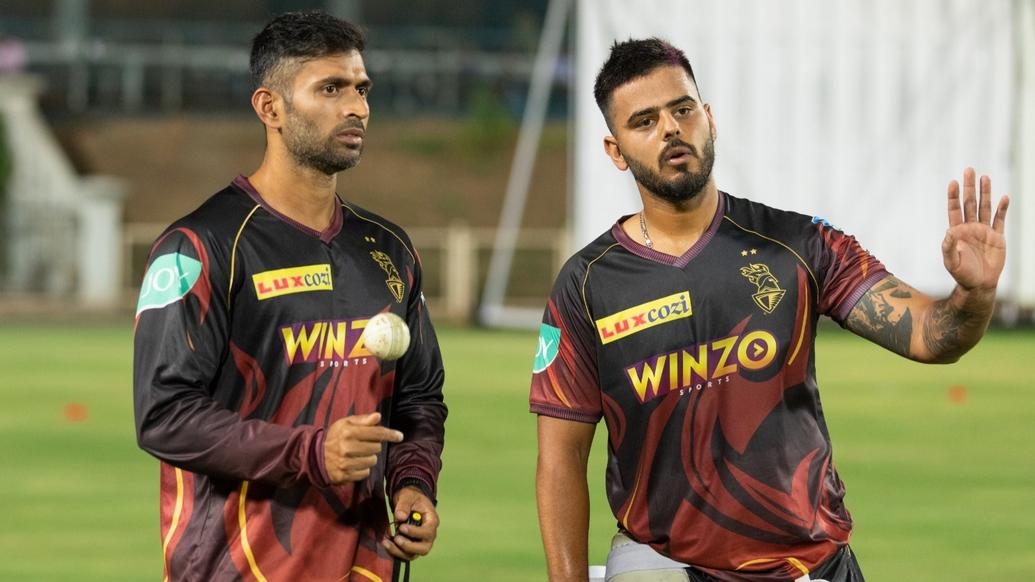 Abhishek Nayar, Kolkata Knight Riders' assistant coach, has described his former Mumbai teammate Ajinkya Rahane as a "proper team man" and central to the side's quest for a successful IPL 2022 season.
"It's been fun (working with Rahane). The first year I had a session with him and I was giving him catches, it felt so weird because it wasn't long ago that we were playing together," Nayar spoke after Tuesday's training session ahead of his side's game against Royal Challengers Bangalore.
"It is always great to have Ajinkya in this set up, specially because of the experience that he brings in. For me, working with him is great because it is easy having the conversation we have always had when we played. It's just the continuation of that. But just the experience he brings, he's now a Test captain so he brings the leadership quality. He's also been a successful player in the IPL. To have someone like him partnering Venkatesh Iyer [at the top] is great."
It's time for a 𝙕𝙊𝙍𝘿𝘼𝘼𝙍 showdown ⚔️#KKRHaiTaiyaar #RCBvKKR #IPL2022 pic.twitter.com/0Fj2QDszsR

— KolkataKnightRiders (@KKRiders) March 30, 2022
Rahane, who hasn't had a fair run in white-ball cricket over the past couple of years, top scored with a fluent knock of 44 in KKR's opening night win over Chennai Super Kings. He struck six boundaries and a six as he laid the foundation of a successful chase in pursuit of 132.
"Knowing Ajinkya, he has been someone who never played to prove anything to people. He's someone who has always played for the fact that he enjoys playing this game and he plays with the utmost desire to do well for his team. He's an absolute team man. If there was one player who would stand out and you can consider a proper team man, I think it's Ajinkya.
"In terms of making a comeback [for India], I think he has always had that calibre. When he came back from the Test side to play first-class cricket, he got a hundred in the first game. He's someone who's always got runs. Even in the IPL he has been successful. I don't think he's approaching the IPL in terms of making a comeback, I think he's approaching the IPL in terms of making sure KKR has the best chance of winning the championship," added Nayar.
The only blemish in an otherwise breezy victory on Saturday was KKR's death overs bowling as they leaked 48 runs in the last 20 balls of the innings. However, Nayar isn't too fussed and threw his weight behind his fast bowlers.
"You are always looking at one bowler doing a job in the death and if each bowler can execute four of their six deliveries, they've done the job. I wouldn't say we have had a problem as we have done well through the game. There are phases in a game where you will leak a bit of runs, you're not always going to have a perfect game."
"More often than not, we have always been a strong bowling side so it wouldn't be fair to say we have leaked runs at the death as most teams do but I would say we have picked up a lot of wickets through the game and sometimes there are phases in the game where you will go for runs."
KKR hold the edge over their opponents, Royal Challengers Bangalore, on Wednesday as they look to continue their winning form but will be wary of the threat that Faf du Plessis-led side poses with a top order coming in with runs under their belt against Punjab Kings, having posted 205/2 in the first innings.
"When you play against a top side with experienced cricketers, we are looking to bring our best game. I think we are going to focus on playing our best cricket and hopefully, our best is good enough to win," Nayar concluded.