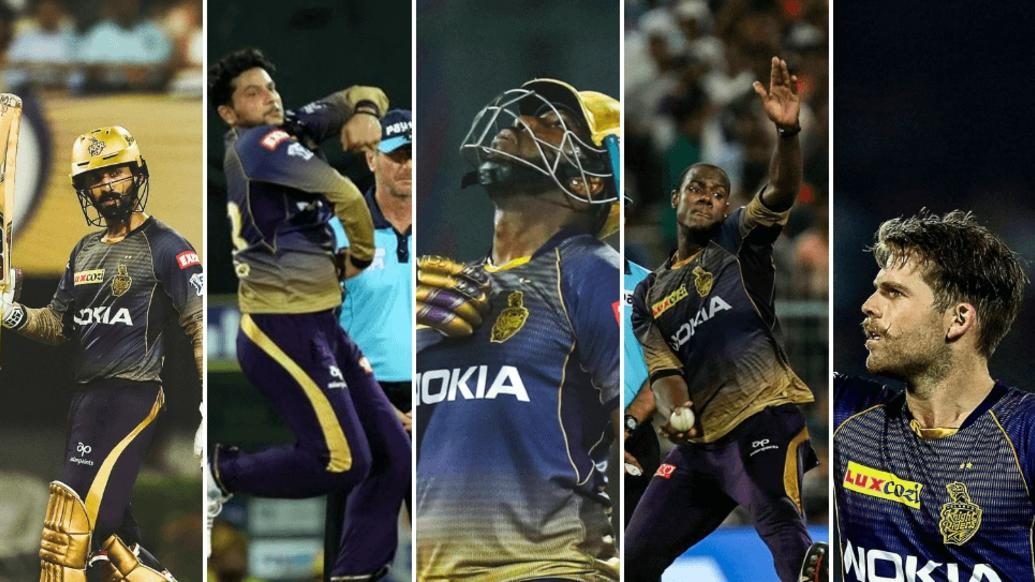 Let's rewind to 2015 or as Will Smith said "it's rewind time", the mighty Aussies lifted the World Cup at their own backyard. It was a triumphant tournament for them, having won the trophy for the fifth time. As the saying goes: Champions aren't made overnight, it's a habit not an act!

May 30, 2019. The date every cricket fan has been waiting for a long time. There will be top-notch cricketing action on display and fans will get to witness how every team competes to get their hands on the coveted trophy. There is a lot of hard work and analysis done by every nation to put out their best possible XI on the field and win the cup. While the last two world cups were won by the host nation, England will definitely fancy their chances but will face stiff competition in a format similar to the 1992 world cup.

Five of our Knights namely skipper Dinesh Karthik, Kuldeep Yadav, Lockie Ferguson, Carlos Brathwaite and Andre Russell have been picked up by their respective nations to play in the World Cup 2019.
With each run, wicket, catch or even an individual brilliance making a difference, the effort will always important and here's what our Knights have to offer in the mega event.
Dinesh Karthik - India
DK makes a return to the World Cup squad after 12 long years, his last appearance came in 2007 with the squad consisting names of Sachin Tendulkar, Virender Sehwag, Sourav Ganguly, Rahul Dravid and MS Dhoni. Apart from his keeping and batting skills, he has tons of experience and the correct temperament which booked his seat on the plane to England. DK also played a big role in winning the ICC Champions Trophy in 2013 in England.
KKR coach Jacques Kallis rates Dinesh Karthik very high as a player and had also backed him to be picked for the World Cup, "He is a very experienced player and he knows his game pretty well. He has got us out of many [tricky] situations in the past. He has an all-round view of the game, which can also help the youngsters, said Kallis.

Kuldeep Yadav - India
Kuldeep Yadav comes from a rare breed of chinaman bowlers to play in the modern day cricket. He has successfully revived the art out of its grave along with a few other Chinamen bowlers. After making his debut for India in the 50-over format in 2017, Kuldeep has picked an astonishing 87 wickets in 44 matches.
In India's tour of England last year, Kuldeep Yadav became the first-ever left arm spinner to take five wickets in a T20 innings which also included a HAT-TRICK. He achieved this feat in the first T20I clash against England at Old Trafford in Manchester. In the same tour, Kuldeep picked 9 wickets in 3 ODIs and became the talking point of that series after he picked 6 in the first ODI itself for just 25 runs. He also won the CEAT performance of the year award due to his performance in the same series. His exploits in England can be a plus for India in the upcoming showpiece event.

Lockie Ferguson - New Zealand
Lockie Ferguson broke into the New Zealand squad as someone who could consistently clock the 150km/h mark. He is probably one of the fastest bowlers in the world right now and currently averages under 25, taking roughly two wickets per match. To put that in context, the only other quick bowlers to have averaged less than 25 and gone at less than 5.5 runs per over are Jasprit Bumrah, Hasan Ali and Trent Boult.
Ferguson's ability to take wickets in the middle overs and particularly bowling in tandem with the spinners is going to be important for New Zealand in the English conditions. Thanks to his ability to keep it tight at the death, New Zealand have a real ace up their sleeve.
Andre Russell - West Indies


Andre 'Muscle' Russell, he is probably the hardest hitter of the cricket ball right now as we witnessed in the recently concluded IPL. Andre Russell, who last played an ODI in July 2018 was included in a strong West Indies' 15-man squad for the 2019 World Cup.

Russell was a part of the West Indies squad in the 2015 World Cup, picking up 11 wickets in 7 games. He also won the man of the match award for his blistering 42 run knock off 13 deliveries against Pakistan. Russell was in devastating form in the IPL, with 510 runs in 14 matches at a strike-rate of 204.5. With his all round performances and his hard hitting ability, no ground in England is small for Andre Russell to clear!

Carlos Brathwaite - West Indies
"Remember the name!" screamed Ian Bishop on air, after Carlos Brathwaite hit the winning runs off Stokes' bowling into the stands to hand West Indies their second World T20 title. Although the format has changed this time but Brathwaite would be as hopeful of winning it like he won it at that enchanting night at Eden Gardens.
His recent performances against England in the Caribbean must have tilted the scales of his inclusion in the World Cup Squad in his favour. He was West Indies' most consistent bowler throughout the series. He also scored 50 off 36 balls in St George's as the West Indies valiantly went about chasing England's mammoth total of 415, falling just 29 runs short in the end.
With the World Cup round the corner, Carlos Brathwaite scored a 64-ball 60 in an unofficial practice match (May 22) against the Australians in Southampton. His knock took his team to a respectable score to defend when the other batsmen struggled as the scoreboard read 104/6.