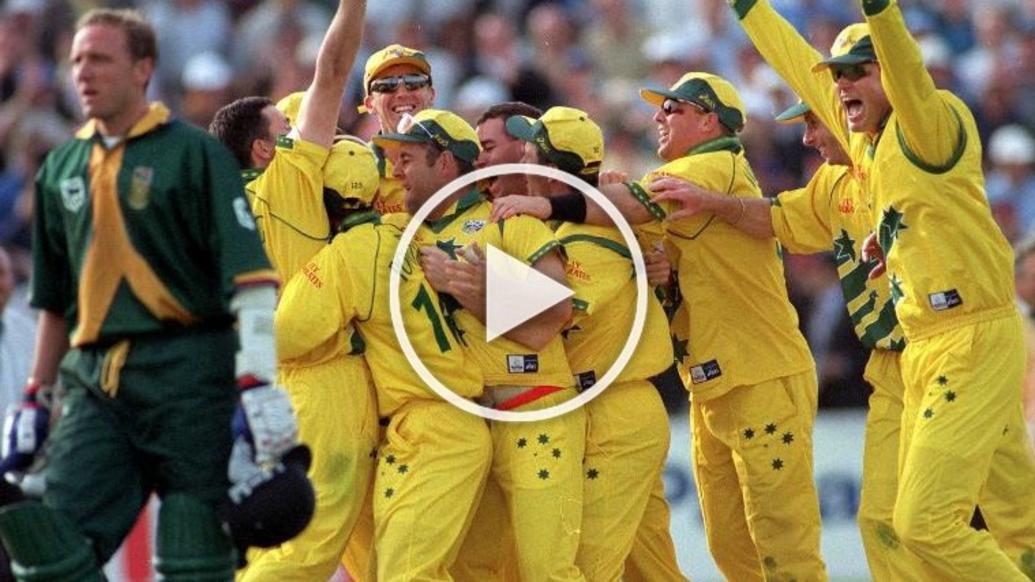 The second semi-final of the 1999 ICC World Cup between two of the most dominant sides in world cricket, Australia and South Africa, produced one of the greatest matches the world has ever witnessed.
Jubilation for @CricketAus. Heartbreak for @OfficialCSA.

On this day in 1999, an absolute classic @cricketworldcup semi-final. pic.twitter.com/JUt0n8iekT

— ICC (@ICC) June 17, 2021
When these two sides locked horns in the final match of the Super Six stage, Steve Waugh led from the front with an unbeaten century to help Australia edge past South Africa in a nail-biting thriller.
While the match is renowned for the scintillating hundred from the skipper, it is also known for the infamous dropped catch by Herschelle Gibbs.
In the much-anticipated semi-finals, South Africa were chasing 214 runs to enter their maiden World cup final. With valuable contributions from Jacques Kallis (53) and Jonty Rhodes (43), South Africa inched closer to victory.
In the middle overs, a flurry of wickets resulted in Lance Klusener battling it out for his nation with a solitary wicket in the final over of the innings with nine runs required.
The final over witnessed plenty of drama as Klusener smashed consecutive boundaries off Damien Fleming to bring the equation down to one needed off four deliveries.
However, on the fourth ball, the southpaw mistimed the ball to mid-off and set off for a non-existent run resulting in a run-out and a heartbreak for South Africa.
Watch the match highlights
(Video hosted by TZ Cricket)
In an interview with the ICC, Klusener recalled the incident and said, "I was a little cross with myself that I hadn't been a little more patient with myself in trying to just get that one more run, but that's just the beauty of the game.
"I am always one for taking the opportunity when it's there. I thought that was the right opportunity, but it didn't turn out to be," he added.
The match ended in a tie, with Australia securing their place in the final courtesy of finishing higher in the Super Six Table due to superior Net Run Rate.