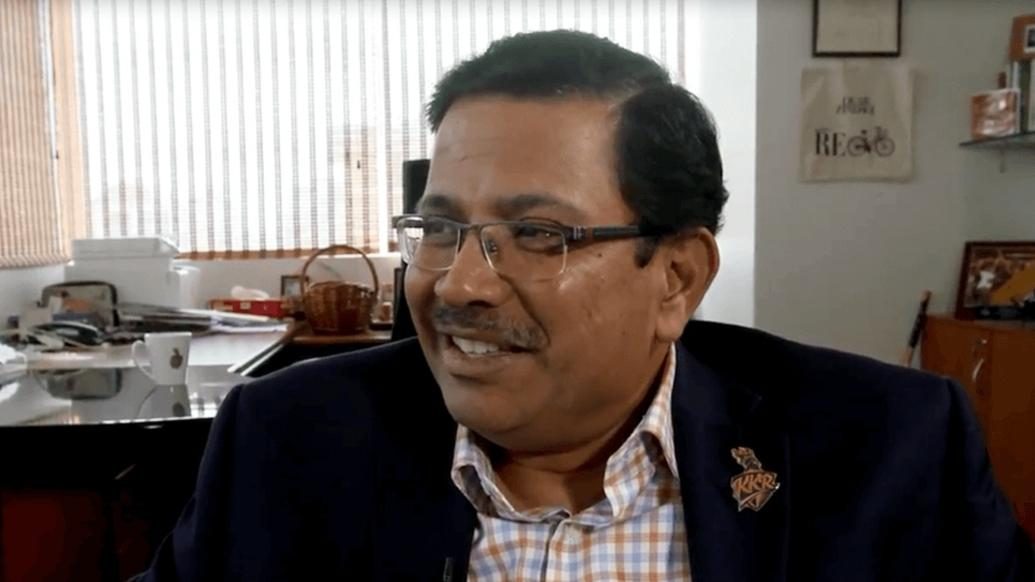 Q. Sir, I won't push you for who that name will be, who that player will be.but you are the CEO of the franchise and you are the CEO as well. Suppose someone has come and applied for the captaincy of KKR, as a CEO three questions that you could ask him?
VM: For me asking questions to experienced cricketers. I just want to think of it from a different perspective. I just want to see the role of a captain as the role of a leader of an organization and say what are the attributes and what do we want to see there. At the end of the day, I think the credibility of a person is one thing. As then it's all about communication and how people receive you. And once there is credibility ideally coming in as a big plus, otherwise, you have to have a way to establish that quickly. And a lot of that has to do with how you lead by example and put your own contribution to the cause of the team. So I think a lot of this in T20 ofcourse is there are experts who know much more than me. Tactically, yes there's a saying where we hear people saying that in any events are there any tactics, but there is so much had to happen within those 120 balls when your side is fielding, so captaincy can be substantially relevant when the side is fielding, bowling and ofcourse batting. So within those tactical moments yes the person needs to have that acumen and experience to implement those things. A lot of it has to do with leadership, and leadership to me is about credibility, about relating to people and often it relates to man-management, people management, and hows communication going, how do you connect and understand the mindset. I mean like it or not, in IPL format or in T20 format, it is such a compressed period of time, you are not teaching a new skill to have, they are coming with skills, and that's how you build your team. So it's about how you can all be harnessed together. So that's what a leader does well. And a lot of it is about communication and just creating that environment in the dressing room and contributing to the equation. Because it's not that one individual who's creating it, it's the support staff. Having part of the dressing room before and after the game. And things that head coach says generally in the team meeting. The Head coach will have to run it and it's generally the head coach to ask the skipper "Anything from you?". I have seen skipper who says nothing. They don't have anything to add. That's great. That's their style. But there are others who are more pro-active. So, I don't know if I have summarised it to the three things, but I would definitely say that first and foremost for me is the credibility, big part of it is not have an agenda. And really coming across with someone who is genuine, who are really looking to man, who'll do anything for the cause of the team, so the team comes first. The second is really about how do you relate to the people, so communication then goes with it. Especially when you see when people are doing well, they get a lot applauds than when they are not doing well and in our case may be there's an angle to it, where we chose to invest on youngsters. That's very exciting. I think the challenge for these youngsters is to make that transition. Obviously, for the attention of our think-tank, which is why we've invested another team on that too so now, "can they make that transition?". So does this individual, as a captain of the ship be able to pull all these things together, is really how we would try to look at the right individual.
Q. Sir, I am glad you said that, as I was coming to that next. The fact that you have got a lot of young boys, a lot of talent, but who probably lack the experience of playing at the biggest stage in the world cricket. So you would say, you need to have someone, you would say a 'father-figure' kind of personality in the captain? Would that be something, you would be looking at?
VM: In an ideal world, yes, but we should not underestimate the role that the support staff plays, for example, look at our head coach Jacques Kallis, perhaps one of the best all-rounder, most people know since Sir Garfield Sobers. Now, I have seen experienced players who have come to our dressing room look at Jacques Kallis there and all, he's somebody who has done amazing things. He has this talent to make people so comfortable, even though he's not a very talkative type of person, but even a few things that he says, and how he communicate with them, just give a pad on their back or say something to them. In one situation when Suryakumar Yadav scored some crucial runs and played some interesting shots with a little flick over fine-leg to six and all that, and coach Kallis, he basically said that "Surya, One of these days you need to teach me how to play this shot!". This guy (Suryakumar Yadav) was like, "Jacques Kallis is asking me huh! So those are little things. And so everybody contributes to that, so I don't feel like the entire responsibility comes under the captain. Players, senior players, who may not be in a captaincy position or whatever, they all step in and play a role there. So we are fortunate to have such players who'll all play a role. I think with leadership, everyone knows who's in charge and who's calling the shots. No question about that. But to be ready to contribute, when that person is reaching out to you means that you are also playing the leadership role. And it can even come from the youngest guy, I mean Kuldeep Yadav, I mean till now, and he was our youngest player. He was never short of suggestions or ideas when he was bowling to suggest field changes and things like that and the captain took it on-board and made those changes so I think it is a collective thing. Yes, in an ideal world if you have somebody who's with that experience, who also comes across as the father figure, it's great. But I don't think it is absolutely necessary that one person has to take all that burden.
Q. So word on the owner of KKR Mr. Sharukh Khan. How much of the word he has in deciding who that captain is. Has he given you any communication on who the captain should be or what kind of captain should be selected?
VM: He's got great instincts. And for obvious reasons, he doesn't follow the game as much as we do and track everything. But I am always amazed that a standard to which he keeps track with his instincts. That's what made him who he is. We always run this by him, when we discuss, he never gets directive, to say what we should do. That's not how he operates. He's somebody who has a very nice way of putting his idea across, and almost always his idea is worth taking a note, and we take it on board but he generally gives the time in terms of running the business. He gives us a lot of freedom, but he has the nice way of putting his ideas across, so he is involved very much in that sense, before we take the call, it will be a collective decisions to say if there's a word in or if there's a different point of view to take it on board.
Q. Sir Since you are following Twenty20 format, I will give you a stat. In the history of the IPL, you've had 44 captains who are batsmen and 7 captains who are bowlers. So clearly stats tell you a story. DO you also believe this that a batsman does a better captain in the IPL than a bowler? because stats are telling that.
VM: It's an interesting stat. I don't necessarily agree with that. I think it's a matter of who's the right person for the job, and it might just have happened... I'll have to believe that it's a coincidence rather than a conscious strategy. I can see in the longer format, people have said that bowlers either under-bowled themselves or over-bowled themselves for captains. I can see that logic. But in a T20 format if your bowlers, you can bowl a maximum of 4 overs so no matter of question under-bowling yourself and for the captain, you can still go out and get the job done. So I don't necessarily subscribe to that. These attributes that you spoke about, who's with that leadership, to take on that leadership, who comes with those attributes. So if it's a bowler, good hit. But for that logic, you can say somebody who has the best advantage point of view is the wicketkeeper. I am wondering in that stats how many wicket-keeper were captains. But wicket-keeper plays a very important role. So for me, it could very well be a bowler. In our case also, we'll just have to wait and see.
Q. I am not going to ask you to give the names, but could you please tell us how many players have been considered for the role of captain of KKR?
VM: We are very fortunate that we have probably 4-5 potential candidates, just based on their experience also. I mean look at Piyush Chawla, who has captained a lot and who has been playing cricket forever. There's no shortage of experience there that he's one of our most successful bowlers in IPL history. You can look at Chris Lynn, who has got a terrific cricketing brain, has captained his state, you can look at Dinesh Karthik, who has captained his state, and captained in different formats. Look at Robin Uthappa who's been there and look at Vinay Kumar, who probably has more captaincy experience than anyone else in our line-up. And you can then go completely out of the box and look at youngsters, I mean who knows. We are fortunate that there are potential options. But there are very few obvious sort of captain. We have seen situations within IPL, where some other automatic choices, who are named as a captain, but for one reason or the other changes occurred later. They had national captains who dropped themselves because of form or something else. So I don't think there's a set formula and you can judge that by captains who have consistently captained over the last 10 years. You can probably count in two or three fingers, of how many they were. With changes, new leaders have emerged. So we think it's a great opportunity to identify. And we also feel that we have all these options. But I am sure a good collective decision will be made soon. We know there's communication going back and forth among our followers and fans, they all have many ideas, which is great, we are taking everything on-board and hopefully, we make the right decision.