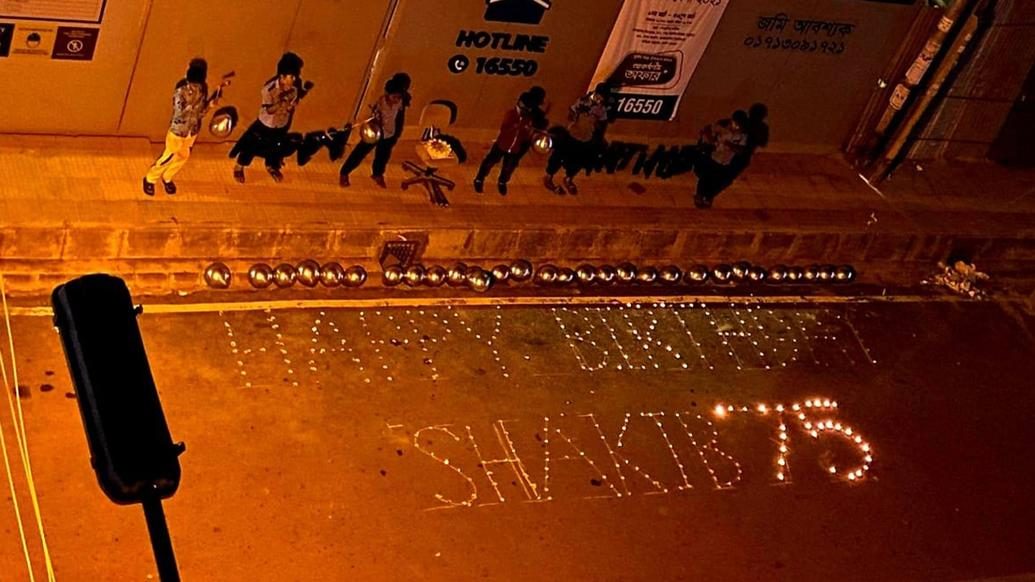 Our Knight Shakib Al Hasan celebrated his 34th Birthday on Wednesday (24 March), as messages started pouring in from all over the world for the star allrounder from Bangladesh.

Picked up at the 2021 VIVO IPL Auction by Kolkata Knight Riders, Shakib is set to represent the franchise once again in the 14th edition of the Indian Premier League starting April 9.
View this post on Instagram

Among all the special messages that were posted online, one stood out and was noticed by Shakib himself, who took to Facebook to express his gratitude. Underprivileged children from Daily Ten School in Dhaka lit candles to celebrate Shakib's Birthday at 12:01 AM opposite his house in Bangladesh's capital. The post in Bangla read:

"শুভ জন্মদিন #SHAKIB_75 গতকাল রাত ১২.০১ মিনিটে আমাদের ডেইলি টেন স্কুলের সুবিধাবঞ্চিত শিশুরা বিশ্বসেরা অলরাউন্ডার সাকিব আল হাসান কে জন্মদিনের শুভেচ্ছা জানিয়েছে। এমনিতে বাচ্চাগুলি ঘুমিয়ে পরে রাত ৮-৯ টার মধ্যে কিন্তু গতকাল তাদের চোখে মুখে কোন ঘুম ছিলনা, তাদের চোখে ছিল শুধু মিস্টার অলরাউন্ডার কে বার্থডে উইস করার উচ্ছ্বাস। তাইতো ওরা সাকিবের বাসার সামনে যেয়ে মোমবাতি জ্বালিয়ে কেক কেটে উৎযাপন করলো বিশ্বসেরা অলরাউন্ডারের জন্মদিন।"

Translation: Happy Birthday, #Shakib_75. Last night at 12:01 AM, the kids from Daily Ten School wished world-famous allrounder Shakib Al Hasan on his birthday. Usually, these kids go to bed by 8-9 PM, but last night they had no sleep in their eyes. All they could think of was to wish Shakib when the clock strikes 12. That is why they went in front of Shakib's house to light candles, cut a cake and celebrate the allrounder's birthday.

Responding to the gesture, Shakib wrote:
"There are moments when all the noise surrounding you comes to a standstill because you're so in awe of and inspired by moments of pure love like this. Thanks to each and every single one of you for showering me with so much love and prayers over the years. I am who I am today because of all of you. I will always be your Shakib Al Hasan."

Here's a little reminder of how the birthday boy looks in Purple and Gold 💜💛#KKR camp তোমার অপেক্ষা করছে 🤩@Sah75official #IPL2021 #HaiTaiyaar pic.twitter.com/bYru7EnwAe

— KolkataKnightRiders (@KKRiders) March 24, 2021
Shakib is yet to join the KKR family in Mumbai, where the squad has slowly started assembling for the upcoming IPL. KKR's first game is on April 11, against Sunrisers Hyderabad in Chennai.
We are eagerly waiting to welcome him back, and looking forward to all the fans cheering him on. Korbo Lorbo Jeetbo.