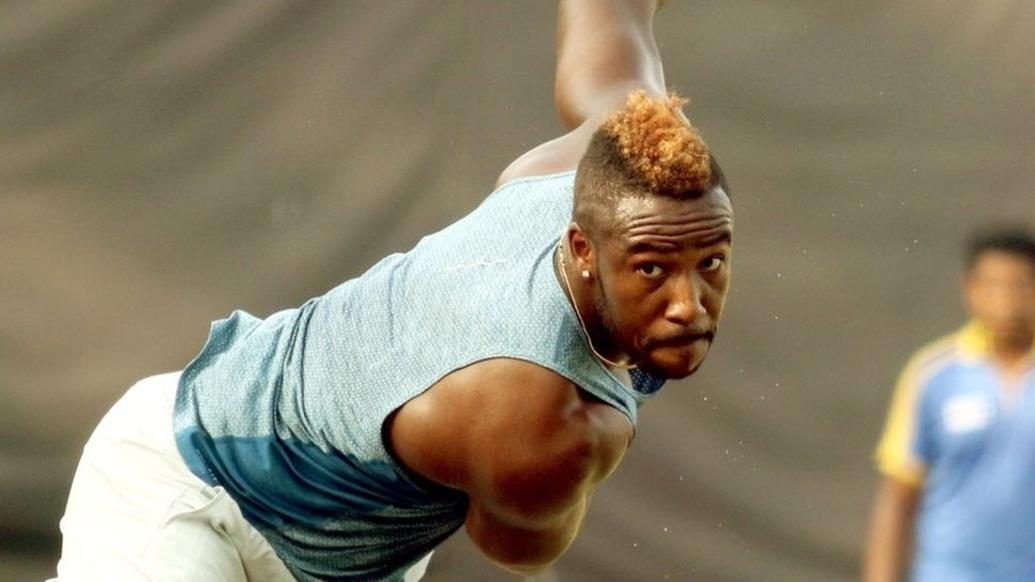 "What's up KKR Fans. This is big-Dre. And I am back in the building. It's been a long time. I am here, no need to fear."


Andre Russell had the perfect message for the ardent fans of KKR, who were eagerly looking forward to having the ballistic all-rounder in the camp.

"It (being in Kolkata) has been good so far, I just got in," he added. "I am still kinda jet-lagged, but I am happy to be here. It's always good to be here early rather than late. So I am getting ready, IPL 2018. Don't miss it."


Russell had suffered from an injury that saw him miss most part of the Pakistan Super League, triggering concern among KKR fans about his timely recovery.


"You know nothing comes easy," he pointed out. "You've got to work hard for it. And I just believe that once you put the work in, you gonna get results. So I always believe in working hard. I've been working hard home and now I am here working hard as well. So your hard work never stops.


The road to recovery hasn't been easy for the big man, who has had to make serious adjustments to his lifestyle to make sure he gets back on track quickly. "It's been tough to be honest," he said. "You want to do things and you can't. I am not saying you can't, but you restrict yourself to be a better person to be a better player, to be a better athlete and stop doing a lot of things, like a lot of parties, drinking. You know all those bad habit. And I am working on it. I am not saying that I am perfect at it. But I am working on it. And it's been treating me well. I am looking fit, I am looking sexy, and I feel good in myself, so I am loving myself."


Russell had been working with Everald 'Eddie' Edwards, the sports therapist from Jamaica, who has worked with various athletes - Usain Bolt being one of them.


"Yeah, Eddie, you know he's a good guy," he said. "He used to be Usain Bolt's physio. We all know Usain Bolt is the fastest man on earth. I am the second!," he quipped. "So, to be like Bolt or to be anywhere close to his fitness, you need to check with guys like Edward. I am thinking about using him as my personal physio now, and it was good working with him back home."


Russell was looking forward to working with the new-look bunch at the KKR camp, and insisted that they were capable of making a lot of the opposition struggle against them.

"It's fantastic. We have a lot of talent and young talent as well. I think we should do really well. I think we should hurt some teams once every one step up to their play and once everyone do what they are suppose to do. We all have a job to do. And once we do our best, our best will be good enough."

Russell has played against Dinesh Karthik, the KKR captain, on a number of occasions, but this will be the first time the two players don the same colours in the IPL.

"I am excited to work with him," he revealed. "You know, I always play against him, so it will be in the same dressing room. So I will try to listen to him talk and move to his instruction like telling me, 'Hey! Go to backward point', so it is going to be interesting and it is always good to know someone, that you've been watching for years, while playing for different franchisee and now you are going to play for the same team, so I am excited to be over here."

Finally, a word on Shahrukh Khan, who Russell respects as a professional and looks forward to partying with soon.

"When are you going to party big man? When? I am here. Party animal is here. So I am excited to be here. I know SRK is always a busy guy. And once he has some time, he always make sure to take a time-out and party with us. And that's a big thing. I don't want to look that as, he's the owner of the team and just come around. No! That's a big thing, for his status, for his lifestyle and everything to take over 2 hrs to come and dance with us or just be there, it's a lot. So I home to see him soon."
KKR will begin their campaign at home, with a match against Royal Challengers Bangalore, on April 8.