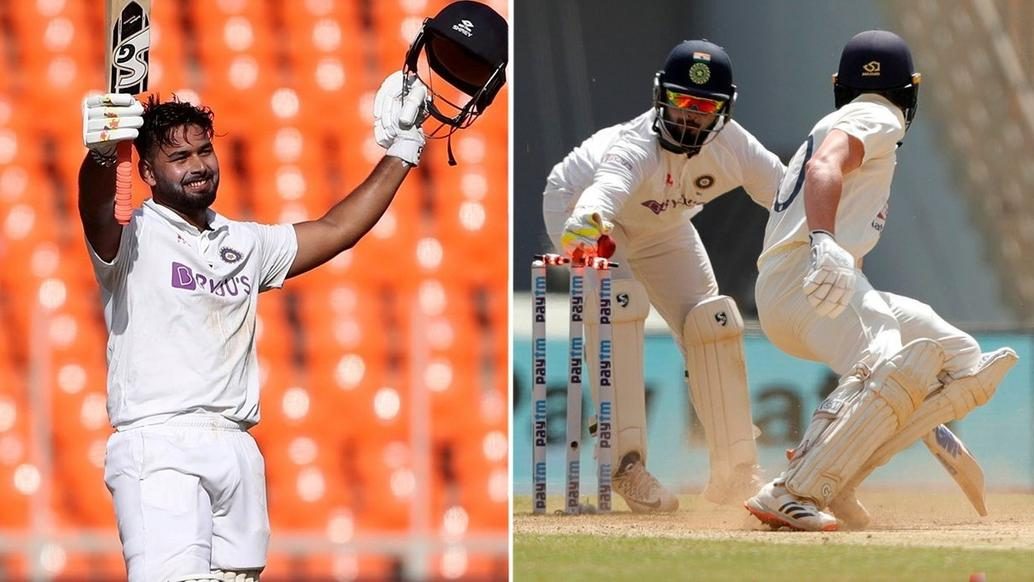 He had debuted for India in the ODIs approximately 4 years ago, and in Tests about 3 years ago. But it seems 2021 will be the year when we can finally say, RISHABH PANT HAS ARRIVED IN WORLD CRICKET!
It's not like he hasn't had great knocks previously. The 23-year-old Delhi-based cricketer scored his first Test century against the very opposition he flattened in the fourth Test at Motera – England! His 114 that came on September 7, 2018, in the fifth Test at the Oval made him the second youngest wicketkeeper-batsman to score a Test century (aged 20y 342d) after Ajay Ratra (20y 150d vs WI at St John's in 2002).
However, his counter-attacking 101 against England in the final Test at the Narendra Modi Stadium was of a different league altogether. The knock has now gotten him at par with the legendary former Aussie wicketkeeper Adam Gilchrist. Pant and Gilchrist are the only two keepers to have scored a century in England, Australia and India.
Happy to share space with the legend @gilly381 https://t.co/dz6CVvYmp0

— Rishabh Pant (@RishabhPant17) March 5, 2021
Pant's statistics, especially in Test cricket, had never really cut sorry figures barring 2020 where he averaged just 17.8, scoring 89 runs off 5 innings. In 2018, he averaged around 38 while in 2019 it shot up to 72! However, it was 2021 that marked his excellence as a player. In 6 matches this year, Pant has got four 50s and a 100 with an average of 64.37.
One may wonder why we are not considering 2019 to be his best year despite having the highest average. Well, it's the nature of his game and the purpose it served that determined how 2021 has turned out to be a landmark year in the youngster's career. He has evolved as a keeper and batter, delivering at crucial times when even the senior players let down their guards.
Keeping on viciously turning tracks in India is never easy. Pant has had his bloopers on the field and yet his wicket-keeping skills have left many of the critics impressed. The reason is pretty obvious. This was the first time Pant was keeping wickets in a full-fledged Test series in India and that too on tracks which have seen matches getting over in 2-3 days. Uneven bounce, unpredictable turns are never easy to read, that too for a youngster with almost no experience of keeping in international matches on an Indian dustbowl.
Talking about his transition as a wicket-keeper, the young lad said, "I think it's the keeping drills which have helped me a lot. Also, the confidence I gained out of batting helped me in keeping too. The rest is about practice."
Means a lot coming from you, Dada. Will do my best! https://t.co/NtSRolTwPE

— Rishabh Pant (@RishabhPant17) March 5, 2021
Pant has not only evolved as a keeper, his stroke-making ability even under pressure has stunned many too. Known as a fearless batsman, Pant showed very little mercy to the English bowlers even when they seemed to be on top. If his six to bring up his 100 wasn't good enough to make you feel proud, take his reverse-slap off James Anderson for an instance that is bound to make you fall in love with his audacity. After all, how often do you see a youngster play an atrociously glorious shot like that off a pace bowler, that too of Anderson's calibre?
Some rest and recreation with @SDhawan25 @ImRo45 @imkuldeep18 after a tough few months of cricket. Looking forward to the T20s next!#RP17 #IndianCricketTeam pic.twitter.com/p2zLxGKB23

— Rishabh Pant (@RishabhPant17) March 7, 2021
India head coach Ravi Shastri was elated by the young man's rise and didn't restrain himself from acknowledging the huge contribution Pant has had in the game. "He is a match winner and he has responded. He has worked like hell over the last three four months and the results are showing. The 101 was perhaps the best counter-attacking innings I have seen in India by an Indian," Shastri observed.
"At No. 6 when the ball is turning, it's never easy. He was fearless all the way. His first half of the innings was more fearless because he played against his nature. That's also a challenge in itself. He is known for hitting those shots. But here he played cautiously for his first 50 runs to build a partnership with Rohit Sharma and then all hell broke loose and he scored his 100 in quick time. Simply magnificent, both his knock and his keeping in the match," he added.
Looks like, for the time being India can feel relieved to have found an able MS Dhoni successor and Indian cricket seems to be in safe "custody" with the likes of Pant being around. We may say so, given the kind of reactions Pant's hundred has evoked on Twitter. Following are a few of them.
It's not just about how many you get, but also when you get them. If you can somehow sync the first with the second, when the team needs it most, you're a true match winner. Looking at you @RishabhPant17 👏

— Adam Gilchrist (@gilly381) March 5, 2021
Wow @RishabhPant17 😂😂😂 pic.twitter.com/389yVwgXPz

— Andrew Flintoff (@flintoff11) March 5, 2021
Well played Rishab 💪🏻❤️❤️✌🏻✌🏻love you brother god bless you @RishabhPant17 congratulations for 3rd 💯 #teamindia #mshami11 pic.twitter.com/IIeYkngomB

— Mohammad Shami (@MdShami11) March 5, 2021
Me Watching Rishabh Pant reverse sweep Anderson for a boundary and then bring up his century with a SIX.
That's my Boy! #INDvENG pic.twitter.com/yunVL1GRTQ

— Virender Sehwag (@virendersehwag) March 5, 2021
Pant, you beauty 💯 What a joy to watch 🤩 @RishabhPant17 pic.twitter.com/fSK0LCQS1z

— Krunal Pandya (@krunalpandya24) March 5, 2021
Special player .. @RishabhPant17 !! 👏👏👏👏 #INDvENG

— Michael Vaughan (@MichaelVaughan) March 5, 2021
Special player special 100 @RishabhPant17 👌🌟🌟🌟🌟🌟#INDvENG #Gamechanger keep going champion

— Harbhajan Turbanator (@harbhajan_singh) March 5, 2021
Pant backs up Brisbane.
Pant is a PLAYER!

— Kevin Pietersen🦏 (@KP24) March 5, 2021
Top inning,Brilliant 💯 from @RishabhPant17 this boy has scored some quality runs at the crucial times for team India runs since his test debut #INDvsEND

— Irfan Pathan (@IrfanPathan) March 5, 2021
Eye-catching all series, but this is match-winning.
SENSATIONAL hundred from Pant.

— Ian Bell (@Ian_Bell) March 5, 2021
What joy to see young @RishabhPant17 bat. I did not think I would see a reverse sweep to Anderson with the new ball when a century was there for the taking. He will keep us on the edge of our seats and will be great for our game.

— Harsha Bhogle (@bhogleharsha) March 5, 2021
Some interesting facts on Rishabh Pant
Rishabh Pant inflicted 20 dismissals (All 20 were catches) in Border-Gavaskar Trophy 2018-19.
This was the most dismissals inflicted by any Indian wicketkeeper in a Test series. (Previous record was of 19 by Naren Tamhane and Syed Kirmani in India in Pakistan Test Series, 1954/55 and Pakistan in India Test Series, 1979/80, respectively).
Pant also became the 1st Indian wicketkeeper with 20 catches in a Test series.
Pant has the batting average of 45.26 in Tests — 4thbest among the 57 wicketkeeper-batsmen with 1,000+ runs in Tests.
AB de Villiers — 2067 runs at 57.41.
Andy Flower — 4404 runs at 53.70.
Adam Gilchrist — 5570 runs at 47.60.
In January 2019, Pant was named the ICC Emerging Player of the Year at the 2018 ICC Awards.
In February 2021, Pant was named the Men's Player of the Month in the first edition of the ICC Player of the Month Awards.
2nd youngest Indian to debut in T20Is at the age of 19y 120d in 2017 after Washington Sundar (18y 80d).
Pant first batsman for India to get off the mark in Test cricket with a six on his debut Test at Nottingham in 2018.
11 Catches were taken by Pant vs Australia at Adelaide in 2018 — joint most by any wicketkeeper in a Test match after Jack Russell (ENG vs SA at Jo'burg in 1995) and AB de Villiers (SA vs PAK at Jo'burg in 2013).
In January 2021, during the fourth Test against Australia, Pant became the fastest wicketkeeper for India to reach 1,000 runs in Test cricket.
In September 2019, during the second Test against the West Indies, Pant became the fastest wicket-keeper for India to affect fifty dismissals in Test cricket.