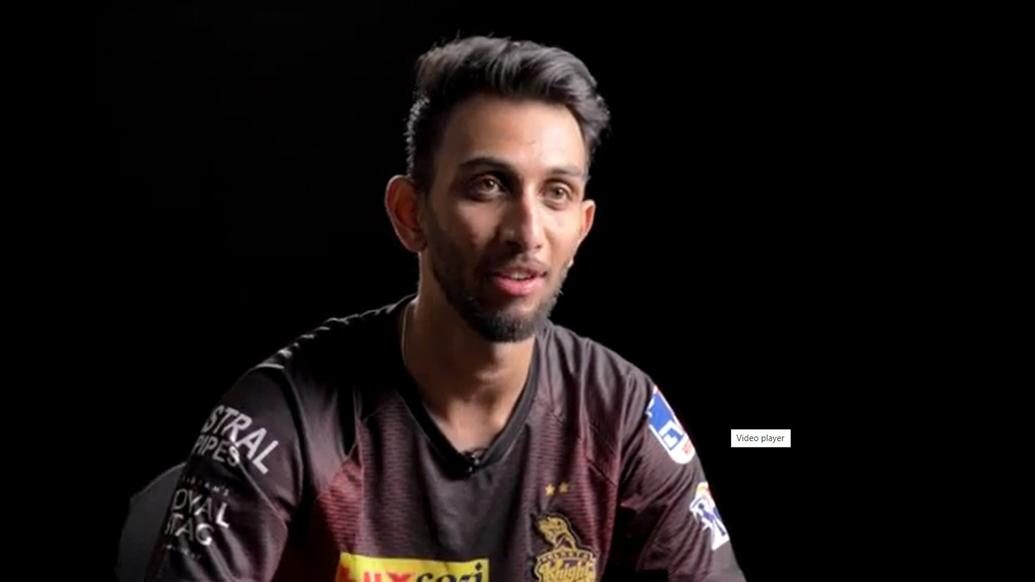 Our pace sensation Prasidh Krishna just made a record-breaking start to his international career against England. But where did it all start from? From University cricket to being a net bowler at KKR to finally playing for KKR, the Karnataka pacer has quite a journey to reflect on. In this episode of I Am A Knight, Prasidh opened up on multitudinous aspects related to his journey in cricket. Excerpts:
On his childhood days as a budding cricketer
The pictures that I have, of my childhood, yeah I was playing a lot of cricket. I used to cycle a lot because our road was a dead end. So, I used to come down the lane. I used to watch a lot of Valentino Rossi back then, so I had followed him a lot. Maybe that's where the speed factor came in because I was, you know, seeing him go so fast. It's so much of speed. So that's where my liking for speed came into existence.
I actually enjoyed bowling as much as batting because in tennis ball everything is very, very similar. There's not much skill that you need in tennis ball. All that you need is for you to have the strength to hit the ball outside the park. So that's how it started.
Nobody really advised me in terms of taking up cricket as a career option. It's just that my school coach Srinivas Murthy figured out that I was tall and I was getting the ball to move back. So, he's the one who first corrected my running technique, the angle of my running, my loading and all of that.
View this post on Instagram
By doing all this, I also realized I was getting quicker and better. I was getting sharper with things. So that is when I realized, OK, there is something with fast bowling. And like I said, I always had a liking for fast bowling. Brett Lee was someone I always looked up to. So that's how it all started from school with Srinivas Murthy sir helping me. And yeah, from there, it's been a mixture of everybody's efforts.
I remember one thing for sure. Any cousin, any elder cousin who walked with me on the road, was embarrassed because I used to imitate every single bowler in the world. All throughout my journey on the road, I would imitate actions and then try and be that guy, try and be this guy, trying to copy every single spinner or fast bowler. So, from there, it is all something natural - you run in, it all starts from the way you run in, and then load up. And I'm fortunate that I have a really smooth action that way.
✅ Best figures by an Indian debutant in ODI history
✅ Only Indian to pick 4️⃣ wickets on ODI debut

A performance for the record books 📚@prasidh43 #INDvENG #ODI #Cricket #PrasidhKrishna pic.twitter.com/cb4gVnVmGf

— KolkataKnightRiders (@KKRiders) March 23, 2021
On taking up cricket professionally
The first time I got to be with all the greats, Karnataka greats was against the Bangladesh A side.
I don't remember exactly but I think it was at least four or five years back. So that I had a very good KPL that year, my first KPL. So, I did well. So, maybe because of that performance, I was picked in the senior team. That was the Karnataka A side playing the Bangladesh A game.
So, I didn't really expect to play that game because in the previous day of the match, I bowled a lot in the nets. I bowled the whole session I guess, then in the morning I was told I was playing. It just happened. We won the toss, we chose to bowl and in the very second over, I was bowling. I got a wicket off the first ball in the first session.
I had a fifer and things just happened that day and so I think from that day onwards I started believing I have something when it comes to bowling. I wasn't really there in terms of my fitness, my fielding or my bowling as well.
I was bowling good. But it was about being consistent throughout. So that is when I realized I actually have to work hard, get my skill levels up, and that's where my hunger actually started.
View this post on Instagram
On his stint at the MRF Pace Foundation and Glenn McGrath's contribution
I was really happy to get there at MRF, because everybody knows MRF is a legendary place for so many fast bowlers. There are so many players in India who have been there and done great things.
When I was picked there I was playing one of the university games and I got a call saying, you've been picked. So, I was excited to go, there. It's a really great place for me. I'm really happy to have gone there because when you go there, the first two months you don't even get to see the ball. It's all about fitness.
You meet every other fast bowler from the country of your age or a little senior to you. I was 17 or 18 when I got there. So, there were about 15 fast bowlers who were trained and really good. So that is where, again, it came to fitness.
I had a kind of a challenge then when we started bowling as well. We knew we were the best in the country, like the 15-20 of us. So there came a challenge between us and there was no better place for you to learn.
I think the first and foremost thing that I observed was he (Glenn McGrath) was a really calm person and he was never excited or overawed by the situation. He was very composed. So, I think that's the first thing I picked from him, because that's the most important aspect for you as a bowler when you are you're playing a game. The most important thing is to remain in the present and stay calm. And apart from that, he always spoke about being consistent. So that's the biggest part of it.
So India 🇮🇳 will be defending 3⃣1⃣7⃣ in Pune ✨

🎥 Our #Knights have a message for @prasidh43, who will be making his mark in international cricket in the second half 👌🏼#KKR #HaiTaiyaar #Debut #INDvENG pic.twitter.com/NbDHX5dhqJ

— KolkataKnightRiders (@KKRiders) March 23, 2021
On being picked by KKR
I remember IPL had started. So, that evening RCB was playing someone. I was at my friend's place watching the game. I think KKR was playing RCB, I don't remember, because it was at the Eden garden. So I think it was RCB vs KKR and KKR won the game, I don't exactly remember but yeah that night I came back home. In the evening I got a call from (AR) Srikkanth bhai. He said Venky sir wants to speak to you. I had no clue about what was going to happen. I really didn't expect anything out of it. Then Venky sir called me and informed that one of the guys was injured. So they wanted me there. So that's when I got excited, but unfortunately, there were guests at my home. I was outside talking and wanted to run inside to tell it to my parents. But then there were guests and I'm not someone who is really interested in getting so much of attention. I want to be on the sideline. I think it was three or four hours later when the guests left and we were having dinner when I told them and they were excited. And yeah next day, in the afternoon, I guess I left.
I remember when I came here for the three-day trial (as a net bowler) is when they gave me the room key in an envelope, which only said Prasidh Krishna. I came into the room and I told myself, "the next time I come here, I have to be here with an envelope saying 'KKR Player - Prasidh Krishna'. I set a vision for myself that the next time I come into this hotel, I have to be a KKR player or any IPL player. And as it turned out, it happened in the span of five, six days.
On playing T20 cricket
It is a really fast game - T20. So, it's all about how fast are you willing to adapt! Because as a bowler, I don't think there's anybody who wants to just keep bowling one length all throughout. You want to do something, you want the batsman to do something, you want to try out things.
So that's where T20 comes into the picture because it challenges you about how many different things can you do and how consistently you can do. So, that way I was pretty happy and my height helped me with the yorkers because it was pretty tough for them to hit as it was coming from a really good height. And from that point onwards, it was about picking up skills, looking at people and inventing your own things. Nobody really planned for me. I came in between. They didn't know what variations I had, and like I said, T20 is such a fast game that you don't pick a couple of balls and the over is already done because you don't really have time to think and plan and take a bowler on. You have to be there from ball one.
On finding home in KKR
Fortunately, I had a really good tournament before coming into the KKR nets (in 2018). I had a really good Vijay Hazare Trophy; we won the tournament. So, I was coming in with a lot of confidence. The firast two-three-day stint that I had here (as a net bowler), it really helped me in breaking all the nerves that usually I would feel in terms of getting into a new set up. I never felt like a newcomer, I joined the squad after a couple of weeks (since the start of the tournament), but the second most important thing was everybody was of my age, like Shivam Mavi, Shubhman Gill, Rinku (Singh), Nitish (Rana). So, it really becomes easy for you to get into a setup like that.
On KKR giving opportunity to youngsters
I think that has been the hallmark of KKR (picking up raw talent) since it started off because KKR always had someone who has not made the mark at the highest level but is on the verge of doing it. You get in, and have a great platform. Like for me as an example, I really got a great opportunity in the first year and that's what has given the name that I have today. So in that way, take anybody in this team, they are known because of what KKR has given them.
On his relationship with DK
He's really friendly when it comes to handling players and talking to them. We are both from South (India). He speaks Tamil, and I understand a bit of Tamil and all his jokes with the teammates. We are in sync off the field and even in the ground. He is really supportive as he lets you do the planning, the execution, and then if something goes wrong, he's there behind you.
On his expectations going into IPL 2021
I have no expectations. Will be focusing on just being there in the present, living in the present, to be calm under pressure and take it one game at a time.