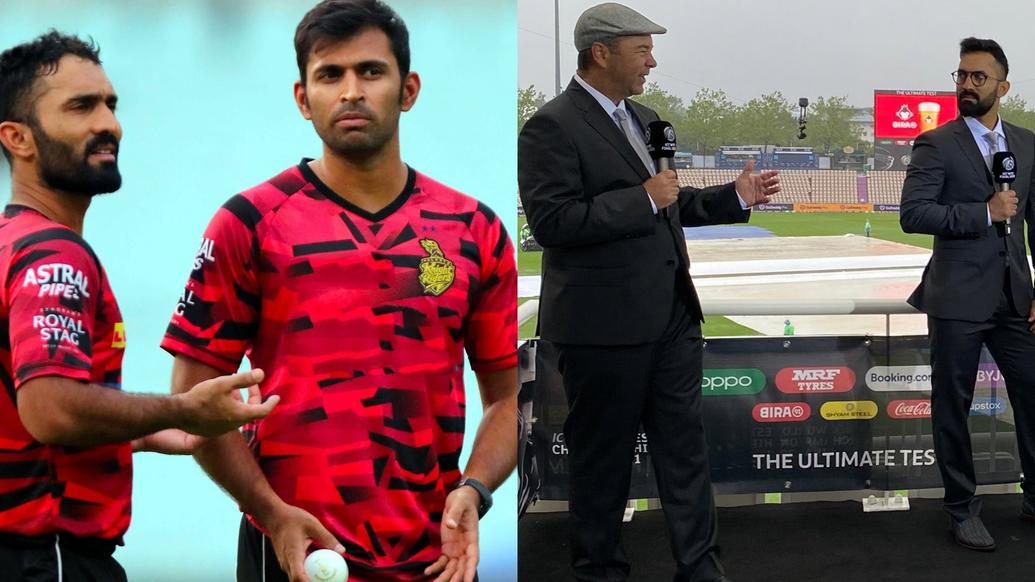 KKR CEO and MD Venky Mysore and assistant coach Abhishek Nayar are eagerly looking forward to KKR vice-captain Dinesh Karthik's debut as a commentator in the UK for the World Test Championship Final.
While Nayar is confident that he would fit into the role of a commentator perfectly for being the "talkative type", Mysore feels, thanks to commentary, finally some "nice shirts" are doing justice to his good looks!
View this post on Instagram
Speaking on Kolkata Knight Riders' Facebook Show Knight Live, Nayar quipped, "He (DK) used to keep talking about how much he enjoys commentary and always had an opinion on other commentators. He has always been the talkative type, if I may say that, and he has always had a very good sense of humour. His outlook towards the game has been very good. I'm really keen to listen to him and see what news he has now as a commentator."
To conclude Nayar's anecdote on a lighter note, Venky Mysore said, "If I may add, he also seems to have found some nice shirts to wear. So, people are commenting on the shirts he has been wearing, and seems to be a natural in this space. So, good luck to him!"
To all those in India googling about weather, it's still windy and pouring in here.
Rain Gods are not in mood to miss the first day!#WTCFinal pic.twitter.com/1c3befwAPT

— DK (@DineshKarthik) June 18, 2021
Talking about the WTC Final and whether there should be a three-match final series going forward, as suggested by former India great Sachin Tendulkar, Venky Mysore said a one-off summit clash might help get better fan engagement than a more time-consuming final series.
"Keeping in mind the context of T20s and World Cup, there is always a debate if the final (of WTC) should be a one-off game, because anyone can have a bad day. Having said that, there is a bigger picture to look at - how do you keep the entire thing interesting and engaging for the fans! Ultimately everything is being done to ensure that the fan engagement is solid.
"Test cricket is itself two innings, five days and there are a lot of variables to make sure it's not a one-off situation where someone has a bad day and you lose the game. You can have a bad session and still make a comeback. So, I think a one-off Test match is still good enough from the time perspective. Playing 450 overs is a lot of time," he said.
Mysore and Nayar also picked their X-factor players from the final-bound Indian team, who they thought could make a major impact on the outcome of the match.
"A lot relies on Rohit (Sharma) and how he goes upfront," opined Nayar, while Mysore added, "I feel Ashwin could be a big factor, especially how well he seems to bowl in the longer format and against different types of opposition. So, if there is a chink in their armour, it could very well be some weakness against spin."