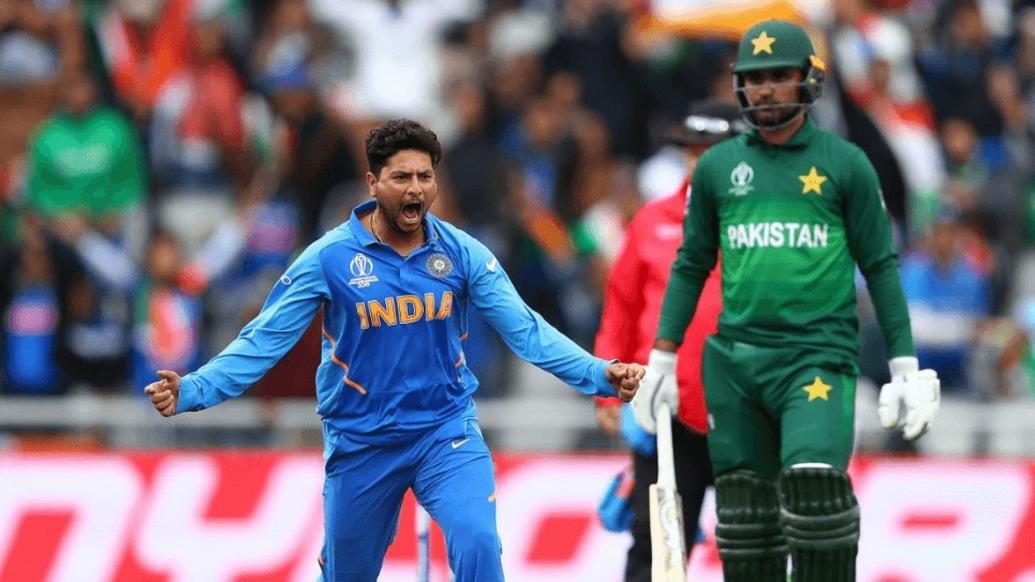 Kuldeep Yadav's magical spell (2/32 in 9 overs) helped Team India fashion another convincing win in the ICC Cricket World Cup 2019 as they beat Pakistan by 89 runs (D/L method). This is the Men in Blue's seventh consecutive win in as many matches over their arch-rival in World Cup history.
Earlier, a brilliant century from Rohit Sharma (140) and handy contributions from KL Rahul (57) & Captain Virat Kohli (77) put India in a commanding position with 336 runs on board.
While chasing this huge target was always going to be a difficult one, the second wicket partnership between Fakhar Zaman & Babar Azam kept Pakistan in the game. The two added 104 runs before a stunning delivery from 24-year old Kuldeep Yadav sent Babar Azam back to the pavilion as the ball spun and went past his defence to castle the stumps.
"Getting Babar Azam out was the best delivery for me in this tournament. I got him out in the Asia Cup as well," Yadav told reporters.
"It's a dream delivery and a proper Test delivery. Deceiving the batsman in the air and making him commit the mistake. A perfect delivery," he said with a smile.
Indian skipper Kohli read the game well as the two set batsmen were trying to play out Kuldeep.
During the post-match presentation ceremony, Kohli said, "Kuldeep Yadav was brilliant. Babar and Fakhar were trying to play him out, but I wanted him to have a longer spell. The ball to dismiss Babar was an outstanding delivery. I think today was the best he bowled at this World Cup."
Kuldeep, who's genuinely known to bowl at one stump in nets was backed by master blaster himself.
"I told Kuldeep, don't worry ho jayega, ek stump pe bowling karte raho (Don't worry, you will do it. Keep bowling to one stump). Dismissing Babar Azam at a critical stage was fantastic, that was the turning point. He was bowling at the right pace, more confident and generally his body language is coming across as a positive left arm spinner," Tendulkar said.
Before playing Pakistan, Kuldeep had only two wickets in the last seven official games (2 ODIs, 5 T20s). The Chinaman finished with match figures of 2/32 in 9 overs and his two jolts to remove the two set batsmen strangled Pakistan to which they were never able to recover from.
The Indian vice-captain and the man of the match from yesterday's game, Rohit Sharma was all praise for Kuldeep Yadav during the post match press conference.
He's our match-winning bowler in that middle over phase, and today also you saw how important those crucial wickets were," said Sharma.
"Both the batsmen were set. Of course, he didn't start the tournament the way he would like to, but for us as a group around him, our job is to just make sure that he gets that confidence, he gets that backing from the team"
Resounding. Convincing. And an empathic win. Well done Team India. May the momentum continue to be with us #PakvsInd pic.twitter.com/eXfaM0FDXO

— VVS Laxman (@VVSLaxman281) June 16, 2019
India will next face Afghanistan on Saturday 22 June 2019. Kuldeep is now 10 wickets short of reaching 100 wickets mark in ODIs. We wish him and Team India all the best and expect more mighty performance in matches to come.