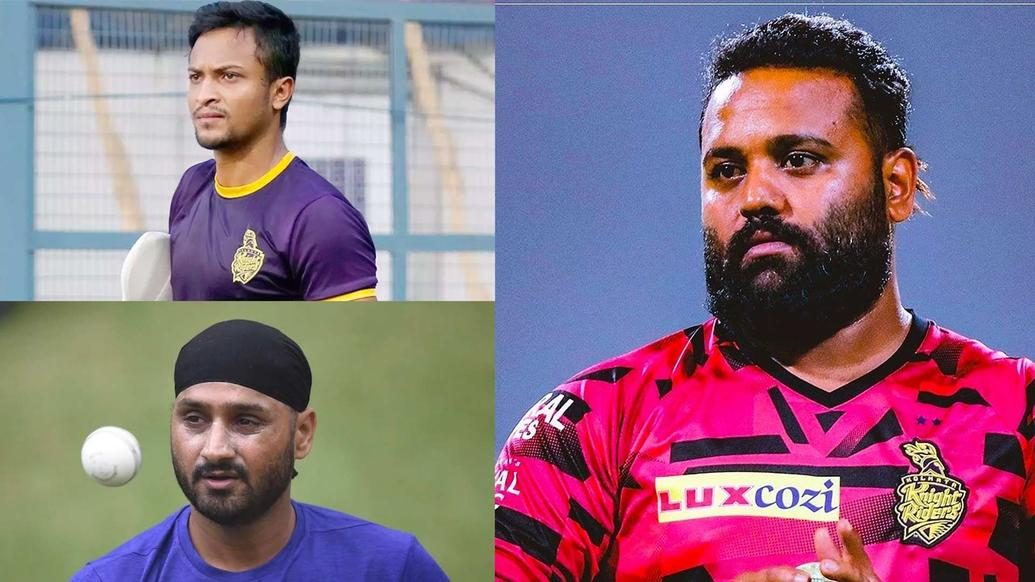 The squad has started to assemble in Mumbai for the 2021 VIVO Indian Premier League, and with just about three weeks to go for our first match of the season, fans are excited to see their favourite Knights back in action. Apart from the core we retained for this year, eight new Knights were bought at the IPL Auction earlier this year and are all set to turn up in Purple and Gold. We caught up with AR Srikkanth, the Team's Performance and Strategy Analyst, over an Instagram Live session recently to get to know our new Knights better. Excerpts:
Q. A lot of people have been asking us a lot of questions about the 2021 Squad which we have. What was the mood like at the Auction table after we bought them?
Srikkanth: We were very happy with what we got at the auction. We had specific plans going into the auction saying that we want to target these kind of players and we were happy with the outcome of how the Auction panned out for us.
Q. Just going through the boys who we have got, especially the domestic boys. Starting with Venkatesh Iyer. Tell us a little bit about him.
Srikkanth: We have an extensive scouting programme and we actually identified Venkatesh Iyer a couple of seasons ago. This year, we had got him over for a trial session in Mumbai, and we liked what we saw of him. He's a batsman who can bat at the top of the order and he even used to play lower order for his team. So that's an added advantage and he also bowls a bit of medium pace. He's someone who knows his game, who understands his game well and he's got a very mature head on his shoulder, so we felt that adding someone like him with his profile to our squad would add a lot of value in terms of having the depth in the Indian contingent.
This prolific southpaw from Indore will don the purple and gold in his first ever #IPL campaign 💪🏽#VenkateshIyer #KKR #HaiTaiyaar #Cricket #IPL2021 pic.twitter.com/5cVHCaALIi

— KolkataKnightRiders (@KKRiders) March 20, 2021
Q. Vaibhav Arora - Another guy who has really impressed everyone, like literally three days after the Auction happened, he went onto take a hattrick in the Vijay Hazare tournament.
Srikkanth: Vaibhav presents a very different skill set to what we already have in the squad. We do have, you know, fast bowlers, medium fast bowlers, but Vaibhav being a fast bowler, he brings a very different skill set. He's primarily a swing bowler and his skills are very different to what we already have in the squad.
A refreshing injection of young blood into the side: 2⃣3⃣ year old pacer #VaibhavArora💪🏽#KKR #HaiTaiyaar #IPL2021 #Cricket pic.twitter.com/d6HuqeiyNB

— KolkataKnightRiders (@KKRiders) March 21, 2021
Q. Let's talk about Sheldon Jackson, who has already played for KKR. That was one of the slots you guys were looking to fill right, of an Indian wicket keeper-batsman?
Srikkanth: Yeah. We wanted an Indian wicket keeper batsman as a backup for DK and last year we had Nikhil Naik and you know we wanted to look ahead, so when we had the option of picking an Indian Wicket keeper batsman we went the experienced way and Sheldon has been around the domestic circuit for many many years, He's has proven and performed in domestic cricket, he has played for us in IPL, he was part of RCB for few years before he played for us, so it was not a big challenge to make up your mind whether it was Sheldon or someone else, well we had the option, we felt okay, Sheldon brings a lot of experience, domestic experience and is a unbelievable player of spin.
A former Knight is here for more! 🔥@ShelJackson27 has had a superb season and we can't wait to watch him in action 💪🏻#KKR #HaiTaiyaar #Cricket #IPL2021 pic.twitter.com/nHiCxZPaci

— KolkataKnightRiders (@KKRiders) March 16, 2021
Q. Karun Nair of course, very experienced, and you have seen him for long time. Has played for India too, so having someone like him in the squad adds a lot of value to the squad?
Srikkanth: Absolutely, Karun is an experienced campaigner. He's been around the circuit for many many years, he's got wealth of experience playing in IPL, unfortunate that he didn't get too many chances to play in the IPL in the last couple of years, but then the experience and the talent is there for everyone to see, and then we were looking at getting an experienced Indian Top order batsmen, and Karun was available, so we said, okay Karun would be one of our targets, and it also, you know, panned out well for us, because he went unsold in the first round and then we brought him back and we were able to pick him.
It's a pleasure to have a part of a very exclusive club in our squad for #IPL2021 💪🏽@karun126 #KKR #HaiTaiyaar pic.twitter.com/meRUPowAX7

— KolkataKnightRiders (@KKRiders) March 15, 2021
Q. Sri we spoke about the batsmen and the pacers. Now when it comes to the spinners, Pawan Negi and Harbhajan Singh - tell us about these two picks.
Srikkanth: First of all with Harbhajan Singh, the idea was… he went unsold and we thought someone would pick him but as soon as he went unsold, you know we made a call, on the table saying that, okay, you know if we have an experienced spinner, someone of the caliber of Harbhajan Singh, then maybe we should definitely try and put a bid and see what happens.
The juggernaut of the game will be plying his trade as a Knight this season 🤩

Welcome to the family, @harbhajan_singh 🤝🏼#KKR #HaiTaiyaar #IPL2021 pic.twitter.com/Fz8RaQSMIa

— KolkataKnightRiders (@KKRiders) March 12, 2021
It so happened that, um we got him and we were very happy, very pleased, someone like Harbhajan Singh's stature and experience, sitting on the bench or even playing in the XI, you know that, what you would get, you know what he gives you and you know wealth of experience not only important from a playing perspective but on playing perspective as well and Kuldeep and varun and all the other spinners in the squad.
Its a good addition to the squad.
About Pawan Negi...
Srikkanth: We had Sidharth Manimaran (last season), and we did some thinking about that spot. We thought, okay if we don't get anyone better, we'll go back for Sidharth. But we saw Pawan Negi being released, someone's who has got an ability to bat as well, lower down the order and its an electric fielder… That added more towards, you know our decision making and getting Pawan Negi.
We're all in readiness for our pocket-sized dynamo that can turn a game on its head 🔥#PawanNegi #KKR #HaiTaiyaar #Cricket #IPL2021 pic.twitter.com/iIm4jn6o7F

— KolkataKnightRiders (@KKRiders) March 17, 2021
Q. Moving to our overseas recruits this year, the new ones who we have bought at the auction, first of all - Shakib Al Hasan...
Srikkanth: When we started discussing about the auction and, and discussing about the player options, that we could possibly have going into the auction. One name which was quite prominent in all our discussions was Shakib's, uh it was just the fact that he brings so much, with his batting, bowling and leadership qualities at the same time he you know he can literally back up three of our first line, front line players He can be can be a backup for Sunil, Dre as well as Morgan in that sense.
He gets it done with the bat ✅
He gets it done with the ball ✅

Can't wait to see you back wearing purple and gold, @Sah75official! 💜#IPL2021 #KKR #Cricket #HaiTaiyaar pic.twitter.com/PvJvHk68nF

— KolkataKnightRiders (@KKRiders) March 11, 2021
So you know the quality of Shakib can not be questioned and yeah he is one of the premier all rounders and we saw what he did in the 2019 world cup for Bangladesh and he's been with us before, he has proven and performed and we made up our mind saying that okay shakib is our number one priority, we will try and get Shakib as much as possible.
Q. Talking about Ben Cutting who is obviously a great addition to the 2021 squad. Him being so experienced, not just internationally but he has also played a lot of IPL, he is an all rounder… tell us a little bit about how he fits in to the squad.
Srikkanth: With Cuttsy, we had a very specific role in mind and we thought that you know, he fits into that role perfectly. We can't give out details on what that role might actually be, but you know we had a very very specific role in mind and then we got Cutting, he was meant to fill that position and fill that role.
Thrilled to have a bonafide #T20 veteran in our ranks this season 🙌🏽@Cuttsy31 #HaiTaiyaar#KKR #IPL2021 pic.twitter.com/BzMJm2cEHt

— KolkataKnightRiders (@KKRiders) March 14, 2021
People can view him as a backup for Dre or replacement for Dre but you know, it's a much bigger picture than that. we have a very specific role in mind and you know we like the way Cuttsy, the way he performed in IPL previously with the teams that he has represented, he's coming off a good BBL. And he is, he has travelled around the world playing T20 cricket, he is an experienced player, so what he brings to the table is something different so we wanted that and we are very pleased and happy to get Cutting in team.