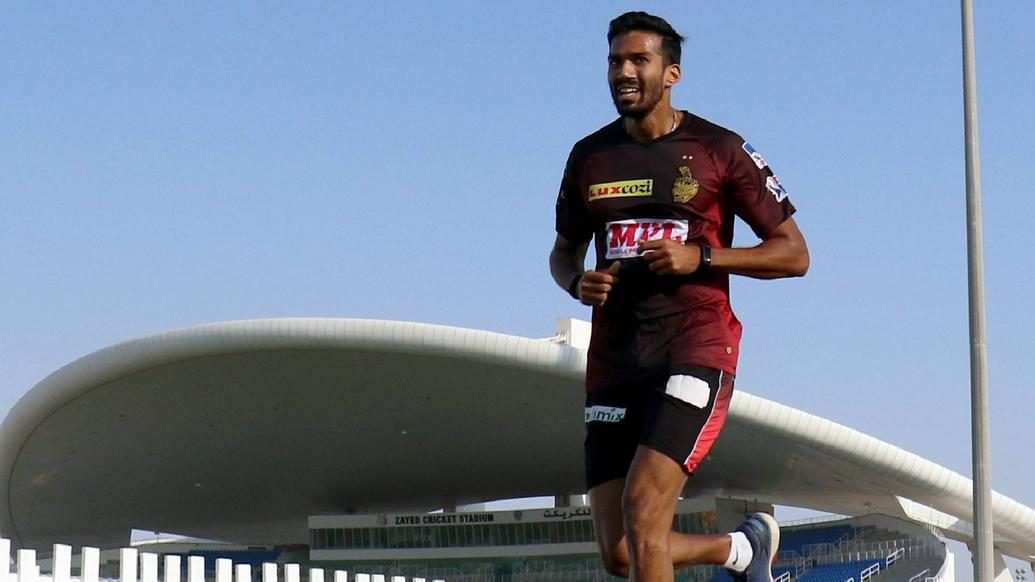 Sandeep Warrier's entry into Team KKR happened by chance. He came in for a replacement for Kamlesh Nagarkoti, after the young speedster was declared unavailable for the 2019 season of the IPL. In whatever few opportunities he got, Warrier proved his worth to be retained by KKR for the 13th edition of IPL as well. In this episode of Knights Unplugged, we caught up with the pacer to chat about his early days in cricket, his expectations, how being a part of the IPL has made him more confident and a lot more. Excerpts:
Hi Sandeep, this is your second year with the Kolkata Knight Riders. How has your experience been so far?
Warrier: As you know, I came late into the team last year. I was waiting to see the crowd in the first match and it was AMAZING! So, the atmosphere at Eden Gardens is something I'm really going to miss this season.
There was one particular game last year against Kings XI Punjab where you dismissed both KL Rahul and Chris Gayle. Tell us about that moment?
Warrier: Yeah, KL's wicket was my first wicket in the IPL. I think I just got lucky. I didn't even celebrate the wicket that way. I think I just thanked everyone. I didn't celebrate because in the previous match, I didn't get any wicket. So to be honest, it was more of a relief for me.
Sharing the KKR dressing room with all the talented bunch of national and international players, how is that feeling?
Warrier: The main thing that we learn from each of them is how they treat the game. The way our Indian international players like Dinesh Karthik, Robin Uthappa or Shubman (Gill) prepare and treat the game, it's way different from what we see in domestic cricket. So, I think it's just the mindset that you can get from IPL or by playing a level higher than domestic cricket. That's all. Basically, it's figuring out how confident they are in executing their skills. If you are a domestic player, you may just hold yourself back and not be sure what you are doing. But one level up, even though they are not 100 percent sure, they will just go and execute it. This is the main difference I found.
You have spent some time at the KKR Academy as well. How was that experience?
Warrier: I was there at the camp for two weeks just before the originally scheduled IPL. Nayar and Omi (Omkar Salvi) prepared us to figure out how mentally tough we are to execute the skills when it's time. Even if we work for 100s of balls or 20-30 overs in the nets, when it comes to the match situation, we need to know how to handle the pressure. That's what they make us do there. They make us bowl as per match scenarios. So, it's more of a match and mental preparation than skill enhancement.
You also got to meet your team members. Did you get a chance to bond? You guys spent some time staying together in one house.
Warrier: Yes, there were two houses. Nikhil (Naik), Rahul (Tripathi) and Varun (Chakaravarthy) were staying in one house, I guess. (Nitish) Rana, Rinku (Singh), Siddharth (Manimaran), DK and I were staying in another house. Our house was 5 minutes away from each other. It was fun, going to the gym together and going to the ground together.
Where did this love for fast bowling begin?
Warrier: I really don't know when I started becoming a fast bowler. I started playing cricket when I was 13 or 14 years old. From that time itself, I was keen towards fast bowling. It's not like I started with something else and I changed into a fast bowler. The love was always there for bowling fast but I guess the attitude came when I was playing under-25 for the Kerala team. There was one match against Railways where we got all out for 120 odd runs and we got them all out for 70. There were just two fast bowlers – me and Niyas Nizar – and we both got 5 wickets each. That's how we won the match. So, this is where I saw the change and realised that I could be a successful pacer.
There was a time when you had to choose between engineering and cricket. You chose the latter and dropped out. How difficult or easy was it for your family to accept this?
Warrier: For my dad, it was pretty easy I guess because he is a guy who always says, "it depends on you what you want. You can choose whatever you want and be on that path". For my mom, it took some time to digest this. She always wanted me to finish engineering, get the degree and a job. So, it took her time. But my dad was completely okay with it.
You made your First Class debut at the age of 20 and in 2013 you were bowling to Team India in the nets when they were about to play against England in Kochi. How was the experience?
Warrier: I guess 2012-2013 was the luckiest time for me till date. I played U-25 and directly got a call for Ranji Trophy. I finished Ranji Trophy and luckily India was playing a match in Kerala. Moreover, India's manager was MA Satish sir. He is the one who happened to call me and ask if I could join the India nets. The whole episode was lucky. When I was bowling, Virat (Kohli) bhai was there. He saw me but I don't think we spoke that day. But that night Avishek sir called me saying we are interested in seeing you. I went on to play for U-23 India in Emerging Cup that year as well and we won it. So, yeah that year was really lucky. I made all the debuts except IPL that year.
It's said that T20 cricket is more gruelling on a bowler than a batsman. Do you agree with that?
Warrier: I don't think so, but I think the concept is there because fans come to watch 4s and 6s. So, if a team gets all out for 50-60 and the other team chases it down easily in less than 20 overs, that won't be a fun T20 match for the fans.
IPL has a gruelling schedule. How do you handle the pressure of playing in it?
Warrier: I played IPL after spending 55 matches (on the bench). So, for me it was not much of a pressure as I knew if I could execute my plans, I would be successful. And if I failed to execute, I needed to work more. That's all that I was thinking. So, last year was not much of a pressure as no one was expecting anything out of me. Let's see how it goes this year.
Did the time, when you were just with the team but not playing, help you prepare a certain mindset?
Warrier: Yeah, it did help. I was training and travelling with the team at that time. Bowling to Russell, DK, Shubman, Robbie, Rana and others certainly boosted my confidence.
You have also been working on some variations, like the Knuckle ball and off-cutters. How do you bring these variations into play when you are in a match?
Warrier: I just go by my intuitions. I don't think too much on what will happen. If I have been bowling at the same pace or feeding the same deliveries to the batsmen, I may change it. If he is struggling with that, I may continue with the same thing. If the wicket supports fast bowlers, I may not look for too many variations.
You have executed the yorkers and slower balls in the past very well. What is the mentality to use these two in pressure situations?
Warrier: See, I never bowled in the IPL death overs. Last year I was finishing my quota by the 14th over. So, I don't know how it works in the IPL. You see, the best death bowlers who play in the IPL are Malinga and Bumrah. Even their success rate is 7 out of 10. In domestic cricket, you will have the pressure to execute these deliveries. But that's what you are looking forward to. If you can't handle the pressure at that time, you won't be able to excel in what you are doing. So, if you are playing a match for IPL or your country and you have the last 6-7 balls, that's the opportunity you are looking for.
Was there any focus on death bowling at the KKR Academy?
Warrier: Mentally how you can execute the plan, that's what we worked on. We were given match scenarios where the batsmen needed to hit 45 runs in the last 4 overs and we had to take a certain number of wickets. So, yeah we had been doing a lot of bowling in the powerplay and death.
Moving forward is there any goal that you have set for yourself that you want to accomplish?
Warrier: For the past 2-3 years, I have not been setting a lot of goals for myself. Previously, I used to set many goals and always got disappointed if I was not able to achieve them. Even if I come close to my target and fall short a little, I won't be happy. That's why I don't keep many targets these days. I just stay in the process and work on the things that I can do the best. The rest will come.
Earlier this year, you spent some time in New Zealand with India A. How was that experience?
Warrier: I have been with India A for 3 tours. One was in India itself, then the Sri Lanka A team came over. The second was in the West Indies and the third was in New Zealand. It was a good time to be in New Zealand with the team. I made a lot of memories and also a lot of new friends.