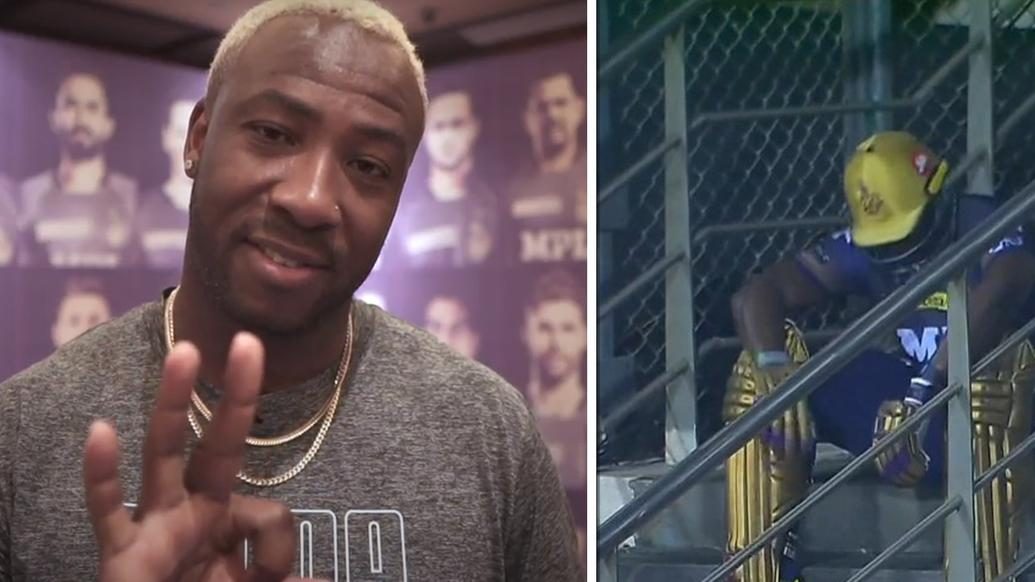 A counter-attacking half-century by Andre Russell in the last game against the Chennai Super Kings brought the Kolkata Knight Riders back on track during their chase of a mammoth 221 runs at the Wankhede Stadium last Wednesday.
The all-rounder was at his destructive best as he smashed 54 runs off 22 balls with three boundaries and six massive hits over the fence to take the team closer to the target.
View this post on Instagram
The fans and followers from all across the globe sent him plenty of wishes for the remarkable innings. The 32-year-old responded to some of the tweets on the internet post the nail-biting encounter.
Here is the excerpts of the six tweets:
Star Sports commented on the two things that help us sail through a tough time by saying, "Things that get us through difficult times.
1. Exercise & Positive Thoughts
2. Watching Andre Russell bat."
Russell's response: You guys said it all. In difficult times, you have to stay positive; you have to stay strong. Exercise, stay on the positive side and know that nothing lasts forever. The bad phase, the struggles - they don't last forever. You go through it with a positive stance. You prepare for the greatness ahead.
Irfan Pathan, the legend himself, tweeted, saying, "Don't switch off your TV until Russ is there."
Russell's response: Once I'm there, you know everything is possible. Yeah, I've done it before a lot of times. So fans can know that listen, no doubt even when it's 100 runs in 20 balls, there's always a possibility of 20 sixes; who knows? But thanks for your kind comment.
Don't switch off your tv untill Russel is there @Russell12A

— Irfan Pathan (@IrfanPathan) April 21, 2021
In a post-match interview, Eoin Morgan said, "I tend to stay away from Andre Russell after he gets out."
Russell's response: Well, when you get out, and you know the job is not done, you tend to be angry and the HULK can come out. Last night was different. I was very emotional and disappointed. I wanted to take it home so badly. I was heartbroken.
Another fan, Rajneesh Chowdhury, says, "Andre Russell to DK - We won't die."
At the end of the day, we are not going to give up. We are going to keep fighting. It's not the end of the world; never give up.
View this post on Instagram
Ashish, yet another KKR fan, reckons, "Saddest pic on the internet today. Well tried, Dre Russ."
Well, I was very emotional and. I didn't know how to go to the changing room and face all my teammates after leaving a ball and getting out bowled like that. You know, the job is not complete, and I wanted to take the team over the line. So I think the emotions got the best of me but staying strong.
Saddest Pic on internet Today 💔
Well Tried Dre Russ #KKRHaiTaiyaar #Russell pic.twitter.com/jk0JYcOICS

— Ashish Shrivastava (@Ashishayush117) April 21, 2021
Goutham says, "Love you 3000 times."
Russell's response: To all my KKR fans out there, I love you 3 million times. Love all the way. We bleed purple, alright?
Peace!!!