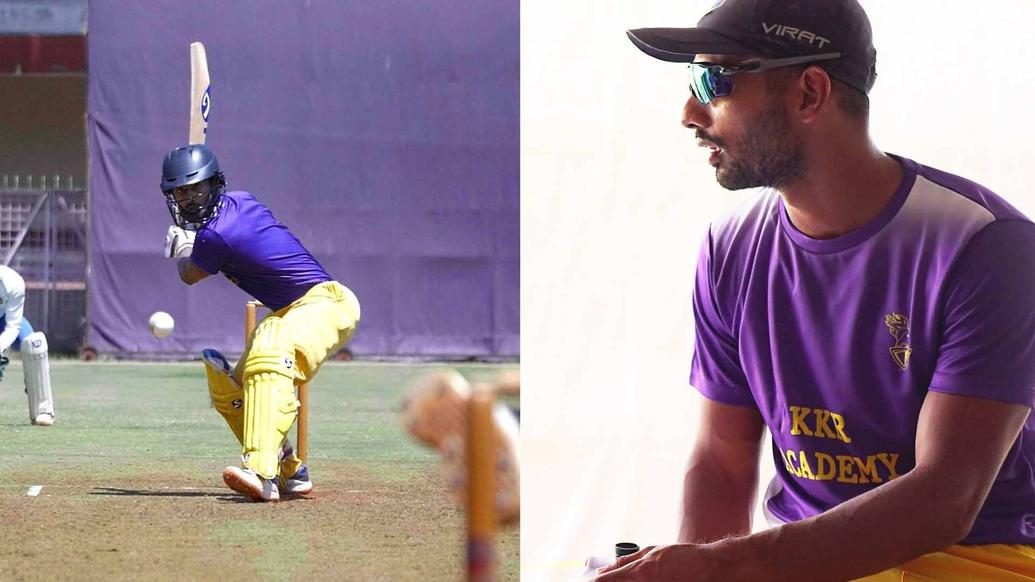 In this episode of Knights Unplugged, we bring you the charismatic Rahul Tripathi, who will be donning the KKR jersey for the first time this year. From being an explosive opener to a sensible middle-order batsman, Rahul opens up about his lockdown routine, early days of cricket, his experience of previously playing in the IPL and the secret behind his jersey number. So, can KKR expect some fireworks from him this IPL? Let's get him talking!
Hi Rahul, welcome to Kolkata Knight Riders. We've heard you come from an army background, and your father takes a lot of interest in cricket. Was that how your interest in cricket was born?
Rahul: Yes I started playing cricket from a very young age. I was always interested in outdoor games and never liked playing with toys. Cricket is something that has always been special to me. I have thoroughly enjoyed playing and watching cricket. As a kid, I used to watch cricket matches on television. Seeing Sachin Tendulkar in action was my favourite activity. I used to stay glued in front of the TV for him.
My main journey started from Pune. I had been living in Srinagar before I moved to Pune. The time in Srinagar was pretty exciting. I remember playing with snow inside the 2km premises of the Army cantonment. I could not really move out, so all the activities I could take part in were inside the BB Cantt. I used to play cricket in Lucknow in the beginning but then dad got posted in Srinagar. So, my professional cricket started when I joined the Deccan Gymkhana Club after moving to Pune. Prior to that it was all about playing gully cricket or a few matches in school.
Q. Having played in domestic cricket as well as IPL since 2017, what would be a few goals that you have set for yourself as a cricketer?
Rahul: I think 2017 was a great experience for me. Whenever you play in the IPL, there is always something to learn from it. IPL gives you an experience where you get to share the dressing room with such great cricketers. So, you learn a lot. Talking about domestic cricket, I try to contribute as much as I can to the Maharashtra team. I was leading Maharashtra in the T20 and one-dayers. We missed the title last year. This year too, we had reached the semifinals. Personally, my aim has always been to improve myself. Playing for the country is my ultimate goal. I think if I keep improving, I can be a match-winner. I guess I will get that opportunity. I always focus on improving fitness and areas such as batting order experimentations. For example, the first year I opened then I played in the middle order. I learnt a lot while playing for Rajasthan Royals. So, it's always been a fun experience for me.
Q. How does it feel to be part of the KKR family?
Rahul: The day the auction happened I was very happy. As a child you know, I saw Brendon McCullum playing that amazing knock and Shahrukh Khan waving from the stand. Of course, seeing your heroes is special and it makes me very excited.
I have had a few video chats with McCullum. I used to step out and hit those balls during the 2017 IPL. People used to ask me how I charge down easily. I used to say it all came from watching McCullum's videos. He was the one who would really take on those bowlers.
Q. You had the scope of spending 1 month in the KKR Academy. Was there any area you were focusing on?
Rahul: The Academy included everything, from fitness to yoga to ground skills and batting. So, we were really focusing on developing every aspect. Dinesh dada (Karthik) and Abhishek dada (Nayar) were telling me constantly what would be the way forward this season, what exactly they were looking for in me and what all I needed to develop in this period. It's all about preparing yourself for those situations. For example, if I am batting in the middle order, how I should approach the game; or suppose it's the last four overs and I am batting. So, we were having a lot of clarity. Every day we had a specific role, as in what we wanted to do and how we wanted to prepare.
Q. What's your favourite batting position - at the top of the order or as a finisher?
Rahul: I think I can be both. I think playing in the top order is a different scenario. You take on the bowlers, you look to score the maximum runs in the powerplay. Playing in the middle order is different as you need to analyse the situation and take the game deep. You may think there is less time but actually you mostly have enough time to finish a game. But I really like the fact that at Rajasthan Royals, I could finish some games. Unfortunately, due to my ankle injury, I could not play in the later half. But I was happy that I could play both the roles – as an opener as well in the middle order. I think I could have played a better role in the middle order but I am happy to play in both positions.
Q. They say T20 is a place for innovation. How much do you feel you have reinvented yourself and developed innovative cricket shots?
Rahul: I think innovation is really important. Now-a-days, people are reverse-sweeping, playing scoop shots and what not. I think if you have variations in your game that throws the bowler into a different mindset. If you play a scoop, the bowler starts thinking whether to bowl a yorker or change the field. So, I think it is very important to keep evolving as the game progresses. You need to keep adding something to your game. Having said that, I still feel more confident hitting straight. But improving yourself with these shots is definitely important.
Q. If things go according to the plan, you might end up opening with Shubman Gill. Two youngsters at the top, how do you look at this opportunity?
Rahul: Shubman is a great player and he has done really well for KKR last year. Opening with him will be really exciting as we both would love to take on the bowlers and put on maximum runs on the board.
Q. Let's talk about your jersey number. Is there a story behind it? It's 52, which means 5+2 equals 7. And you are from Ranchi. Is there anything that you are not telling us?
Rahul: (Giggles) It is a little bit special. I think 7 is a lucky number and playing with MS Dhoni was a great experience at Rising Pune Supergiants. It was like a role model coming in front of you and playing with you. It was more of a fanboy moment for me. The number 52 is very lucky and close to my heart. My friends have now started calling me RT 52 and saving my number with this name as well. So, yeah if you ask me, it is because of MSD's No. 7 that I chose 52 and I guess this number is going to be with me for a long time.
Q. It's your first season with the Kolkata Knight Riders. What would you like to say to all the fans?
Rahul: You guys are amazing. I have seen you supporting KKR like a family. Keep supporting us with the same freshness and josh this year as well. We will definitely win the cup.
Korbo, Lorbo, Jeetbo!