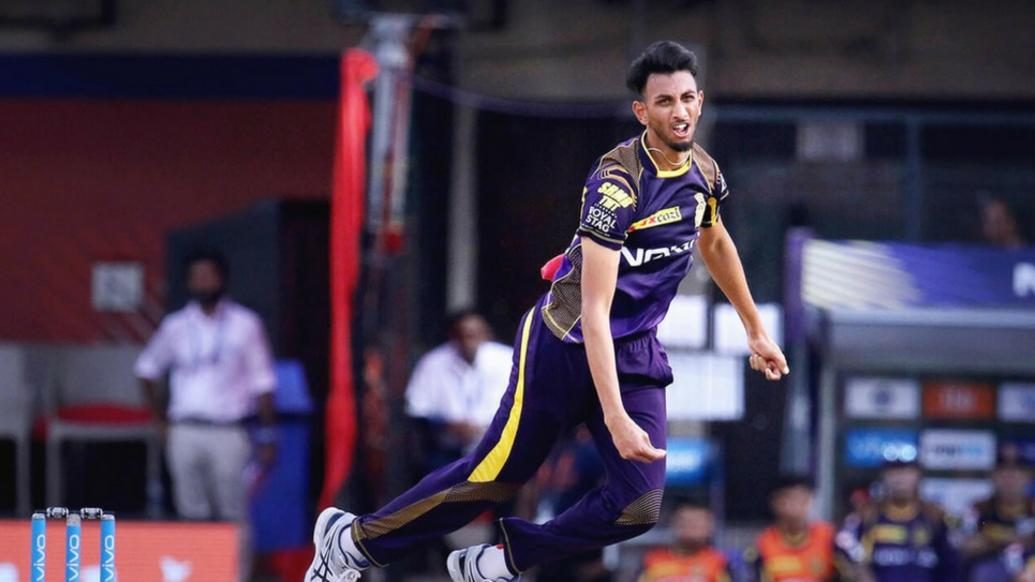 The Holkar Stadium, with its short boundaries, is a batting paradise, but still, playing only his third IPL match, youngster Prasidh Krishna turned out to be the most economical bowler from both sides. Kolkata Knight Riders' batsmen onslaught helped them put a huge total on board, but it was a good bowling effort led by Prasidh that restricted Kings XI Punjab in their chase as the visiting side won the match by 31 runs in the end.
The 22-year old spoke to the media about the bowling conditions and death overs-expertise in the post-match press conference. Excerpts:
Q. How challenging was it to bowl with such small boundaries?
PK: It is a tough challenge but that is what you have to learn at my age or whoever it is. You look forward to facing challenges. Definitely it was a very tough wicket to bowl, because the ground was also very small. You have to come up with things where you don't get hit and just give it away for singles.
So my plan was to keep it simple. I watched the other bowlers bowled so I knew which areas was easy for the batsmen. So I made sure not to give easily to the batsmen. Every bowlers get hit, but if I get hit, I would rather get hit in my plan.
Q. What sort of communication you've had with senior bowlers?
PK: We had our plan set. He just came and told me to be calm and execute whatever has been planned. Everyone in the team game me confidence to do whatever we've planned.
Influence of Andre Russell this season
PK: Definitely, the confidence and the fearlessness that he gets into the team is amazing and we would love to have players like him in the team.
Q. How much of domestic cricket experience like Vijay Hazare is helping you?
PK: Those were the tournaments that gave me confidence of what I am today. So I want to keep in my mind, what I have learnt. And put it in the use when I come here.
Q. Challenges even after posting a good total on board.
PK: In a small ground, you never know what's going to happen. One big over and pressure is on to you again. So I said to myself, no matter what, all the 24 balls I bowl, I am going to make sure that it is difficult for the batsmen to score.
Q. How big is it going to be for you to play Ranji Trophy?
PK: Every cricketer would first look forward to play the first-class, Ranji Trophy. Playing for Karnataka is a big thing. I've been waiting to play there. I have been part of the team for three years but didn't get to play. These few things are contributing to make me play there in the playing eleven. I am eager and waiting to play there.
Q. Your take on bowling in death overs?
PK: I was told every fast bowler has to bowl in the death bowlers. So I was prepared to bowl any given overs. That is the job of any bowlers who play cricket. So I was prepared for it.