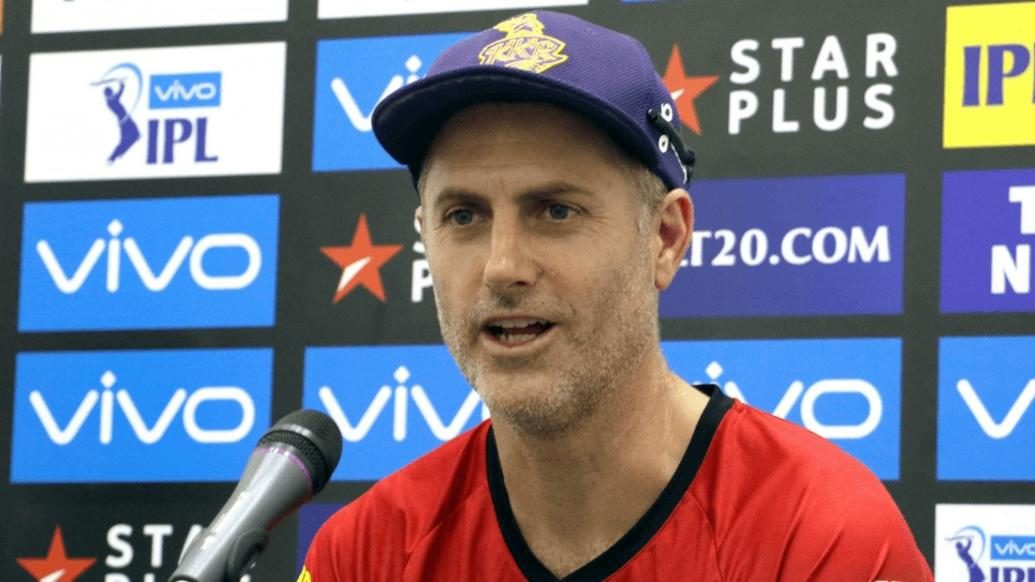 Kolkata Knight Riders find themselves in a must win situation against KXIP as they head into their match at Holkar Stadium in Indore on Saturday.
Speaking to media, KKR's assistant coach Simon Katich said that the knights are indeed under some pressure, but they can well turn the tables against the home team. Excerpts:
Updates on Mavi's and Gill's injury
SK: They both are down here this afternoon for training. So that's a positive. I know Shivam is going to have a bowl this afternoon, which is good. He's had a finger injury. So he missed a last couple of games. He's been a big loss in our bowling lineup because he's performed well so far in this tournament. While he might not have huge amount of wickets yet, he's certainly has made some in-road chain, some really good signs with his pace and control. So hopefully he'll be alright. And then, Shubman Gill put up a bit of a sore after that game in Mumbai, so couldn't play in Kolkata the other night. So he's having a bat this afternoon. Hopefully both get through that session. And yeah we'll see what happens with the selection tomorrow. We haven't even seen the wicket yet. Once we get a look at it, we'll have more idea of what sort of team we need to play on this wicket.
How confident are you with your chances of making it to the play-offs?
SK: Obviously the last two games haven't been ideal. We have made a lot tougher on ourselves. If you'd ask this two games ago, we would have said we are very confident. Now, that doesn't change anything. We obviously have to win all three now. We can't leave at chance. That's extra pressure. Whether it's a good pressure or bad pressure, only time will tell. Because when you get through the finals, you still need to play under pressure there anyway. It could be a good thing, but only time will tell tomorrow once we get there. I think the boys will go out there and put what's happened behind them. It certainly wasn't a great result the other night. But we know on this format of the game, things can change pretty quickly. We certainly did that after we had a poor loss in Delhi and we responded well in next couple of games. So I expect the boys to bounce back pretty hard tomorrow.
How much is Apoorv Wankhade in the scheme of things in the playing eleven of KKR?
SK: He's not at the moment. Our batting lineup has performed pretty well barring the chase the other night, they've been very consistent. So obviously Rinku got the opportunity when Shubman was out. Unfortunately Apoorv hurt his shoulder, about a week ago. He popped his shoulder out. He's been recovering from that. So he's unavailable for selection because he's not even able to bat.
Opinion on a better bowling attack in Kings XI Punjab. Is that a bad sign for KKR?
SK: They've had a good tournament. They've certainly got off to a flying start in this tournament and had lost just the other night in Jaipur, where RR played very well. Look that's the nature of this tournament. It can change from game to game. So you can't sort of look back too much. You've got to keep looking forward. It's certainly we want to put away, what happened the other night, and move on. If you dwell on it too long, you can end up affecting your mindset going in to the next game. So I am sure they'll be the same. They'll be disappointed losing the other night. So you see too pretty hungry teams. Becoz table is tight, so no one can afford to lose at this point of time. We are sitting out of the top-four at the moment. But anyone that's in and around that top-four. I don't think anyone will be taking chances at the moment.
Fitness of Lynn and Russell
SK: Look both are 100% fit. Both had concerns coming into the tournament. But as soon as they were picked, they were treated as 100% fit. Obviously Lynn can't dive around in the field for fear of popping his shoulder. That aside he's fine. Russell came in with a bit of hamstring issues. He's definitely improved as the tournament progressed. We've had a hectic start, playing 6 games in 11 days. He's feeling fine at the moment. He's not training today. That's how he prepare. He'll be fine for tomorrow.
Strategy?
SK: Strategy is first to play well tomorrow and win tomorrow. We will only take one game at a time. To beat these guys, we've to battle. We batted well against them last time in Kolkata and got a pretty good score on board. It was just one of those nights. Obviously Rahul and Gayle started strongly which was never recovered and then there was rain-delay. But we feel confident that we have the team to turn the tables on tomorrow. One thing we've done well in this tournament is has been able to chase against teams. Obviously the other night wasn't the case. But generally we've chased well. So it's just to get our batsmen out there trusting that they are in good form and make sure they can put some pressure on KXIP.
Is opening combination is a matter of concern?
SK: It depends how you view it. In terms of consistency, we are one of the only few teams that have consistently scored over 50 runs in powerplay. Apart from the last two games against MI and one against SRH. So 8 out of 11 times we have gone past 50. So it's great advantage to have that consistently. So obviously Sunil missed out the other night. But he's still capable of going out there and getting us to a fast start. We know he's in the team purely for his bowling. It gives us flexibility with our batting the rest of the lineup. Even if he doesn't get a big score. Sometimes a quick 20 can set the rest of the innings up. So it's all about the role play and at the moment we feel that he's the right man for the job with Chris Lynn.