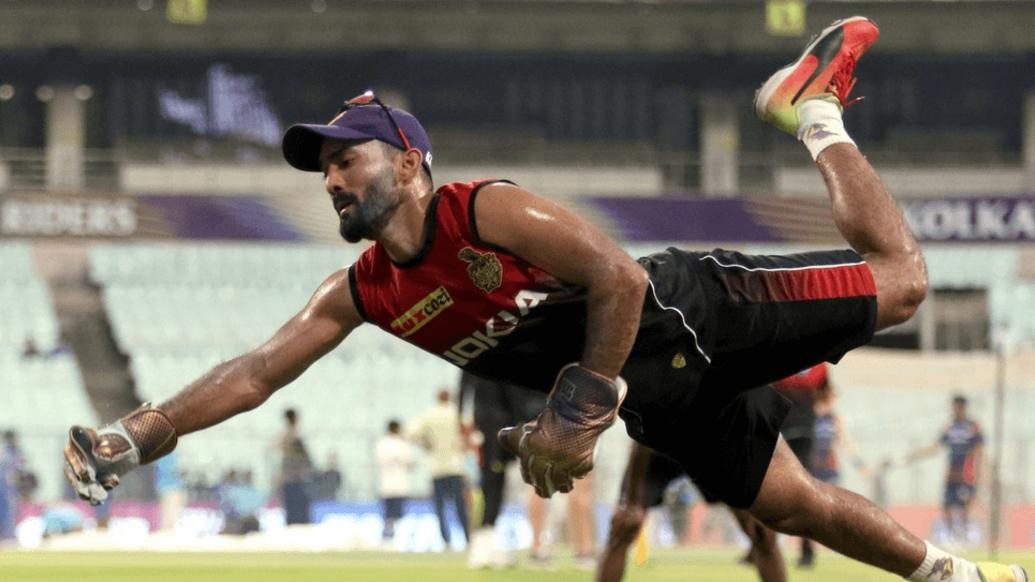 Dinesh Karthik broke into the national setup way back in 2014, and his journey in first-class cricket began even earlier, in 2002 - that's 16 years ago! Many years later, in June 2018, he finds himself in what can without doubt be labelled the purple patch of his career. Some handy knocks against West Indies and New Zealand in the 50-over format last year cemented a comeback of sorts for DK, who has since featured in the Twenty20 setup for India fairly often.
The last three months however, have been pure magic. From being named the captain of Kolkata Knight Riders to pulling off that unthinkable chase on that fateful night in Colombo against Bangladesh in the Nidahas Trophy final, DK has taken massive strides, creating a buzz across the cricket fraternity. The confidence showed in the way he led KKR in the 2018 VIVO Indian Premier League, seeing the side through to a third-place finish in the tournament.
The good work paved the way for the biggest prize in the sport - a shot at donning the whites for the country once again. DK earned a call up to the Indian Test team when Wriddhiman Saha, the regular keeper, suffered a thumb injury that ruled him out of the historic Indo-Afghan Test starting in Bangalore on Thursday.
Speaking to the media ahead of what will be a return to the longest format after eight long years (he last played a Test vs Bangladesh in Chittagong in January, 2010), DK shared his thoughts on his return, the hard work he had to put in in the domestic circuits over the years, his impression of the Afghanistan side, and more. Excerpts:
Q. Back in whites after eight years, how is the feeling?
DK: It feels very good to wear the whites. To be part of the Test team is something I've always dreamt of. I'm just thankful for the people who have stood by me over the years.
Q. Is this your second wind?
DK: I've been asked this question a lot of times, it feels good but it's hard for me to put it into phrases like 'second win' and 'comeback of sorts' and all that, but I'll say it feels good to be back in the Indian team. Playing Test cricket is the ultimate challenge, for any cricketer because you get tested in the format. This is another opportunity for me to showcase my skills and I'm hoping to do the best I can do.
Q. The hard grind over the years in domestic cricket, how has that changed you?
DK: I've always enjoyed playing the sport, so motivation has never been a problem. I've enjoyed playing the Ranji Trophy. It's a totally different challenge. There are not many out there who come and watch you play; you play because you enjoy the sport, which I've always done subconsciously. I've enjoyed being part of Team Tamil Nadu. Credit to them as well for having put up with me through the tough years, with my batting, with my keeping and as a player. I'm really indebted to them. I's very easy to fade away but for Tamil Nadu to keep competing in Ranji, that was the challenge, trying to get into the knockouts. Every alternate year, we put up performances. One year we reached the final, couple of years later, we got there again. Every two years, we hit the knockouts. As a senior player, they expect you to perform well. Along the way, if I could help out some young guys, then that's great. At the end of the day, it's always been great to represent a team like that, for them to have put up with me and backed me, today I'm really happy with where I'm sitting.
Q. Why do you think you sat out on the sidelines all these years?
DK: I guess I did not perform well enough before. I wasn't consistent enough. There was a highly competitive environment. MS Dhoni was breathing down my neck in Test cricket at that point of time. He has gone on to become probably one of the greatest Test cricket captains India has ever produced. So it's not that I lost out my place to some normal cricketer. He has been a special cricketer over a period of time, and I respect him for that. Just the fact that I couldn't at that stage produce enough performances to hold on to my place. I think I need to be honest with myself . I think I wasn't as good then. I have another opportunity now and I guess I will try to do my best.
Q. What should you do to keep Wriddhiman Saha out, and keep your place?
DK: I think if you go deep into that question and figure out what I can do to keep someone out, then you're taking energy away from the fact that you're competing with somebody. That puts a little bit of extra pressure than what is already there. What I'm looking to do, as clichéd as it sounds is be the best cricketer I can be, not only on the field but off the field. I'm trying to be consistent there, where even if I don't get the opportunity, even if I don't end up playing at the highest level, I want to be content with the fact that I've given it everything. They keep saying do your processes, and things will follow, so I'm just doing what I think is right. If I now go and try to think about how I can keep my place and keep someone else out, it becomes very subjective, I need to score, here, there. I don't want to keep it that way. I just want to make the best of the opportunities I get. Trying to keep my process that way.
Q. On Afghanistan's journey in cricket so far...
DK: It's been beautiful, isn't it? It is one of the highlights for the ICC as well, to have a Test nation like Afghanistan. Their journey has been an inspiration for international cricket. Not many knew they play, but for them to come in through the qualifiers and secure a World Cup berth, do so well and compete with the other teams, I give them a lot of credit. Everyone knows it's a tough place and the turmoil that they are going through, but inspite of that they are able to inspire people with their performances. They're able to even produce big players even in a tournament like the IPL. They have some key players from Afghanistan who are producing some big performances for them. I'm happy to see a country like that doing so well in cricket, it's good to see. If many countries take that route and challenge, it will be a fabulous story in history . Today, there are some household names in the few years they've played, it's only going to get better. I genuinely hope they have the opportunity to play a lot of Test cricket. As they've improved in T20s, today they can not only challenge but have the ability to win a tournament which is great. Got to credit them, how with the infrastructure they have, they're trying to beat all odds and do well in international cricket. I'm happy for them, it's going to be an honour to play against them.
Q. There was a statement from the Afghan camp saying their spinners are better than India's. Your comments?
DK: I don't know what that person has said, in terms of having better spinners. Look you have to understand we have a lot of experience. Not only Test match cricket but also domestic cricket, lot of four-day matches. Clearly, all their spinners put together would not have played as many matches as say a Kuldeep Yadav would have played in four-day cricket. At the end of the day experience has a lot of value. We saw that with CSK in IPL. Experience pays. I'm sure in time they will be even better bowlers than when they start off. But the point is, the kind of improvement they have shown in white ball cricket has been phenomenal. There is no reason why they cannot do that in Test cricket. But I would definitely say our spinners have a lot of experience and experience is not something that can be easily bought. I'm sure their players will also vouch for that. So, I wouldn't harp too much on that statement.