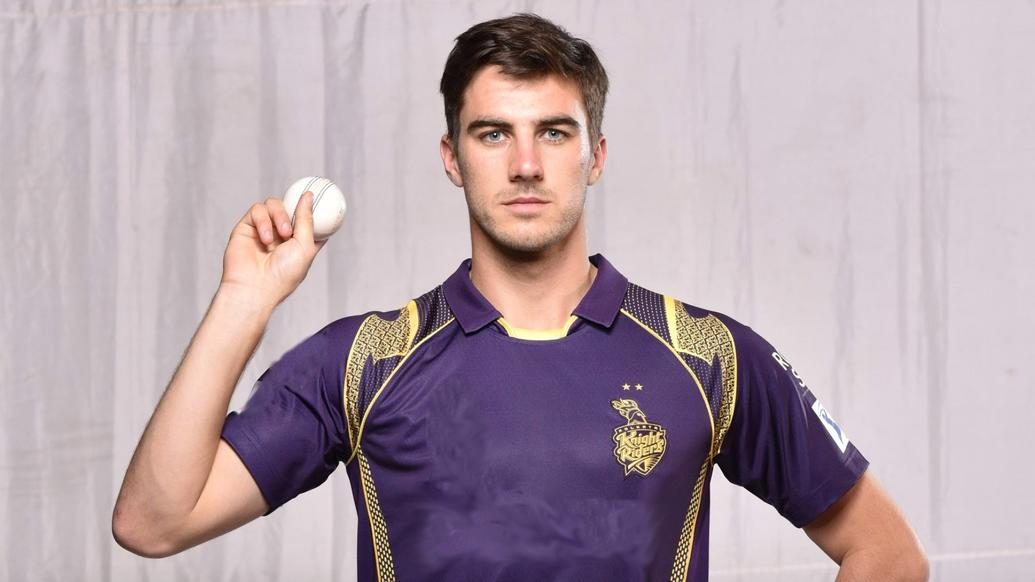 Pat Cummins is in Abu Dhabi, and after serving his room-quarantine, will be joining the rest of his teammates at KKR in just a few days' time. We are all charged up to watch the World No. 1 setting the track on fire! But before that, let's catch up with him for a quick chat. In this episode of Knights Unplugged, Cummins opens up on his struggles with injuries, growing up around cricket, his thoughts about his role at KKR and much more. Excerpts:
Joining us this season as head coach is someone who's a legend of the game. Brendon McCullum is all praise and super excited to be working with you. How is that link up going to turn out?
Cummins: The first thing that I am really excited about is that I don't have to bowl to him anymore! He was one of the best and most feared hitters I have come up against in my career. It can be the first ball of the match and he might be hitting over your head for a six! So, I am happy that he is in my team as a coach and that I don't have to bowl to him. He is someone I really admire for his fire. Whether it was his stint as the captain of the New Zealand team or his approach in the IPL clashes, I just love the way he goes about it. He really wants to put on the show and take the game on.
Bowling coach Kyle Mills has also said that you are currently the best bowler in the world. What does that kind of praise mean to you?
Cummins: I feel the same about him as I do about Baz; again, an ex-player, an absolute master of his craft! He has got an incredible record for New Zealand. You don't get too many opportunities to work with totally different coaches. Now in Australia, we have got the same. We have coaches for different formats and then state teams. So, you might have two or three different coaches. But the opportunity to go and work with Kyle, who has played around the world, will definitely bring to me different things that I never thought about bowling before. So, yeah I am really excited to work with him.
Growing up in the lower Blue Mountains, getting a Sheffield Shield call-up with New South Wales at just 17, and within months, a Cricket Australia contract... A dream start for any youngster growing up! Did you ever feel that your career will kickstart so meteorically?
Cummins: No way, absolutely not! I was in my school in the final year. My mates played football but they were not too much into cricket. A couple of weeks after I was done with my final exams, I was suddenly seen playing for New South Wales on TV and all my friends were surprised because they didn't know that I played serious cricket! Honestly, I didn't know either! Everything happened so quickly. In my school life, I didn't even consider playing cricket professionally because I didn't even know anyone who plays cricket professionally. I was just a normal school student. Everything happened so quickly that before I knew anything, I was lining up with Ricky Ponting, Michael Clark and playing a Test match a few months later. So, it was an incredible experience that happened so quickly and I find it to be a rare thing. But I absolutely loved it!
A dream contract followed by a dream debut. Finding yourself amongst your childhood heroes and winning the man of the match with your 1st baggy green appearance. Did it appear a little surreal that time?
Cummins: Yeah it was! I first played the Test in South Africa. All my cricket for Australia that season was overseas. But when we came back to the start of the Aussie summers, everyone was looking forward to the first Test match. Unfortunately, I was injured but I was there with the Aussie cricket team. I always kept thinking this was crazy! This was the Aussie team I have grown up watching all my life. Even my dad and grandparents watched. When I was on the field and the boys were about to go and play the first Test, it really hit home. It was a weird feeling, more of a "how did I end up here" kind.
Cummins, Morgan, Banton - All aboard ✅

The last three 💫 have safely arrived in #AbuDhabi for #Dream11IPL@Eoin16 @patcummins30 @TBanton18#KKR #HaiTaiyaar pic.twitter.com/KnMSI7GiSP

— KolkataKnightRiders (@KKRiders) September 18, 2020
You started bowling quick at a really young age. Is it true that at the time of playing underage cricket for Penrith (Sydney's West) an opposition batter's mum came up to you and told you to bowl slower to him? Scaring the opposition with your pace since a very young age? (He was 13 then)
Cummins: Yes! (Giggles) It happened a couple of times. I still remember this guy vividly because I would bowl to him once or twice a year but I would feel like hitting him on the high or the hip bone or the leg every single time. I didn't mean to but every year I would actually hit him and he would be on the ground rolling in pain. One year his mom just came up and said, "please, please take it easy! You hit him every year!" and all I could say was, "Of course, I will take it easy". But as soon as I got the ball, there was no chance that I was going to bowl any slower.
It must have been frustrating for you, each year, to go to the SCG and answer the same questions about the latest cruel injuries you've picked up. This went on for some time since your Test debut against South Africa. How did you keep your spirits high and how has that shaped you as a tough cricketer both mentally and physically?
Cummins: It was certainly a few tough years. Since I was six years old, summers for me would mean cricket. I will spend weekends and every day after school playing cricket. And then suddenly, I was a professional cricketer but I wasn't playing any cricket during summer. It was all weird. There were these great games at SCG I would feel like playing but I was injured. It was so close but because I was injured I couldn't even go and play backyard cricket. In terms of the schedule, just at the start of the Aussie summer, I would get injured and by the end of the summer, I would just be starting to get right. That's how I would go and play overseas and again at the start of next summer I would get injured. So, it was tough because I felt I was wasting so many years. But yeah, I again got back to my 100 %. So, it was not like I felt I would never be able to bowl at the top level again. It was more of frustration for all the cricket that I was missing out on.
Pat Cummins is in India & was welcomed with a beautiful 🎁 by his fan 💜👕

📹 Watch what Pat had to say 🗣#INDvAUS @patcummins30 #KKR #KorboLorboJeetbo pic.twitter.com/x0UirB0zGS

— KolkataKnightRiders (@KKRiders) January 14, 2020
We have an exciting young fast bowling prospect in the name of Kamlesh Nagarkoti at KKR this season. While at NCA, his mentor Rahul Dravid often cited examples of you and your great comeback to keep his hopes up during the time of his recovery. What advice would you give to the young Kamlesh who missed out on 2 years of cricket due to injury?
Cummins: The big one that all the coaches and ex-players would advise you is a simple thing – you need to be patient. It is really an easy thing to say and think of but an 18-year-old missing games is actually a very hard thing to live with. You just need to have the trust that you might miss a season or two at the start of your career but you might end up playing till the age of 36 or 37, as opposed to 31 or 32. Everything that you do during this time, sets up the foundation block for a long and healthy career. Even when I was not playing, I used to hang out with my teammates. 90% of the time I love cricket is because I can hang out with my mates.
Who are some of your best mates in the Aussie squad?
Cummins: As fast bowlers, it's pretty tight in Australia. But I would say Josh Hazlewood and Mitchell Starc and also someone else who thinks he is a fast bowler – Mitchell Marsh (giggles). I like Nathan Lyon too because he bowls lots of overs for us.
Brett Lee was a superstar here in India, he was also a part of the KKR family. Growing up, watching him bowl those super quick deliveries and do the famous chainsaw celebration. Was he your idol of sorts?
Cummins: What was that song he sang? It was a great song! (Referring to 'You're the one for me' with Asha Bhosle) Well, of course he was! As kids, we were so lucky to have players like Shane Warne, Glenn McGrath, Ricky Ponting, Steve Waugh, Matthew Hayden, Justine Langer – 11 superstars playing in every Test. I loved the way Brett Lee went about it. He was the younger one in the team but he always wanted to bowl fast. He had his big celebrations and blonde hair, jumping around! I loved him and I often used to try and mimic him in the backyard. I think this is my 9th or 10th year of playing professional cricket. He bowled over 150kmph for close to 20 years! Which is just mind-blowing. I loved him for being an absolutely amazing Australian player and also an ex-KKR player.
Taking cues from the best! 💥
Growing up, Brett Lee was Pat Cummins's Yorker-hero. Who's yours❓ ___#KKR #KorboLorboJeetbo #Cricket @patcummins30 @BrettLee_58 pic.twitter.com/Ts3gQL8MMU

— KolkataKnightRiders (@KKRiders) February 25, 2020
Let's talk about the nuances of T20 bowling. There is a lot of emphasis on death over bowling, but for an out-and-out pace bowler who can swing the new white ball, powerplay could be the time when you pick up wickets. Do you think that could be the role for you at KKR?
Cummins: We have to talk about that when we get out there and make the side. The thing I love about T20 cricket is it's ultra-attacking, or at the death, it's ultra-defensive. There is no middle ground. So, in T20 cricket, if you are an all-out bowler, you get to bowl any time of the match. That's why I love the format.
Thank you for your time, Pat. Have a good time in Quarantine. We will see you soon - Korbo Lorbo Jeetbo!