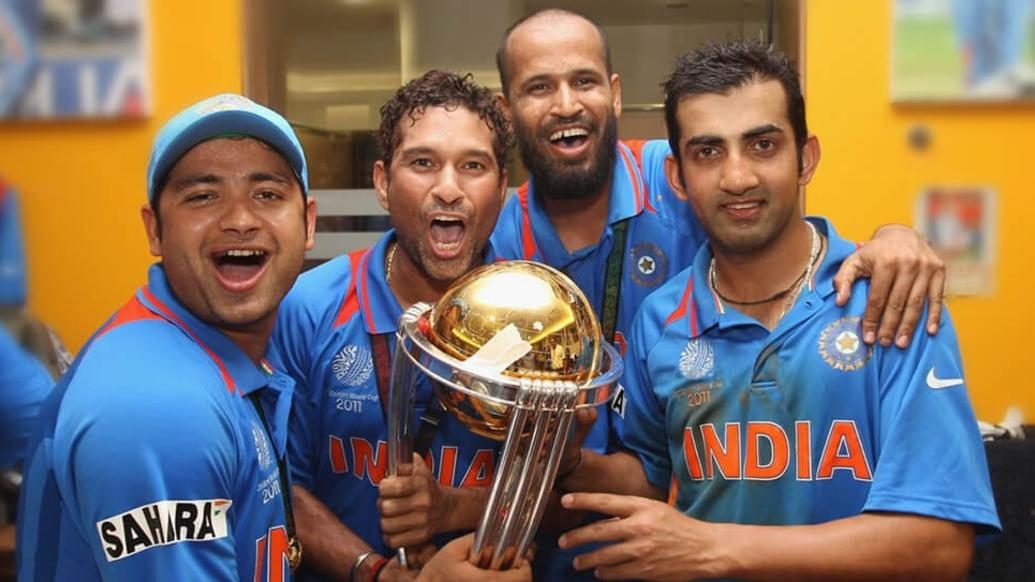 2 April, 2011! An evening etched in the memory of every Indian cricket fan. For on that night at 10:42 PM, a six by MS Dhoni over long on at Wankhede Stadium sent a 1.2 billion population into ecstasy. India had been crowned World Champions after a long wait of 28 years.
Our Knights Gautam Gambhir, Yusuf Pathan and Piyush Chawla, as members of the Indian team, were all part of that historic achievement. Gambhir's 97 in 122 balls in that pressure-cooker scenario at Wankhede Stadium is undoubtedly one of the most important innings ever played in the history of Indian cricket.
However, our captain fantastic, has repeatedly shown over the last six years as to how he enjoys these challenges and it was no different on the night.
"We were chasing 275 and I was not even ready when Viru (Virender Sehwag) got out LBW in the second delivery. I was still padding up. Because the decision was a referral, I got the time to get ready. The good thing that happened was there was nothing in my mind. If I had to wait for my opportunity, then there would have been a lot of things that would have gone on in my mind since it was a World Cup final and we were chasing 275," recalled Gambhir during a conversation with KKR.in.
He added: "The first ball that Lasith Malinga bowled, I hit it for a boundary. At such times your nerves get settled as well. Whatever nerve was there, it was due to the fact that it was an international game, not because it was a World Cup final. It was not just about one or two individuals, but it was about everyone in the dressing room who believed that we could win the World Cup. There couldn't have been a bigger stage set when you are chasing in the World Cup final that also at home. You never know whether you will get that opportunity ever again. You got to cherish the moment."
And that's exactly what GG, as he is affectionately addressed by his teammates, did and how!
However, as pointed out by our skipper, victory in the 2011 ICC Cricket World Cup was built around contributions not just from one or two individuals. It was about important statements made with either bat, ball or on field by every team-member when the chips were down.
Yusuf bhai, as he is popularly known, came up with one such vital show in the game against Ireland at Bangalore. Having tied their game against England, Team India was in a spot of bother at 5/167 in the 41st over chasing down 208 at Bangalore in their third league game.
But just like he has done on innumerable occasions for KKR, 'Pathan power' was on display, smashing an unbeaten 30 in 24 balls (3 sixes and 2 boundaries) to seal victory for the Indian team.
"During the closing stages, Yuvraj was nearing his half-century. I got a full toss and I played it back to the bowler since we only had about 8 runs to get and Yuvi needed 5 runs to complete the milestone of becoming the only player in World Cup history to score a fifty and capture five wickets in the same game. I took a single off the next delivery and Yuvi duly completed his fifty by hitting a boundary and a single off successive deliveries. It was probably the only time when I defended a full toss back to the bowler," Pathan recalled in a jovial manner.
We salute you Yusuf bhai for this team spirit! With every member enjoying others success, it was incidents like these that ultimately culminated in Team India becoming World Champions on 2 April, 2011.
"When the presentation ceremony was on, the champagne bottles were opened on the stage itself. I was drenched in champagne. Although I don't drink, I was still feeling like I was drunk. I didn't take off my India jersey that night. I got everyone's signature on that and I went to sleep with the T-shirt and the medal on," mentioned Piyush Chawla when he recounted celebrations from that incredible night.
Coming 21st May this year, will this incredible trio be involved in such celebrations again? Watch this space for more details.
#DuskiDahaad #AmiKKR