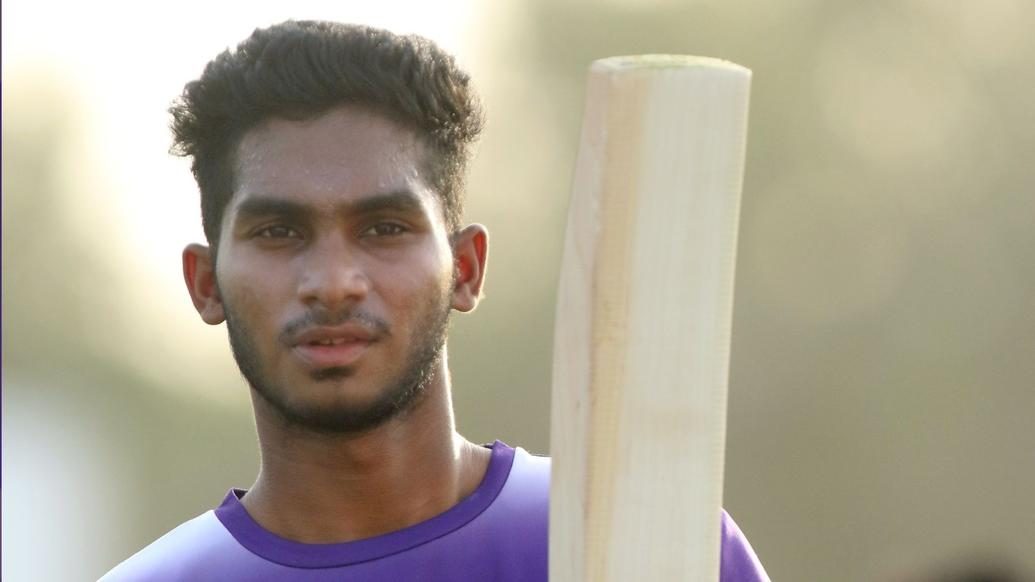 Siddharth Manimaran - a soft spoken character off the field, but with the ball in hand, he can be quite lethal. The Tamil Nadu youngster attracted his first IPL bid this season for his brilliant run with the ball in the Syed Mushtaq Ali Trophy last year. His slow left-arm orthodox bowling, which yielded two 4-wicket hauls to help his team reach the SMA final against Karnataka, left an impression on the KKR management to make him a part of the Knights' family. In this episode of the Knights Unplugged, we catch up with the youngster, cutting through his laconic mould to get to know him better. Excerpts:
The lockdown must have been a strange hiatus for you since you started playing a lot of cricket at the end of last year and also at the start of this year. Was this upsetting or did it give you a fresh perspective to life and cricket in particular?
Siddharth: It was a shock for everyone to be honest. No one knew life would come to a standstill. But at times it all depends on how you take things. If you wanted to consider it as a resting period, it was indeed so.
This is going to be your first year in the IPL, we can only imagine the excitement of a youngster to play the first match of a big tournament, that too with KKR. Tell us something about your anticipation and excitement.
Siddharth: Honestly, I was very surprised (when I got picked in the auction). I didn't expect it at all. All these years I have been dreaming of playing in the IPL. Playing with all the stars under a coach like Brendon McCullum, whom I have just seen on the TV, is a very special feeling.
Tell us about your auction story… Where were you watching it from and how excited were you when your name was being called out?
Siddharth: We had a Ranji Trophy match that day. We came back to the hotel at the end of the day and I was watching the auctions. But I didn't watch my set of auctions as I had gone to take a bath. After getting out of the shower, I just thought of switching to a movie. I didn't even know that my name came and I was picked by KKR. One of my teammates actually told me that I was picked.
We heard you've spent some time in Indonesia growing up. Was cricket an obsession for you even in an almost non-cricketing nation?
My dad actually used to play there (in Jakarta). So, looking at him, I got the interest. I started playing there only and after a while my dad thought that it would be nice to move to India so that I could start playing professionally. Initially, just like everyone, playing cricket was just for fun and enjoyment. It's only when I started playing for my state, it became my career path.
View this post on Instagram
You have played and spent time with our captain DK, how has his support been playing back in Tamil Nadu and also post joining KKR?
Siddharth: He is a very chilled guy. It was not at all difficult for me to approach him. He has been a massive support for me. I look up to him and every cricketer coming from any part of Tamil Nadu looks up to him as well. He has played a lot of cricket for the country.
You also spent time at the KKR academy earlier this year, how was that experience with Abhishek Nayar and Co.?
Siddharth: Honestly, I hadn't met him before, so I didn't know how to approach him. But when I went there, he was really approachable and I was guided well. The team was very supportive and felt like a family to be honest. I felt at home, seriously!
You also met your other teammates (Nitish, Rinku, Sandeep, Varun, Nikhil etc). What was it like bonding with them?
Siddharth: As I said I haven't played with them before. It is only this year that I have started with them. They were very welcoming to be honest. I didn't feel uncomfortable, in fact, always felt at home.
Any particular player you have developed a strong friendship with?
Siddharth: Sandeep Warrier and Prasidh Krishna. I didn't know I would get along with them so well.
View this post on Instagram
When did your obsession with spin bowling start? Did you always want to be a cricketer growing up? Did your father have a say in whether you should be a batsman or bowler?
Siddharth: I wanted to be a fast bowler. In fact, I started off as a fast bowler. One of my coaches told me that I didn't have enough pace. He transformed me into a spinner. After that it came along well. My father didn't really come into the picture much when it came to deciding whether I would be a bowler or batsman. He left it on the coach. I used to bat well in my childhood. But once I started taking a lot of wickets, I became more of a bowler who can bat.
KKR has always been like family, how has the experience been for you so far?
Siddharth: I remember there was a get-together at Nayar sir's place. We all were there and chilled together. I felt very welcoming. Venky sir was also there. It was truly a very special day for me.
Are you excited to be working amongst some of the finest spinners like Sunil Narine and Kuldeep Yadav?
Siddharth: They are hugely experienced, playing all these years in IPL and also for their respective countries. They have done really well. Obviously, I want to go and ask them if I have any questions and learn from them as much as I could.
Is there anyone at KKR you particularly want to meet or exchange some notes with on the sport?
Siddharth: I think it will be Andre Russell. I have been seeing a lot of sixes from him, almost everything out of the park. It will be a really nice experience to interact with him.
Have you planned what you are going to bowl to him at the nets?
Siddharth: I have thought about it, but looking at him hitting those sixes, I don't know if my plan will work!
What would you rather pick – you bowling to Andre or Andre bowling to you in the nets?
Siddharth: Andre bowling to me, anyday! I think bowling to him any day is a tougher task than facing him as a batsman.
It must be a dream starting out with u14 cricket, to playing for your state and then for an IPL team like KKR! Growing up, did you think cricket will take you to such places in life?
I have always dreamt of playing higher level of cricket and the IPL. Even when IPL started (in 2008), I was very passionate about cricket. I used to draw all the players and logos of the teams. I always wanted to be here as a player. It's just the start and I am really grateful. I am really looking forward to the next steps now.