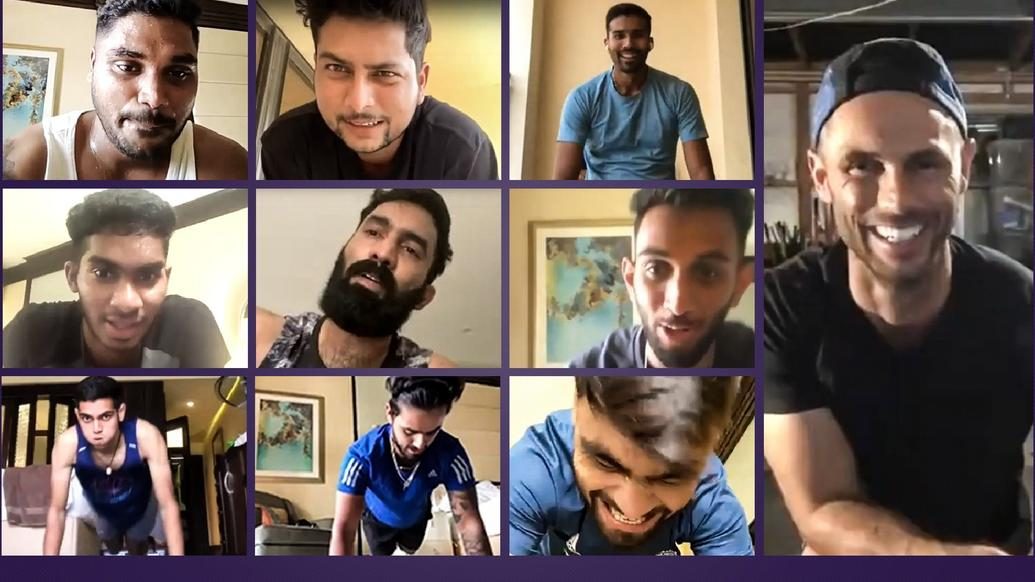 It's Day 4 in isolation for our Knights at Ritz Carlton Hotel in Abu Dhabi, but who says being stuck in your room means no physical action?
Chris Donaldson, former Olympic Sprinter from New Zealand, has come on board as our Strength and Conditioning coach for IPL 2020, and he's making sure all our players are in top-notch shape with his special Bedroom-Workout Routines over Group Video Calls during Quarantine.
Donaldson represented his country at the 1996 and 2000 Summer Olympics, besides competing in the 1998 and 2006 Commonwealth Games. He was part of the 4 x 100m relay team that holds a national record till date. Since retiring from his sport, Donaldson has worked as a trainer for the New Zealand Cricket team before signing up with Kolkata Knight Riders this year.
"When Baz (Brendon McCullum) told me that Chris Donaldson was coming aboard, he spoke very highly of him and said 'I don't know about the cricketers, but you definitely will love him' because I love training. So far, I have absolutely enjoyed it," Abhishek Nayar, the KKR Team Mentor said in a recent chat with kkr.in. "The guys are now getting to know him. There have been some unbelievable workouts he has given everyone to do. They are hard, and if you haven't worked out for a while, you can't do it. Sore bodies for a couple of days. But it's amazing and very, very helpful for all the boys in this time of staying indoors."
Who is #ChrisDonaldson, and why are our #Knights petrified by him? 😂

Tune in today at 5:00 PM IST to find out. 🏋🏽#QuarantinedKnights #ChrisDonaldson #IPL2020 #KKR #KolkataKnightRiders pic.twitter.com/g0hSaVQYkr

— KolkataKnightRiders (@KKRiders) August 24, 2020
Kyle Mills, our bowling coach, had a similar view of Donaldson's drills. "You spend a lot of time trying to catch him and you never will. He is an amazing person and he is an absolute professional. I think it's going to be a big feather in our cap to have him onboard."
Brendon McCullum, our head coach, who has been training as hard as the players, said: "I can't ask the players to do what I can't do, right? So whilst I can't do the exercises as well as them, I certainly try to put in an effort."
"I've also heard that the shirts this year - all the practice shirts and coach's shirts - are going to be very, very tight. So, I need to make sure that I am not too fat as we get into the season," he quipped.
KKR players reached Abu Dhabi on August 20, and are currently spending their time in isolation as per the government of UAE and the IPL SOP guidelines. The tournament gets underway on September 19.