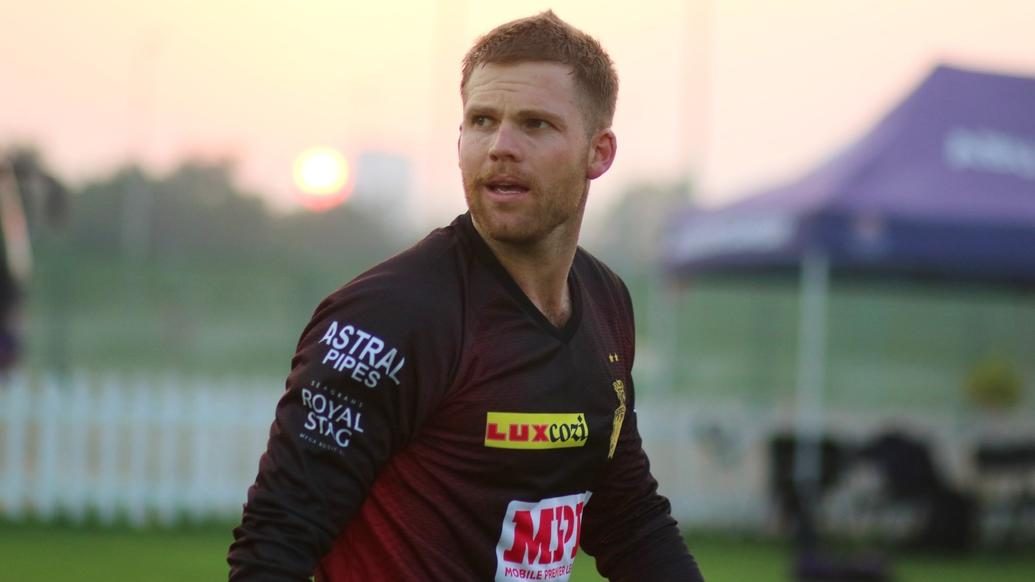 When you think Lockie Ferguson, one of the first things that's bound to come to mind is raw pace. The 29-year-old Kiwi fast bowler made a lot of headlines with his brilliant performance in the World Cup last year, and he can't wait to put on the KKR jersey once again to make a mark in the Dream 11 IPL this year. This season is going to be his second with the Knight Riders family, and he was back to training with the squad on Friday (September 11) in Abu Dhabi after serving his week-long hotel room-quarantine since travelling to the UAE from New Zealand. We had recently caught up with him to know a bit more about his lockdown diaries, expectations from Brendon McCullum, the coach, bowling alongside Pat Cummins, and much more in this episode of Knights Unplugged. Excerpts:

Hi Lockie, welcome back to KKR? How excited are you ahead of this season?
Ferguson: I am super excited. KKR is a team that took me in with open arms and made me feel as a part of the family almost immediately when I got there last year. I made some real good friends there in the team which continue beyond the game as well. We used to watch IPL as young chaps. Brendon (McCullum) was definitely one of our heroes while growing up. After watching him do so well in the first match for KKR, it was hard not to be a Kolkata fan. So yeah, I am super excited and I think Purple and Gold doesn't look bad on me at all. The team we have (for this season) is looking super strong. Last year, we ended up sort of mid-table, so hopefully, this year we will get a chance to improve on that performance.
A successful member of the 150 KPH club - Where did this obsession of bowling quick deliveries come from? Was it growing up in New Zealand watching the likes of Shane Bond?
Ferguson: My brother was a very fast bowler. He is four years older than me. Growing up and playing alongside him, I realised he was much faster and stronger than me. I guess I just wanted to be better than him pretty much most of my life. I was watching the Michael Jordan series (The Last Dance) a few days ago where Scottie Pippen actually talks about how he always wanted to be better than his brother. But I guess, as you grow up you realise you have skills in certain areas. I always loved playing sports. I think I didn't know that I would be putting out such speeds until I came onboard with New Zealand.
Your father was a rugby player, mother a sprinter and your brother a fast bowler. Do we even need to ask how you shaped up to becoming a sportsman?
Ferguson: I think my brother was far more talented than me. He was probably on the fast track to becoming an athlete. My family is certainly a competitive sports family. Whatever we did, our family ensured that we did our best. Certainly, I don't think I would be this competitive a character without this upbringing. So yeah, wherever I am right now, has to be because of my family and friends, with whom I grew up playing competitive sports.
Fast bowlers and injuries are synonymous to each other. You've had your fair share too. What kept you motivated during those dark moments when you might have felt your career could get nipped in the bud?
Ferguson: I think this question gets asked to all the fast bowlers. Well, some players have limited injuries while some players are riddled with them. Look at Pat (Cummins). At the start of his career, he was riddled with injuries pretty severely. But now, he is absolutely blooming. The biggest injury I think I got was before the U19 World Cup. I had a stress fracture and I was in the bed. I was striving to make it to the team but it wasn't meant to be. It was awful for me to keep working on things to make myself fit for the next year. I mostly counted on the physio and doctor's advice. I didn't know what a rehab would look like. But yeah, now I have 7 years of experience. So, I know how to prevent injuries or cope with them better.
Tell us about your maiden World Cup experience last year?
Ferguson: It was fantastic. It is really hard to put feelings into words. It was a long tournament, but also it went by so quickly. Coming straight from India (IPL) and going into the World Cup threw me into completely different conditions. But it was exciting. I think with the Black Caps side, I was more or less trying to own the first change bowler role. We had such amazing opening bowlers. The spot for the swing bowler was strongly contested. But I felt my pace and bounce would better serve in the first change. So, going into the World Cup, all I wanted was to put my best foot forward and be a part of the starting 11. I picked up a few wickets but I think I was just lucky enough to get the rewards of the hard work that our opening bowlers were putting in. The way we stuck together till the end was really commendable. We played really well and also conducted well both on and off the field. I think this was the best time I have ever had playing cricket for an extended period of time.
We know that T20 cricket can be gruelling on the bowlers with batsmen in an attacking mode from the word go. When you started your IPL career, you didn't have much experience of playing T20 cricket. Take us through the process of adapting to the shorter format of the game?
Ferguson: Definitely, let's rewind a bit. I was picked for the NZ team on the back of my First Class performances in Auckland. So, I had neither played a lot of One-day cricket nor a huge amount of T20 cricket. Certainly not enough to boost my confidence in my skill sets. I was reasonably raw and was just trying to bowl fast. But as we know, the faster we bowl, at times the quicker it goes to the boundary. But thankfully, the more I tried, the better I got. T20 cricket is so fast-paced that you need to adjust your game and mindset. Now, I feel I'm more ready and excited to take on those tough situations.
Welcome back Lachlan Hammond Ferguson!

Lockie-ing forward to the 🔥 he brings to #Dream11IPL #KKR #HaiTaiyaar pic.twitter.com/KJ4Yde8EXA

— KolkataKnightRiders (@KKRiders) September 11, 2020
A lot of New Zealand cricket supporters root for KKR because of Brendon McCullum and the way he took the IPL by storm in its inaugural season. Were you also a fan of the KKR franchise growing up?
Ferguson: Well, I loved watching the first season when Brendon was smashing it all over the park. We didn't know how big IPL was potentially going to be. I think it was difficult to measure for a Kiwi because here for Black Caps, a crowd of 20,000 is a big crowd. So, my first season at Pune in front of a sold-out crowd was extremely difficult because I couldn't get over the noise. Seeing it on TV is one thing but being out there on the field in the IPL is a whole different ball game. With Baz joining KKR as the head coach this year, how excited are you to be working and training under a fellow Kiwi in the IPL?
Ferguson: In my international career, I just missed out on having him as my captain. It was just after the World Cup here in New Zealand. I have bowled to him a few times at the nets. He is one of those New Zealanders who played the game the way he thought it should be played. He was always super aggressive and I guess my bowling mirrors him in a way when it comes to aggression. So yeah, I am thoroughly looking forward to playing under him as coach.
Talking about fellow New Zealanders, we also have Kyle Mills as our bowling coach. Are you looking forward to learning some new tricks from him?
Ferguson: Yeah, I remember I was a young chubby pup at Auckland when I was starting out. Mills was very well established in the Black Caps and one of our greats already. So, I tried to rub shoulders with him as much as I could when he was back in Auckland and learnt some tricks from him. He has a really calm attitude. Even when he was playing, whenever the pressure situations came up, he always remained pretty relaxed. I am sure he has plenty to teach now. And undoubtedly, he is one of the most accurate bowlers we have had in New Zealand. So, I would love to see what his thoughts are when it comes to playing in the IPL.
Also, in a few days, Pat Cummins would be joining us. Can we expect some 'pace-offs' at the Kolkata Knight Riders nets this season?
Ferguson: Yeah, pace-offs we are surely going to have with each other. I don't know if you are aware of this fast bowling club. We are always nice to the guy who can bowl at 150kmph! (Laughter). Look, Pat is an exceptional bowler, there is no secret about that. He is either the bowler of player of the year internationally almost every year. He seems to be getting better and better and he is still so young. He is a lovely guy and I am thoroughly looking forward to rubbing shoulders with him.
With batsmen taking risks and exploring newer shots each game, what are the weapons in your arsenal to outthink the batsmen in the shortest format of the game?
Ferguson: Well, the batters are getting more innovative, skilful, and they're hitting the good balls too. A yorker these days gets hit for a six, set out for slower balls and that get hit as well. So, the bowlers need to adjust and that's part of the challenge and excitement of playing cricket. Certainly, in my arsenal, I pack my yorkers and slower balls. But I am also working on some other variations. At this moment, I am just looking forward to getting back to the grind and bowling again. It was a nice little break (during the lockdown) but yeah, my body needs to adjust now from no bowling to lots of training. Finally, how excited are you about the IPL being played in the UAE - new venue, new season...
Ferguson: Yeah, very excited. I've played here a couple of times (for New Zealand). I'll surely miss the buzz at Eden Gardens and around India, but I'm looking forward to the challenges of playing in the UAE as well. Pat Cummins texted me the other day asking 'how is the heat,' and I lied to him saying it's not too bad. Well, let him come and check it out - it's pretty bad, isn't it! (laughters)