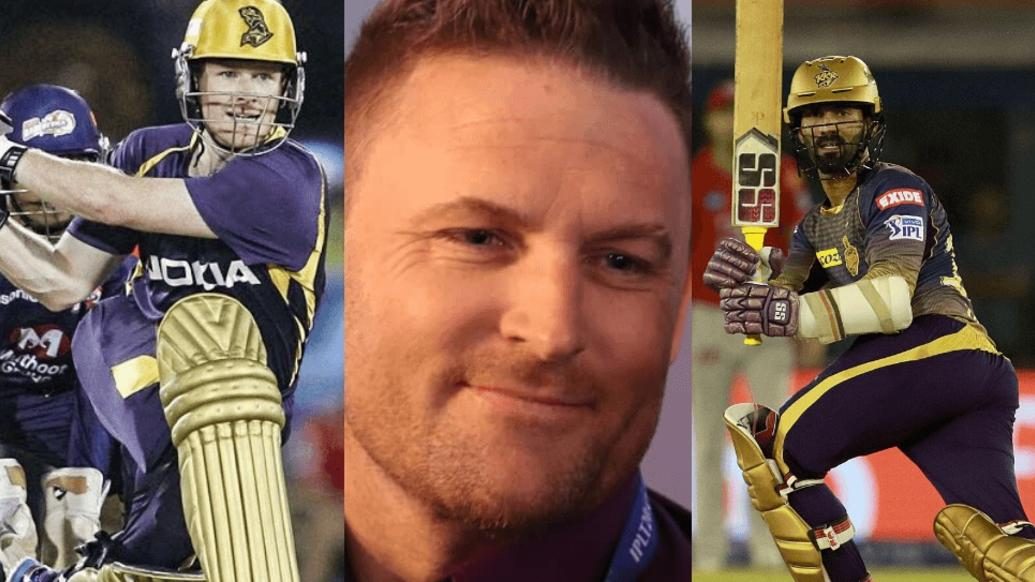 Dinesh Karthik will lead Kolkata Knight Riders in the next edition of Indian Premier League. Speaking to the media after a brilliant auction, our Head Coach, Brendon McCullum took the opportunity and cleared the air around the leadership role of Kolkata Knight Riders.
Here's what Baz, our CEO, Venky Mysore and mentor Abhishek Nayar had to say on the picks we made in the auction:
Q) Do you think Morgan can be a backup Captain for KKR?
Baz: I am really pleased that you've asked this question. It gives me a good opportunity to announce that Dinesh Karthik is definitely our Captain and we are trying to provide as much experience leadership qualities around him. Eoin Morgan is one of the very best leaders going around currently in our game. He'll be a perfect lieutenant for Dinesh Karthik and he'll also fill that very important batting spot for KKR at number 4. So, we are really pleased to have him. He's a wonderful man and is in his form of his life. Over the last couple of years he has played really freely. He's going to be a fine asset coming back to Kolkata.
Q) How does Eoin Morgan fit in the scheme of things for KKR?
Venky: He fits in brilliantly. It's great to welcome him back home. I remember in 2011, which was my first auction. We picked Morgan and he remained with us for 2-3 years during which we won the Championship. Since then, he's only gone from strength to strength. He's recognised among his peer group as perhaps one of the best leaders of men. What he has done to England team, ofcourse the World Cup. So, it's fantastic to have Morgs back in the KKR setup and we are delighted about it.
Q) What was the strategy behind picking Pat Cummins, while letting other teams do the labour of lifting the paddle and snap him right in the end?
Venky: We would have been happy to keep lifting the paddle as well from the very beginning. Sometimes that's how auction goes. Pat is someone who made his IPL debut with KKR in 2014, the year we won the Championship. So both Morgs and him bring a little bit of the rub of the green. He's a premier all-rounder, the fast bowler, the batting and fielding he does. People just have a lot of respect for how he has taken his game and where he has taken his game. McCullum can not stop talking about him, enough about his intensity and all that. Great guys, both of them are fantastic. It's lovely to have somebody who has some very strong emotional connect with the franchise, with KKR. So it will be great to see them in purple and gold again.
Q) After the experience of Mitchell Starc, is there an assurance from Cricket Australia that it won't happen with Pat Cummins?
Venky: It's not only in the context of Cummins. Any foreign player who puts their name in, they get the assurance and reassurance that they've got their name in for IPL. They have undertakings not only from players but their respective foreign boards as well. And I have just a little bit of suspicion that at 15.5 Crores he'll definitely come.
Q) With the inclusion of V Chakravarthy & M Siddharth, how are you looking at the spin bowling department?
Venky: I think the beauty of all these things is Dinesh Karthik, our Captain has had a close look at both guys, Varun in particular. We tried to bid very hard for him (last year). We couldn't get him. He went to Kings XI Punjab and unfortunately he suffered an injury. He has some unique skills. He kind reminds us a little bit of how Sunil Narine was when he emerged and when we picked him in 2012, just in terms he has and the mystery about him. Fingers crossed, that he'll come and do well. He'll enjoy playing under DK again and hopefully enjoy playing in the KKR setup. Siddharth is somebody who's a young talent, who has been spoken about a lot. DK has a lot of good things to say about him. His ability to bowl in powerplay and bowl under pressure. Apparently, he's an outstanding fielder and can bat as well. So, it's great for Indian cricket to see such young Indian talent emerging. It's great for us that we have both of them on the team. Hopefully, we'll be able to give them opportunities for them to showcase their talent.
Q) Thoughts on bidding for Shemron Hetmyer.
Venky: With our involvement in CPL with TKR, we've seen a lot of these players up close. We saw Hetmyer emerge two years ago and really played exceedingly well. He's an outstanding player. Sometimes there's somebody else who wants them more badly than you do. We are very happy for him that he has become another millionaire from the IPL and it is fantastic to see that. He's an amazing talent, but let's see how it goes.
Q) What was the strategy for Pat Cummins?
Abhishek: The strategy was clear. He's one player that we wanted, be it for his leadership quality or for his experience. He's the world no.1 T20I bowler. So we knew what we were doing. So we are happy that we've got him under the budget we had planned for him.
Q) How big of a role will Eoin Morgan play in this KKR setup?
Abhishek: With DK, he'll be a leader in this team. It's not just his leadership quality but the way he has batted for the past year and a half, there's an upswing in his batting, the way he's batting. So, it's not just about his ability to back the skipper, also to how to handle pressure situations with the captain. This will be the USP and we've got him in way less than the price we had anticipated for him.