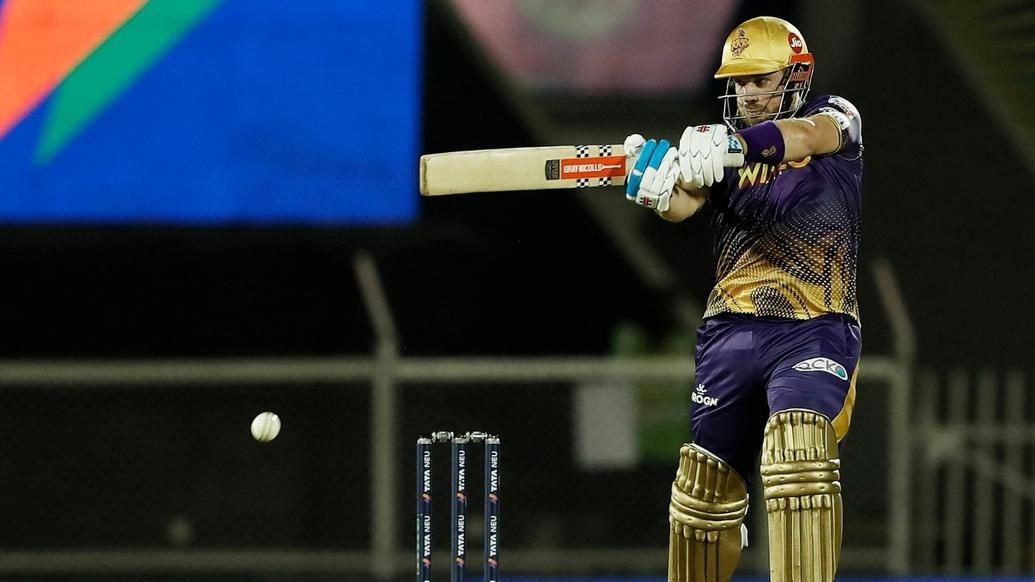 Coming off a 28-ball 58 against Rajasthan Royals in a high-scoring run-chase, Aaron Finch hit the ground running in just his second game of the season. We caught up with him, the Australian men's limited overs captain, recent T20 World Cup-winning skipper and Kolkata Knight Riders' opening batter. He talks about the nerves during auction days, believing in the aggressive brand of cricket that he shares with the team, 'IPL Pat' and the camaraderie around the group among other things.
Q. Talk us through the feelings you go through as an International cricketer on the IPL Auction days.
Aaron Finch: I think it just depends. I think we played a game. This year we played a game against Sri Lanka on that day. So you don't think about it too much at all. But in the years gone past, there are times when you get a little bit nervous because you're hopeful of getting picked. It's just a great competition to be a part of and I think when you're not here you really miss it. To have the chance to train and play with the best players in the world consistently I think makes everyone better. So that's what you miss the most and that's what you get most nervous about, maybe missing the opportunity sometimes.
Q. Were you disappointed on not getting picked at the auction this year?
Finch: Yeah, of course. Yeah. But then to get the call from Baz [Head coach Brendon McCullum] to come and join KKR, I was very excited and jumped at the opportunity.
Q. The brand of cricket that KKR is playing is well-suited to your brand of cricket as well. What do you make of this aggressive intent to go all out irrespective of sometimes finding those speed blocks in between?
Finch: Yeah, I think it's super important that everyone's bought into the plan because if you have one person who doesn't then the whole thing can fall down. So what we have seen so far is the ability for everybody to have bought into that is superb and shows the flexibility of the team but also the keenness for everyone to do well. I love that style of cricket because those days when it doesn't happen for you but all it takes is one person to change the game. And we have got so many game-changers in the XI or the squad.
So to continue to go hard and put pressure back on the opposition is so important. Because if you just let the game drift and the opposition are never under pressure then you're going to find it hard to get back into the game. So when they turn up against KKR, [they] are fearful because they know they are going to come out attacking all the time. So that automatically puts them on the back foot a bit also. So it's a super way to play I think. And there are days when it's going to go wrong but that's okay because over a 14-game season, you're hoping that it's going to go right more often than not.
Q. You've seen Pat Cummins bat but were you taken aback with the kind of hitting that he showed against Mumbai Indians the other day?
Finch: Absolutely, I was taken aback by it! We call him IPL Pat because he bats a lot better in IPL than he does for Australia. He's played some great innings for KKR and he works hard on his batting so it was great to see him continue that aggressive mindset batting at number seven to come out and keep swinging hard from ball one and change the momentum of the game, it was brilliant.
Q. And what do you make of Andre Russell?
Finch: I have played with him before in the Big Bash. He is a wonderful player, he is an excitement machine. He can bowl fast and he hits it miles. He's someone who people come through the gates to watch. Love having him on your team because he can change your game in and over with ball or bat. He is just ridiculously powerful.
Q. Venkatesh Iyer has transformed as a batter since last season. What do you make of him as an opener?
Finch: I think he's a fantastic player. Because he's so tall, he's got so many options. He's got a great reach so teams struggle to tie him up because he's got so many options around the ground and his ability to play both sides of the wicket, he's. very intelligent with his batting. He can bat the long innings and get the team home. So for a young guy, that's such a good trait to have. And even with that innings that Pat played in Pune, he was not out at the end and while he didn't get all that many runs in a run-chase like that, his ability to just maintain the momentum of the team and not let the game drift too far away shows he's got a great head on his shoulders.
Q. You have witnessed the team in the last few years. What is it about KKR that made you feel like it is a team you want to be a part of?
Finch: I think the consistency from across the board. It's been a very stable squad for a long period of time which doesn't always happen in franchise cricket. So the fact that everybody who has been here before loves the place. Everyone feels at home when they walk in here, it's just something special. It's a franchise I have got plenty of friends at and I have always admired how the team is ran. Obviously, with Venky [Mysore] as CEO he's been here for a long time and everybody is very calm and relaxed around the place.