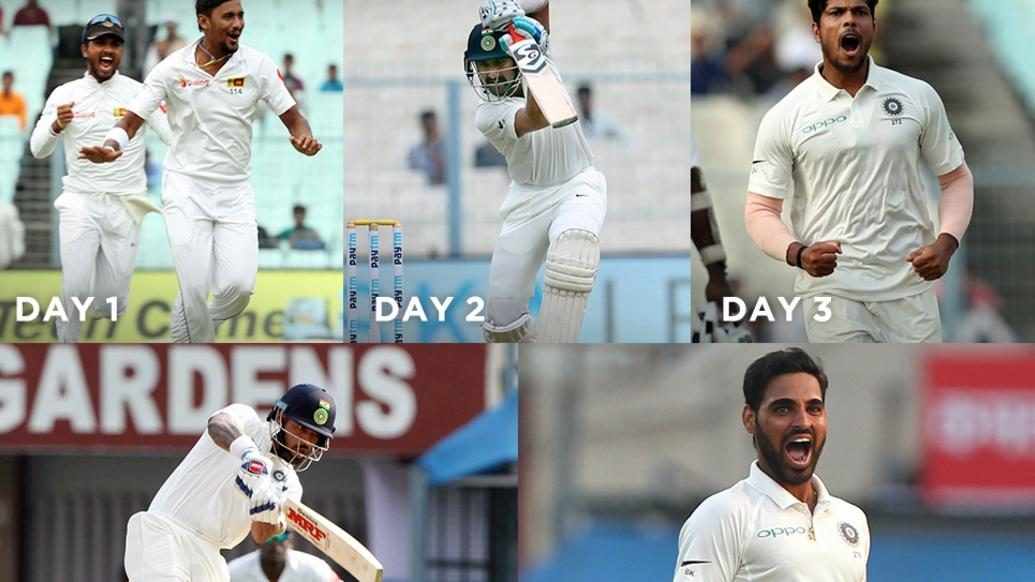 Day 5:
Indian pair of KL Rahul and Cheteshwar Pujara came to bat on 171/1 on the final day of the Kolkata Test. Both batsmen were looking comfortable at the crease but Lakmal removed Rahul (79) to give Sri Lanka their second wicket. Kohli joined Pujara and the duo put up a solid partnership. Things were looking good for them but Lakmal took the priced wicket of Pujara (22). Ajinkya Rahane (0) was next to return to the pavilion as he was given LBW on his fourth ball. The hosts suddenly found themselves in trouble with Kohli holding fort at the other end.
It was a promotion for Ravindra Jadeja and the left-right combination batted well together to calm down the situation. While Kohli was playing his shots, Jadeja was happy to take his time & settle in. Dilruwan Perera took his first wicket as Thirimanne took a good catch at first slip. Jadeja's (9) departure allowed Ashwin to come in. Captain, Kohli was still holding one end. The plan remained the same. Kohli was the aggressor with Ashwin happy to play the waiting game. At lunch, India were 251/5.
Kohli soon reached to his fifty but Ashwin (7) was bowled by Shanaka. After looking comfortable Saha (5) threw his wicket. India were 281/7 and suddenly in a spot of bother, once again. If they had lost Kohli then, Sri Lanka would have been jumping with joy. But things changed as Sri Lanka took the second new ball. Kohli started scoring easily with a minimum of one four in every over. Bhuvneshwar was rotating the strike to Kohli, who was nearing his hundred and it was quite evident, as to what the plan was. Kohli reached to his 18th Test hundred (and 50th International hundred) and India declared their innings on 352/8, setting a target of 231 with just more than a session to play.
Sri Lanka didn't had the best of starts as Sadeera Samarawickrama (0) chopped one back on his stumps. The Indian bowlers were bowling with pace and the Eden pitch was doing the rest. After Bhuvi's first wicket, Shami struck from the other end with Dimuth Karunaratne (1) inside-edging one onto his stumps. Sri Lanka went into tea with 8/2 and a few wickets then, would have put them in serious pressure.
Indian bowlers were bowling with venom and soon after Thirimanne (7) succumbed to the pressure. With Mathews and Chandimal, Sri Lanka had their most experienced pair on the crease. These two had to bail them out of this tough situation as India kept on trying hard. It was Yadav's turn to join the party as Mathews (12) returned to the pavilion, thanks to a successful review taken by India. With 22/4 on the board, Sri Lanka were in deep trouble.
The visitors needed a fight back and that is what they got from Niroshan Dickwella. The aggressive batsman took the attack and released some pressure off Chandimal. The natural light was fading at Eden Gardens as artificial lights took effect to keep the game on. As things were looking settled, Shami, out of nowhere delivered a beauty. The ball went through Chandimal's (20) gate & India found a ray of hope. Dickwella (27) and Dilruwan Perera (0) followed suit to make this game ever-interesting. But the light was diminishing quickly and the umpires finally stopped the game to declare the match as a draw. Bhuvi (4/8), Shami (2/34) and Umesh (1/25) gave their all but they they failed to beat time in pursuit of a thrilling victory. Bhuvneshwar Kumar was adjudged as the Man of the Match for his 8 wickets.
Day 4:
Sri Lanka started Day 4 on 165/4 with Chandimal and Dickwella at the crease. The match was nicely poised at that moment in spite of a major chunk of time lost due to rain. India needed to take a few quick wickets to make things interesting which they did. The pace pair of Mohammed Shami and Bhuvneshwar Kumar picked up three wickets in three overs to build a little pressure on the visitors. They went from 199/4 to 201/7 with Dickwella (35), Dasun Shanaka (0) and Chandimal (28) all returning to the pavilion in quick succession.
India had a great opportunity to end the innings but Rangana Herath (67) played a gritty innings to stretch the lead. He built useful partnerships with Dilruwan Perera (5) and Suranga Lakmal (16) and made sure the lead goes well past 120. Sri Lanka were finally bowled out for 294 with a lead of 122 runs. Bhuvneshwar and Shami picked up 4 wickets each with Umesh taking the other two. This was only the third time when Indian pacers took all ten wickets at home.
The sun was bright from the morning which had made the wicket batting-friendly. The Indian openers looked confident from the start. Both Rahul and Dhawan were scoring runs easily as the ball was coming nicely on to the bat. They were maintaining a run rate of 4 per over with Chandimal looking to rotate his bowlers & get an early wicket. But nothing worked for him as Rahul (36) and Dhawan (33) went for tea with 70 on the board.
Post-tea, Rahul completed his 10th Test fifty (9th in 11 innings) and Dhawan followed suit. The southpaw got into the act and started expressing himself. He did not let Rangana Herath settle by playing the cut & sweep shot regularly. The run rate had suddenly increased as Sri Lanka found no answers to stop the flurry of runs. As Dhawan was looking good for another Test ton, he lost his focus and edged one to the keeper off Shanaka. He made 94 and received a huge ovation from the Eden Gardens crowd that spent their Sunday watching quality day of Test cricket. With around 15-20 mins for stumps, India opted to send in-form Cheteshwar Pujara instead of a night watchman. Both Pujara (2*) and Rahul (73*) made sure there were no more casualties as India ended Day 4 on 171/1 with a lead of 49 runs.
With just one day remaining, it would be interesting to see which approach would India take? Whether they will play safe and go for a draw or they will be bold and set a target for Sri Lanka to chase in the last sessions of this exciting Test match. We will wait and watch!
Day 3:
Third day of the first Test started on a positive note with the weather smiling brightly. There was sunshine seen and no rains around from last night, the game started early today as well.
Cheteshwar Pujara was accompanied by Wriddhiman Saha as the former wasted no time and completed his 16th Test fifty. But soon after, Sri Lanka got the main man as Lahiru Gamage breached Pujara's (52) defence. The indipper beat Pujara & his off-stump was uprooted. Ravindra Jadeja came in next. Saha and his new partner did not hesitate to play their shots as runs started coming briskly. They added 48 valuable runs before Dilruwan Perera trapped Jadeja (22). The visitors used their review and got the positive result as well. Perera struck again, and this time it was Saha who tried to play a paddle sweep but got an edge and Mathews completed the formalities. From 127/6, India suddenly were 128/8. Bhuvneshwar Kumar (13), Mohammed Shami (24) and Umesh Yadav (6*) did well as India posted 172 in their first innings.
Sri Lankan openers, Sadeera Samarawickrama and Dimuth Karunaratne had bright sunlight to welcome them as the pitch was showing good signs for the batsmen. Samarawickrama opened his account with a well-timed four to Bhuvneshwar, who was able to swing the ball. The youngster was taking his chances while Karunaratne (8) was first one to depart. He offered no shot to an inswinging delivery from Bhuvneshwar and umpire, Nigel Llong had no hesitation in giving him out. After hitting 3 fours and making 23 runs, Sadeera returned to the pavilion. Saha made no mistake as he edged one off Bhuvneshwar.
Experienced pair of Lahiru Thirimanne and Angelo Mathews had the job of staying at the crease and they did that brilliantly. The duo waited for the loose balls and punished them to keep the scoreboard ticking. Kohli gave the ball to Ashwin but even he could not break the stubborn partnership. Sri Lanka went into Tea at 113/2 & being in complete control of the game.
Umesh and Shami started after the break as the pair continued to get runs. Thirimanne completed his fifty with Mathews playing well at the other end. Umesh finally got the breakthrough as Thirimanne (51) edged it and Kohli took a good catch in second slip. In came Captain, Dinesh Chandimal with Mathews too, completing his fifty. Umesh was pumped with the first wicket and got another as well as Mathews (52) did not get the elevation & ended up giving a simple catch to Rahul. India were right back in the game and a few more wickets then, would have had Sri Lanka in pressure. But both, Chandimal (13*) and Niroshan Dickwella (14*) weathered the storm well.
The day ended early as light faded drastically in Kolkata. Sri Lanka are 165/4 and trail by just 7 runs. Tomorrow would be another eventful day! Let's hope the rain stays away and we get the full quota of overs.
Day 2:
After yesterday's eventful day (17/3 in 11.5 overs), play started early on another gloomy day in Kolkata. Although there was no rain, the skies were fairly dark which was a clear indication that the pitch was going to assist the fast bowlers.
Cheteshwar Pujara and Ajinkya Rahane stepped on the crease and were watchful from the start. The pair knew the importance of this partnership as Sri Lankan bowlers were eager to continue bowling good lines, again. But medium pacer Dasun Shanaka, who was bowling in tandem with Suranga Lakmal, slightly released the pressure off. With the lack of pace, Pujara was finding it easy to hit Shanaka as he struck him for two fours early in the day. Lakmal, who had bowled 36 dot balls yesterday, added another ten, before Rahane hit a streaky four in the third-man region.
The two batsmen were looking settled before Shanaka struck as Rahane (4) was dismissed, while poking an outside off delivery. With Hardik Pandya rested, Ravichandran Ashwin came in to face the music. Ashwin struck a four on his fourth ball but sadly, could not add more runs as he got out to Shanaka after playing 29 balls. Home boy, Wriddhiman Saha, came in next as Pujara was playing the patient game at the other end, leaving the good balls and punishing the loose ones. Rain stopped play, once again and it was not ready to leave with the groundsmen trying their best. Play was finally called off at 2.30 pm with India being on 74/5. Pujara (47) has an able partner in Saha (6) and the duo will look to stable things tomorrow morning, if the rain Gods permit.

Day 1:
Hosts and No.1 Test team, India would have hoped to have a good start against neighbours, Sri Lanka on the first day of the 1st Test match.
A pitch covered with grass & cloudy conditions is a rare sight to see in India during a test match. Sri Lanka won the toss and elected to bowl first.
What followed there after was incredible and something that the Indian batsmen would have not expected. 6 overs, 6 maidens, 3 wickets without giving a SINGLE RUN. Suranga Lakmal did the unthinkable as he achieved these incredible figures at the end of Day 1. Quality batsmen like KL Rahul, Shikhar Dhawan and skipper, Virat Kohli were undone by Lakmal's swing along with his brilliant line & length.
Rahul was dismissed for 0 on the first delivery, Dhawan was bowled for 8 and Kohli went back to the pavilion without opening his account. India are currently 17/3 after 11 overs. The challenge is on Ajinkya Rahane & Cheteshwar Pujara to stabilize the innings and take control.