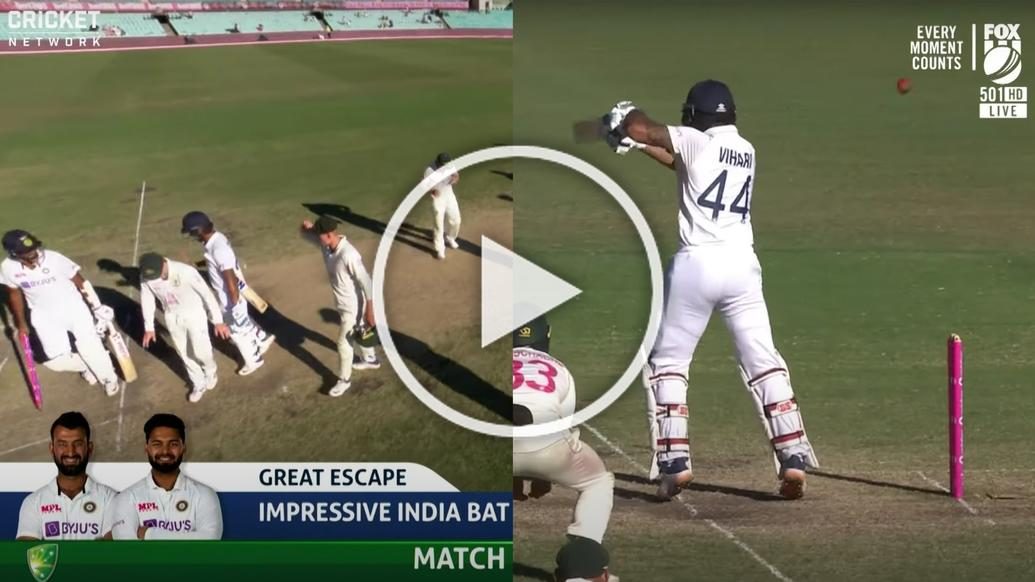 A historical fightback was scripted by two fine Indian gentlemen on the Australian soil today. We guess you already know the names by now – Hanuma Vihari (23 off 161 balls) and Ravichandran Ashwin (39 off 128 balls)! The duo batted for over four hours with some valiant efforts to take India to safety as the Sydney Pink Test concluded in a draw, with India scoring 312-6 on the final day during their chase of 407.
The grit, the grind, the pain, the frustrations - ah, Test Cricket! You never cease to amaze!💜#TeamIndia's perseverance ensures a hard-fought, historic draw in Sydney.

Level-pegging as we head to the Gabba for the final instalment of this 🔥 rivalry!#AUSvIND #Cricket #Test pic.twitter.com/kOmDeOvkxG

— KolkataKnightRiders (@KKRiders) January 11, 2021
Vihari had sustained a hamstring injury earlier on in the innings while sneaking a quick single and, despite being in tremendous pain, he didn't let his guards down.
Vihari pulls up at the end of the quick single, grabbing his hamstring which is now receiving attention #AUSvIND pic.twitter.com/guu40HDskA

— 7Cricket (@7Cricket) January 11, 2021
Ashwin, on the other hand, perhaps played the most sensible knock of his life as India batted for 131 overs in their fourth innings to make the impossible possible. This is by far the highest number of overs any team has ever faced in the fourth innings to save a Test match in this century.
Starting on an overnight total of 98-2, India lost Ajinkya Rahane (4) early but Rishabh Pant (97 off 118 balls) and Cheteshwar Pujara (77 off 225 balls) showed some real intent to fetch India a victory.
Pant's enjoying himself out there now!

Live #AUSvIND: https://t.co/KwwZDwbdzO pic.twitter.com/FTob8nSVtC

— cricket.com.au (@cricketcomau) January 11, 2021
For a few hours, Indian fans must have thought the 43-year-long wait of a win at the SCG was about to end. Pant was attacking throughout and didn't slow down even when a 100 was round the corner. He fell to Nathan Lyon while trying to hit one stepping out and we couldn't help but feel sorry and proud at the same time for the young man.
The Lyon roars!

The dangerous Pant is gone and there's another twist in this cracking match! @hcltech | #AUSvIND pic.twitter.com/rfvR17fAp8

— cricket.com.au (@cricketcomau) January 11, 2021
Pujara and Pant put up a 148-run stand that changed the course of the match to a great extent. Pujara's composure and Pant's aggression found the perfect balance to frustrate the Aussie bowlers.
Back-to-back 50s for Pujara #AUSvIND pic.twitter.com/84FHbSa6c1

— cricket.com.au (@cricketcomau) January 11, 2021
Ravindra Jadeja's dislocated thumb was a major concern and India were trying to ensure he didn't have to come out to bat. While Vihari and Ashwin slogged it out in the middle, many would have been pondering as to why they weren't going for the kill. Well, going by India's record in the recent past, it was obvious they were trying to avoid another slump. With Vihari hobbling around and Jadeja sitting in the dressing room with a swollen thumb, it was the wisest route India chose to avoid a loss.
A bit of teamwork, Saini peeling the banana for Jadeja 😅 #AUSvIND pic.twitter.com/O0KYKZT1a9

— 7Cricket (@7Cricket) January 11, 2021
What hurt Australia the most was perhaps Vihari's dropped catch. Had that been taken, the outcome might have been very different. Time Paine didn't have the best of the series yet with the gloves and Vihari's dropped chance when he was at 15 surely cost Australia dear.
Vihari edges and a chance goes down late on the final day...

Live coverage: https://t.co/xdDaedY10F #AUSvIND pic.twitter.com/UdVjUmKYrS

— cricket.com.au (@cricketcomau) January 11, 2021
All said and done, India have pulled off one of the most remarkable Test draws today and it can be considered nothing less than a victory. We could see smiles faces all around the Indian dressing room following the courtesy handshakes, which came an over earlier than the scheduled overs of play.
Marnus Labuschagne reflects on an incredible final day at the SCG... #AUSvIND | @alintaenergy pic.twitter.com/U1uUf1LK6u

— cricket.com.au (@cricketcomau) January 11, 2021
The four-match Test series remains locked at 1-1 still and India will be travelling to Gabba to play their 4th Test from January 15.

You can watch the full Day's Highlights here: